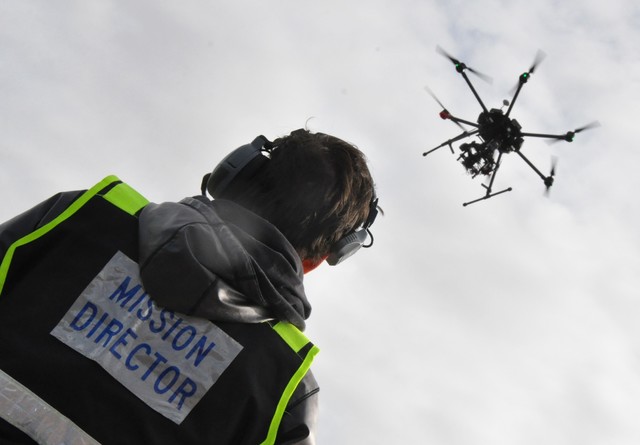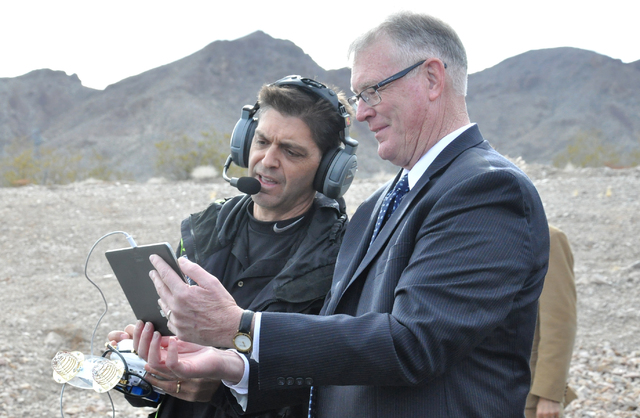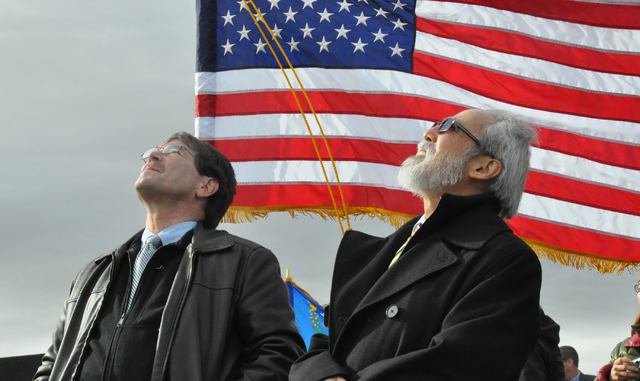 The skies of remote southeastern Henderson may soon be filled with the high-pitched din that tends to accompany a mass invasion of locusts or cicadas. And that would be music to the ears of city and state planners.
The city of Henderson, Nevada State College and the Nevada Institute for Autonomous Systems have partnered to create the first urban drone test site in the state, according to Barbra Coffee, Henderson director of Economic Development and Tourism.
Ground broke Jan. 3 on the Henderson Unmanned Vehicle Range (HUVR), adjacent to NSC. When completed, the 6-acre site will feature a flight operations control center, a 150-foot runway, four 20-square-foot vertical launch pads, a netted drone facility and observation tower.
"Henderson was excited to be able to take advantage of this opportunity to bring partners together — NIAS and NSC — to make this happen," Coffee said. "It is the appropriate place in the community — the appropriate distance from McCarran Airport that it needs to be in order to fly under FAA (Federal Aviation Administration) authorizations that are allowed."
Coffee said the idea to create the site came only six months ago, and pieces quickly fell into place.
"The industry is moving quickly — we would probably like it to move even quicker," said Steve Hill, executive director of the Governor's Office of Economic Development, the agency that oversees NIAS. "This groundbreaking today is the result of all the partners being willing to act quickly, working for ways to say 'yes' and being responsive to what the industry needs and what Nevada has to offer."
The grading of the land and improvement to an access road align with the master plan of NSC, according to David Cherry, city communications and intergovernmental relations manager.
"The college will provide these elements of the site as part of a mass grading project," Cherry said. "Future site improvement will be the responsibility of NIAS. These site improvements may utilize materials donated by construction/development firms throughout the valley. In the long term, we plan to find funding through grants, donations and possibly sponsorships."
Cherry said the total cost of the project could range between $65,000 and $150,000, depending on actual usage and demand for the facilities. The site will not be available for use by recreational drone enthusiasts, but for testing of commercial or government drones weighing 55 pounds or less.
NIAS is a nonprofit agency created about a year ago to promote the unmanned aircraft systems (UAS) industry. There are four NIAS-operated drone testing sites in Nevada, one of six states designated by the FAA.
"One of the very important functions of NIAS is to work with the FAA," said Mark Barker, NIAS director of business development. "We do that by documenting UAS flights, provide lessons learned and push applications to advance the drone industry. We see HUVR as a great opportunity to demonstrate drone technology during trade shows and conferences."
"NIAS vet companies that need a place to come and test their applications, and they can do that now in Henderson," Coffee said. "It will be commercial applications or government defense applications that are tested here."
City leaders hope the site will attract new UAS-related technology companies and those who may be considering relocation.
"HUVR establishes (the city) as a premier location for the next generation of tech development," said Henderson Mayor Andy Hafen. "This is the type of industry we want here and will help us to grow into the future as a city."
NIAS and GOED will be able to attract companies seeking a location for testing that is accessible and convenient, as well as close to Las Vegas-based business centers, meeting places and entertainment, according to Coffee. "It allows them to do a lot more in a day's time than they otherwise would. The benefit to Henderson is that we get exposure to those companies, we get an opportunity for them to see what is happening here and for them to maybe set up their own."
"This is opening the door. This is the future," said Debra March, Henderson councilwoman. "These are transformational times. It will invite industries to come in and look for a place to do business in this environment. I think there is a lot of inquiry around the country, and this will set this stage.
"If you go to CES, look around the world, the technology is changing and businesses are changing because of new technologies. This will affect land use and planning. It will affect development, transportation. It would allow us to fly drones into transportation tie-ups along the roadways. So there are many applications this will play into in the future."
Coffee said that the education element was key to forwarding the project. "The partnership with Nevada State College makes sense for this kind of work to be going on, for the students to engage and learn about this technology, how to manufacture it, how to apply it and move it forward."
The project could be completed within 24 months if usage meets expectation, but it will advance in flexible phases that respond to the amount of user demand, according to Cherry.