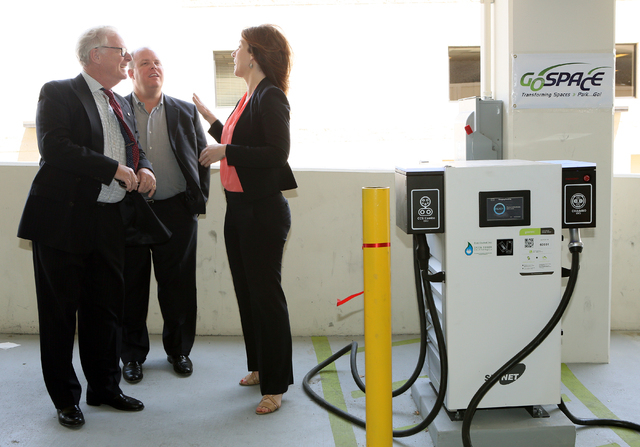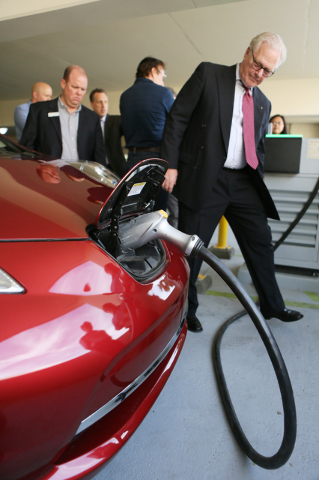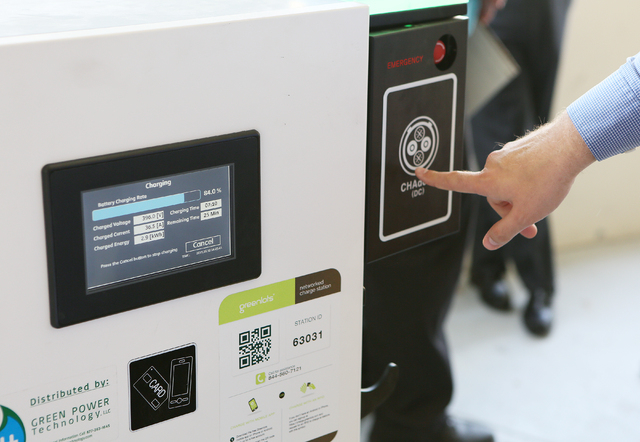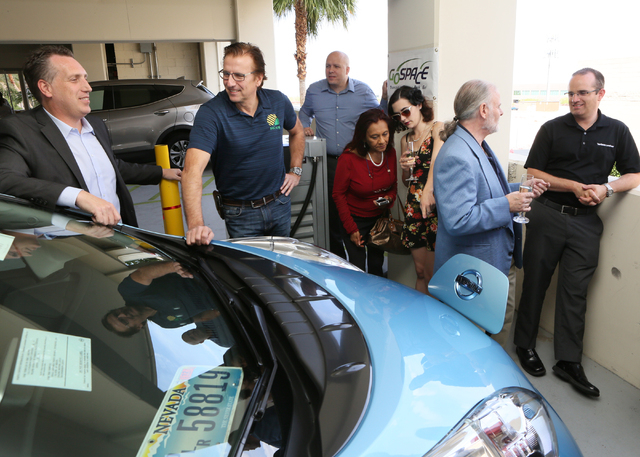 When you mention green and the Strip, you usually think about wallets, credit lines and cold, hard cash. NV Energy, GoSpace and major hotel-casinos, however, are starting to make the term synonymous with electric vehicles and energy sustainability, too.
"Las Vegas is a very ecologically aware society for such a large, influential metropolitan area," said David Sharp, business development director for GoSpace, an electric vehicle charging station vendor that celebrated adding the Tahiti Village resort to its client list May 12. "As a society our ability to transition off of fossil fuels is important for long-term stability. There are no tune-ups, no gas and no fear of breaking down with electric vehicles, not to mention reducing our carbon footprint and reducing the geopolitical side effects."
All politics is local when dealing with electric vehicles' recent popularity. NV Energy has a department solely dedicated to electric vehicles and renewable energy, and the utility has seen a customer increase of 200 percent in the past 18 months.
"Our goal is to create an electric vehicle highway to connect Las Vegas and Reno," said Marie Steele, manager of electric vehicles and renewable energy for NV Energy. "We are part of the Edison Electric Institute national task force, so we take our position as an industry leader very seriously, and that needs to trickle down to the businesses in Las Vegas."
Businesses and private citizens who use electric vehicles enjoy cost savings, from the low maintenance required to a "free charge" initiative offered by NV Energy that began this month. The initiative allows customers to charge their electric vehicles at an additional 65 locations throughout the state at no cost for their first five years of ownership. When the customer charges a personal vehicle at home after business hours, his house can qualify for a lower energy rate from NV Energy.
"This program is designed to help our customers to be more inclined to purchase electric vehicles, which benefits the Nevada environment by lowering vehicle emissions," NV Energy CEO Paul Caudill said. "Our economy benefits by offering a lower cost of transportation, especially for those who regularly commute shorter distances."
There are several prominent Las Vegas entities participating in the program, including the University of Nevada, Las Vegas; the College of Southern Nevada; Las Vegas Premium Outlet malls; and Las Vegas Cyclery. NV Energy has provided support for electric vehicle since 2009.
"Providing workplace charging stations at major Las Vegas casino resorts is not just about the customers, it is also about providing for their employees and allowing the business to be a better employer," Steele said. "When it comes to sustainable energy practices, we think a little neighboring competitiveness is good because it benefits all that are involved."
It is a citywide competition that still has a long way to go to compete with other large cities. Sharp said there are an estimated 200 new leases every month of electric vehicles in the Atlanta market, while there are only seven every month in metropolitan Las Vegas. There are 98 charging stations throughout the valley, and Sharp, along with GoSpace, hope the charging stations serve as a silent marketing tool to add to visibility and functionality for potential private and business clients.
"It is time we change the infrastructure to get people where they want to be by maximizing their transportation efficiency while minimizing the cost," Sharp said. "The second wave of electric vehicle manufacturing is occurring now, and we definitely believe in the philosophy 'if you build it they will come.'"
Houston saved an estimated $110,000 last year by putting 27 Nissan Leafs in its municipal vehicle fleet. This is the type of success story GoSpace and NV Energy are hoping to re-create in Las Vegas.
"We are going to continue to create partnerships and then identify sustainable solutions with these partners," Steele said. "This is because our clients see a high return on investment with minimal initial investment."
For Mitchell and Tahiti Village, the charging stations signal a new chapter of customer service and strategic guidance from management. The May 12 ceremony launching the stations was just the beginning for the management company that also owns two other hotel and timeshares near the Strip.
"The new charging stations demonstrate that Tahiti Village, our staff and management are committed to being responsive to our owners and our guest suggestions to pursue sustainable practices," Mitchell said. "It just makes good business sense."