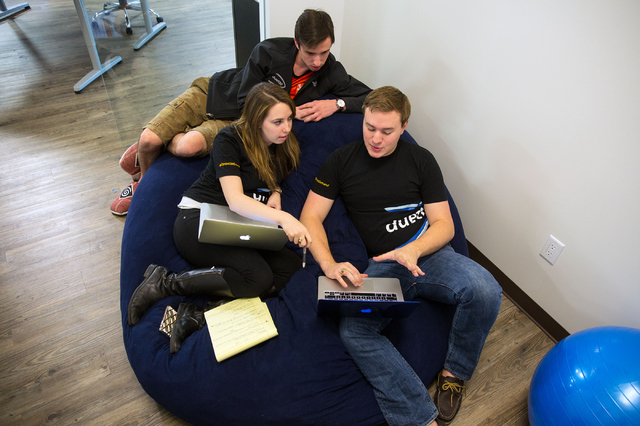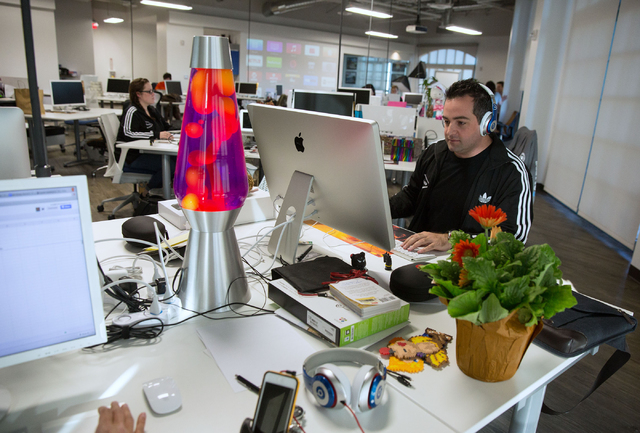 What's the secret to hiring and retaining the top talent in Las Vegas? Beanbag chairs, the kind you can fall asleep in. Having a 70-inch television, Playstation4 and bar and kitchen in the office doesn't hurt either.
But that's not really what has allowed our hotel revenue strategy technology company to grow from 25 to 80 employees in the past year. It's really our culture that has driven the expansion of our young company and now sustains it.
We didn't launch Duetto three years ago with a blueprint on how to build a collaborative, creative, caring and high-performing team. We knew we needed to hire from two very specialized and rapidly changing fields — software development and hospitality revenue management — so our staff would likely be younger than the three founders. We also knew what we didn't want to build: the kind of companies and offices we spent years working at on the Strip.
Our new office opened last fall on the top floor of a building at Tivoli Village, with floor-to-ceiling windows, a wraparound balcony and more sun than we ever saw in the basements of the casinos we used to work at. We've stocked the bar and kitchen and invite employees to nap, play and have fun on the job.
We give them plenty of freedom, but we also clearly communicate our very high expectations up front. The trick is finding the right people who will excel in that environment and not take advantage of it.
Of course, they've got to be highly skilled and driven; everyone is looking for that, but we're also looking to make sure they're the kind of people we would enjoy working with. Collaboration and creativity are integral to the success of a growth company trying to change an industry. There's no better way to drive innovation than by having a group of like-minded people all working toward a common goal, caring about not only their jobs, but each other.
When I interview someone I ask only one question: What do you want to know from me? I tell them they've got an hour of time with a founder of the company and let them lead the conversation. I'm not worried about what they look like or what they're wearing or even what's on their résumé.
If they've gotten this far, I trust they have the skills we're looking for. I'm screening for culture, personality and thought process. If they're asking questions straight from their MBA study guide, I know Duetto may not be the right fit.
We have an incredibly diverse team from different cultures, races and sexual orientations and we allow and encourage their individuality. We collaborate on everything and value different opinions, from the best way to develop our software to revenue management philosophy to what we're going to order for our weekly lunches or where we're headed for our next team-bonding exercise.
We've tried to create an environment that doesn't feel like work, where everyone has a say and feels comfortable speaking up. There are no offices — not even for our CEO — and there's no clock to punch. We don't have set hours and we encourage employees to come and go as they please.
We know hospitality can be an around-the-clock job and that software coding can be a grind. Instead of coming to an office, we hope it feels more like a group of friends getting together and doing some work.
A funny thing happened along the way. When I'm not traveling, I'm usually one of the last people to arrive at the office in the mornings. And there are always a handful of people still working into the evenings when I leave and even on the weekends.
When employees aren't in the office, they're connected with their mobile devices. We've never asked anyone to check their emails around the clock, but everyone does. We have members of our customer success team voluntarily waking up in the middle of the night to speak with clients overseas. The entire team is committed to our mission and working harder than any team I've ever been on.
Without this culture, we would have faced far more significant growing pains as we tripled in size. We've had very little turnover along the way and existing employees recruit their peers to join the team now, which means those candidates have already passed the culture test. Others from up and down the Strip have sought us out after hearing about Duetto or seeing our social media, which we use to highlight the fun we're having, not for more traditional marketing.
We very rarely post want ads to fill positions and by the time we're interviewing candidates, we usually have a good idea that they've got the skills and passion we're looking for.
We also have a great partnership with UNLV and help the hotel school and guest lecture at revenue management classes, and in return, professors help send us their top students for internships and full-time work.
The younger generation doesn't want to be regimented and confined to an office. They don't want a work-life balance — they want a blend. By embracing that, we've built an amazing culture and my job of hiring and keeping employees happy is a whole lot easier.
Marco Benvenuti is one of three founders and the chief analytics and product officer of Duetto, a hotel revenue strategy technology company based in Las Vegas and San Francisco. Previously, Benvenuti founded the Enterprise Strategy Group at Wynn and Encore in Las Vegas and led all revenue strategy functions there. Before that, he worked at for Caesars Entertainment Corp., Expedia and Four Seasons