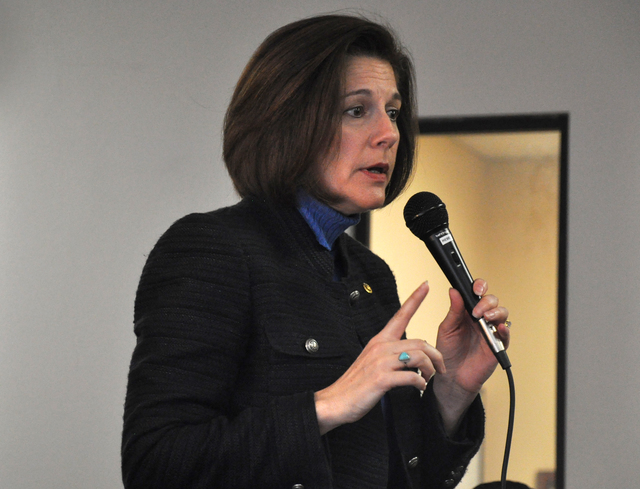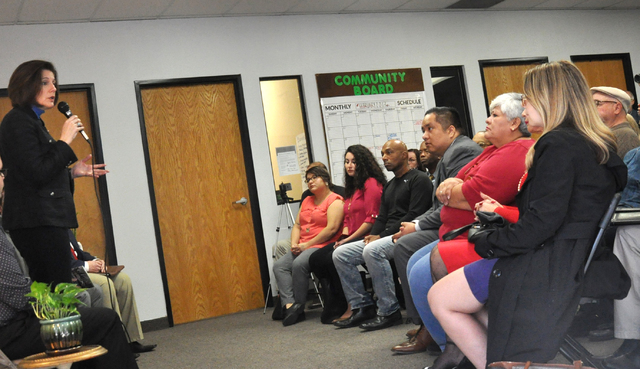 Nevada's future economic health is linked closely to the emerging green energy sector, and Washington policies that undermine its progress could be very damaging to the state. This was the message newly elected U. S. Sen. Catherine Cortez Masto presented during the most recent congressional break, speaking at a Feb. 23 roundtable in Las Vegas.
"We are primed to go down the path of investing in a clean economy," she told a small gathering of attendees, many of whom were associated with the League of Conservation Voters' Chispa NV, which hosted the event.
"We have geothermal, wind and solar. I don't think people realize that here in Nevada our green energy economy generates $6 billion. We have 6,000 people working in the solar power energy industry, 20,000 in the green energy sector; and we can do more."
The renewable and sustainable energy sector represents more than 26,000 jobs in the state that command an average salary of about $64,000, according to the Nevada Governor's Office of Economic Development.
Cortez Masto said she would like to see increased investment in the state's clean energy for economical and ecological reasons, and she expressed concern that the Trump Administration — in particular Environmental Protection Agency chief Scott Pruitt — would negatively affect initiatives.
"I will oppose attempts to roll back key protections that could cause irreparable harm to our environment," she said. "There is some great research going on in terms of green economy in the state, and we need to continue with the federal level of research dollars."
Nevada has attracted significant investment from businesses within the sector in recent years, including the Gigafactory for electric car manufacturer Tesla near Sparks, a planned $1.4 billion production plant at the APEX Industrial Park for electric automaker Faraday Future and a regional hub for San Mateo, California-based solar energy services company Solar City.
"(Electric cars) are a great start to ensuring we clean up our carbon pollution," said Rudy Zamora, LCV's Chispa Nevada program director. "But we have to do more than just get a Tesla – it is not an affordable car. We need to find alternative ways that are more affordable for everyone."
Las Vegas native Cortez Masto became the first Latina to serve in the Senate after narrowly defeating Republican Congressman Joe Heck in November. She received a majority of votes in only Clark County and was competitive in just one other — Washoe — which could illustrate that red-blue politics is largely a rural/urban divide as much as a regional one. Prior to her election, she served six years as Nevada's attorney general.
$6 billion
generated by Nevada's green energy economy
6,000
people working in the solar power energy industry
20,000
people working in the green energy sector
$64,000
average salary of green energy workers