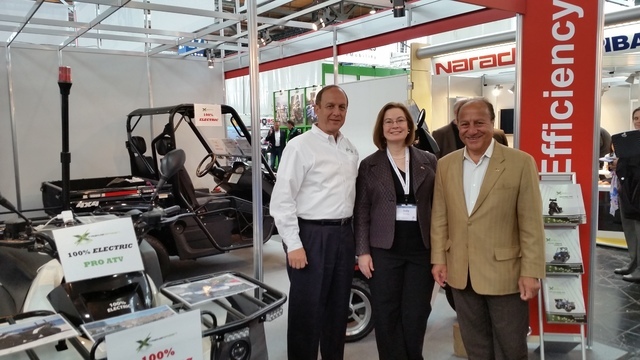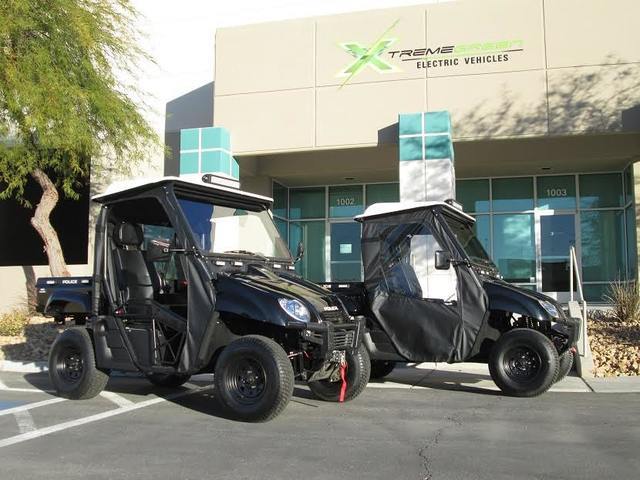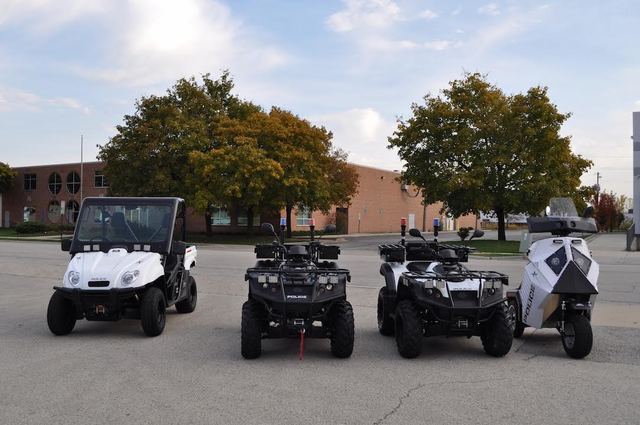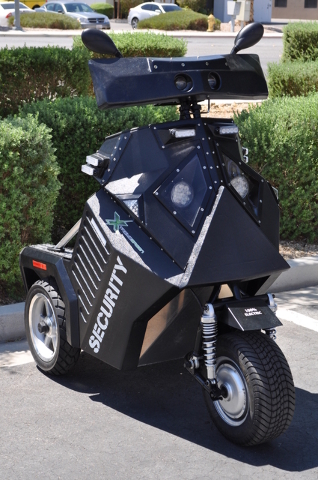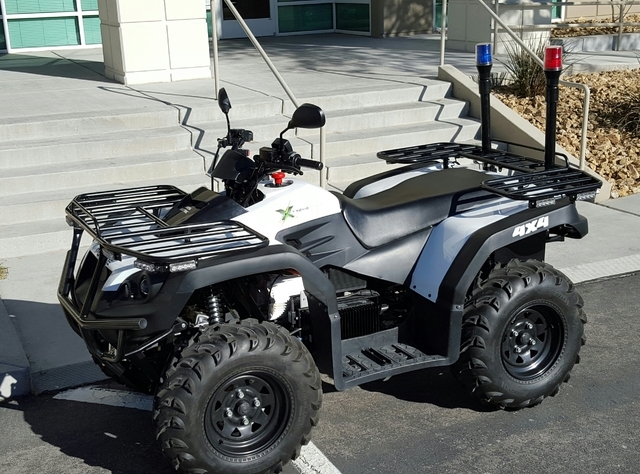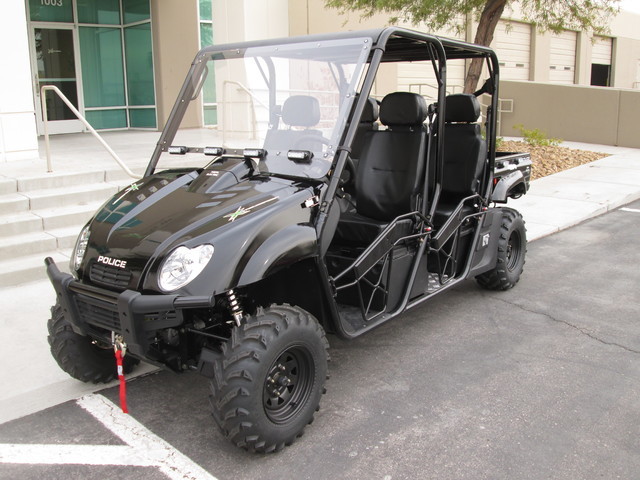 A North Las Vegas-based manufacturer of electric-powered all-terrain vehicles, utility terrain vehicles and police mobility vehicles recently mapped several inroads to increasing its international presence.
Xtreme Green Electric Vehicles Inc. set up shop at this year's Hannover Messe, an annual global trade fair for industrial technology, centered in Hanover, Germany.
The yearly event that attracts potential clients from all over the world welcomed more than 190,000 attendees and over 5,000 exhibitors at the end of April.
Neil Roth, president of Xtreme Green, said the company accomplished what it needed to at the fair this year.
"We needed to develop relationships and find partners in each country to be our distributor-partner," Roth said.
There probably will be more work ahead for Xtreme Green to fully develop the track it has chosen.
Roth said once the organization enters a new country — he used Germany and France as examples — local distributors will attend future shows in their home country. Xtreme Green will offer its help to distributors to attend and advertise with them.
"It will be each country unto itself, basically," Roth said.
Another important aspect to doing business in a new country is using a region's Department of Commerce effectively. The institution can offer a lot of help on creating an export business overseas, Roth added.
The United States was the partnering country at this year's show for the first time, which allowed the nearly 400 companies and organizations in the U.S. delegation, which included XGEV, to be featured.
Also at this year's affair, President Barack Obama offered a speech at the official opening ceremony, with taking the opening tour alongside German Chancellor Angela Merkel.
On the homefront, Roth has been producing his three- and four-wheel electric-powered specialty vehicles, with options of two or five seats on some models, for nearly a decade. He built the first prototype in 2005 inside a garage.
Things were in a different state then, working on coming together on a power source, body design and a management system. Roth's search brought him as far as China to form a workable alliance and product.
Today, XGEV is producing 100 to 200 vehicles a year, with the capability of producing 600 to 800 units, at its 50,000-square-foot local office on East Alexander Road in North Las Vegas, said Jeff Taylor, vice president of manufacturing at Xtreme Green Electric Vehicles.
The building process has also gotten more manageable in recent times, with the closure of a manufacturing facility about 18 months ago, Taylor said.
"We have better control over it—better inventory control, timing," Taylor said.
International clients are still an aspect of the brand's business model.
Taylor said the company ships all over the world including Canada, South America and Central America and Mexico. Some recent orders will bring the company into Israel, and demonstrators are showing the product in South Africa, Taylor said.
The company's largest customer is on the domestic side, he said.
The majority share of clients come from the security and law enforcement sector, followed by maintenance for college campuses or municipalities, Taylor said.
There has also been interest brewing among farmers and ranchers, he added.
The company also produces a line of custom lines, something that Taylor said is not readily available through larger organizations.
Taylor said the group has installed custom cabinets on vehicles and has built a special EMS vehicle with a canopy enclosure, among other custom builds.
The average price of a new vehicle can range from under $10,000 up to $25,000, which is just a little higher than gas versions of a comparable ATV, UTV or PMV, Taylor said.
There are other benefits to going electric, including saving on maintenance and gas.
"You don't have to go years and years to recoup the difference," Taylor said. "It's probably within months that you're going to offset that difference. Beyond that, you're saving money."
One of the reasons for low maintenance is the smaller number of serviceable parts, Taylor said.
The batteries also have positive features, including being able to charge it at any time without affecting its life. That's because of its type: lithium ion iron.
Taylor said its three-wheeled police mobility vehicle — a personal mobility vehicle for civilian users — can easily drive through an 8-hour shift.
Some of the features include 40 to 50 miles of continuous driving on a single charge, XGEV and UTV models.
On shorter trips, Taylor said, the average mileage for a UTV is between 50 and 60 miles per charge. Users can get an 80 percent charge in four to five hours on the UTV, with a four-hour charge time on the PMV.