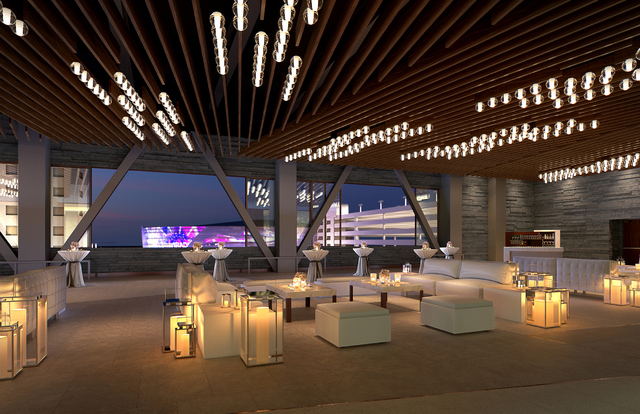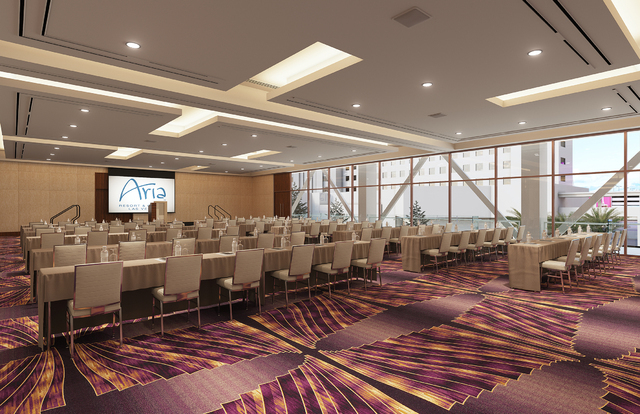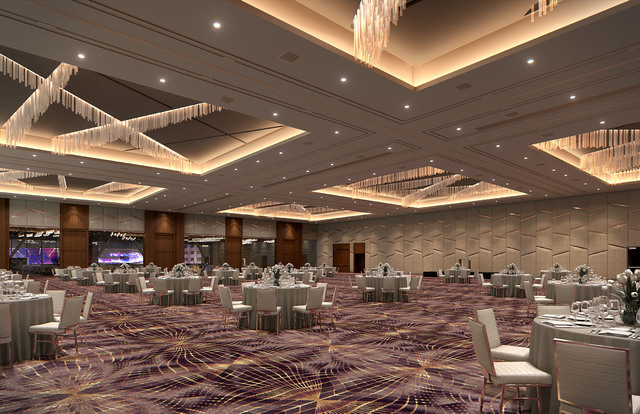 To serve the thousands of corporate travelers coming to Las Vegas for conventions and trade shows, Aria is starting work on a major $154 million expansion of its convention center with completion expected in February 2018.
"Convention business at Aria is booming, and demand is currently exceeding the space we have available," said Bobby Baldwin, Aria's president and chief operating officer. "Hosting large meetings and conventions is a core part of our business and as our clients' needs grow, we are committed to grow with them."
The new convention center area will deliver an additional 200,000 square feet of technologically advanced, flexible meeting space across four stories. The expansion, which will give Aria over 500,000 square feet of meeting space, will feature several indoor and open-air spaces along with a glass-enclosed venue with views of The Park recreation and retail area and the new T-Mobile Arena.
"Our guests expect luxurious offerings and will be wowed by the new convention space," said Tony Yousfi, Aria's vice president of sales. "With the addition of this elite venue, Aria exponentially increases the spectrum of events and services that can be hosted at our resort."
Aria aims to fill its new convention space with large information and technology meetings, drawing some from Chicago, San Francisco and Orlando, Florida.
"We will work with the current groups that are outgrowing us and do not want to move; followed by groups that prefer Aria but were fully committed prior to the expansion; then target larger groups that need all the space," Yousfi said. "We have flexible meeting space across the four stories that allow each floor to have a 'meet' and 'feed' factor. It allows for two groups of over 500, one group of over 1,000, one group of over 3,000 using the space, or even 50 smaller groups. It is a very flexible venue."
Aria was named the top meeting resort in North America last year by Cvent, an industry leader specializing in meetings management technology. The facilities also received the 2015 Gold Platter and Gold Key Awards from Meetings &Conventions magazine. Aria was were named Smart Meetings' Best Gaming and Casino Hotel in 2015.
The new convention space will occupy space used for Cirque du Soleil's production of Zarkana, which has closed.
The first level of the four-level expanded convention center area will feature an open ballroom with ample prefunction spaces and access to an exclusive loading dock for events requiring sizable displays. The second level will feature indoor-outdoor breakout rooms. A traditional large ballroom will be on the third level along with naturally lit prefunction spaces connecting to Aria's existing convention center. The fourth level, the top floor, will complement the ballroom with an outdoor patio that can accommodate receptions for up to 2,000 guests.
It's exactly what Aria's clientele — both domestic and international — have been asking for, Yousfi said.
"The unique design is appealing to international clients who want something different, and not just traditional ballroom or nightclub spaces," Yousfi said. "The prefunction spaces will allow one group or two groups to have their own separate experience. We will be able to offer a formal dinner for 1,500 to 2,000 people within a stunning glass-enclosed venue with outdoor patios and dramatic views of The Park and the new Las Vegas Arena."
The new expanded convention center will also feature videoconferencing, with 7,500 strands of fiber-optic cable to enable television networks to broadcast live from high-profile events. Built-in plasma televisions with high-definition projection screens will be featured throughout the new convention center, along with a 1 gigabyte wired Internet connection.
"We are incorporating new technology to assist with the guest experience and we are prepared to handle the needs and requirements of all of our guests," said Shannon McCallum Crawford, Aria's executive director of hotel operations . "Our overall market mix will change since we are adding convention space but not increasing guest rooms. We also anticipate adding some staff to support the expansion.
"The new outdoor meeting space will lend itself well to cocktail events, breakout sessions and wedding receptions. It gives us more flexibility of venues for groups and a variety of activities. We will continue to use areas such as the pool and spa for reception space and leisure activities for guests of the hotel and conventions."
The new convention space features many green building aspects that fit with MGM Resorts International's commitment to build all new venues to the Leadership in Energy and Environmental Design Gold standard or better.
"We are creating one of the most expansive, high-end, environmentally friendly meeting facilities in the world," Yousfi said. "We already have an integrated environmentally responsible practices and services for all meetings, conventions and conventions. With seamless technology connection between the existing space and the new space, the expansion allows us to grow with our valued customers as their meeting size grows so they do not have to relocate in the future."