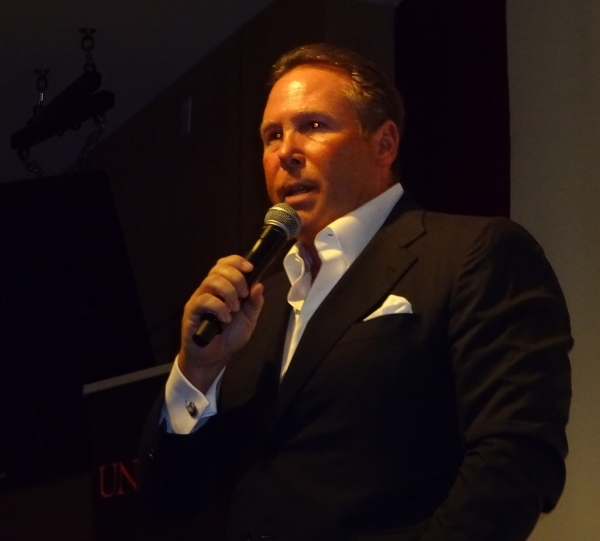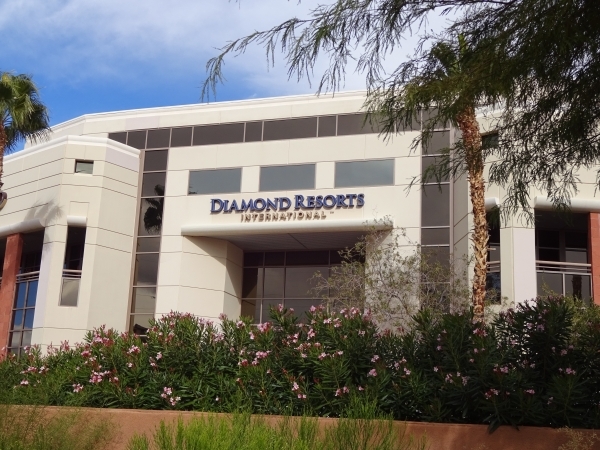 Stephen Cloobeck has been described as "the most explosive boss" in the history of the TV program "Undercover Boss." He's terrorized employees around the world and often calls his lieutenants at 2 a.m. just to make sure they'll answer.
But there's no debate that the founder and chairman of the board of Diamond Resorts International has built a business success story.
He recently opened his speech to a group of students at the UNLV Lee Business School with a showing of his appearance on the reality TV program. On several occasions during the filming, Cloobeck angrily blew his cover in advance of the "big reveal" to correct an error being made by one of his employees.
After the video, Cloobeck, with his distinct bravado delivery, didn't pull any punches when he described his climb to the top of the timeshare industry.
Diamond Resorts International, headquartered in Las Vegas, is the second-largest timeshare company in the world, boasting more than 45,000 beds in nearly 330 destinations located in 34 different countries and serving more than 400,000 guests each year. The company operates three resorts in Las Vegas — the flagship Polo Towers along with the Desert Paradise Resort and The Carriage House.
To operate such a large enterprise, Diamond Resorts employs 15,000 team members worldwide. In Las Vegas, there are more than 1,800 team members that work in the corporate administration and reservation center located in two office buildings in Summerlin.
On July 19, 2013, Cloobeck rang the bell at the New York Stock Exchange allowing the sale of the first shares of Diamond Resorts (NYSE: DRII), as a publicly traded company. During the initial offering, 15,500,000 shares of its common stock were available at a price of $14 per share. The stock has been trading at twice that price and the company recently reported its third quarter revenue had increased by $29.4 million (13.3 percent), to a total of $251.4 million. Net income increased by $10.6 million (40.3 percent), to $36.9 million.
According to the December 2014 filing with regulators, the company had an adjusted capitalization of $1.472 billion. Cloobeck has an estimated personal net worth of $100 million.
The backstory
To appreciate the company's success, you first have to understand both the man and the history.
In 1983, Cloobeck graduated from Brandeis University with a degree in psychobiology. "I started out wanting to be a surgeon but after graduation decided that wasn't for me. I should have gone to business school, but it wasn't in the cards at that time," said Cloobeck.
After college, he went to work for his father (a partner in the Jockey Club), selling time shares.
"I think I was 18, and I probably did a few things that I shouldn't have done, but all I cared about was the split, the cash, closing the deal — but I learned a lot. I went into the shopping center development business and got my butt kicked a little bit and learned how to build," said Cloobeck.
With the Jockey Club completely sold out and a need for expansion, Cloobeck came back to Las Vegas to help his father. At age 29 he designed and built the Polo Towers which opened New Year's Eve 1993 as the first high-rise timeshare.
Cloobeck eventually bought all the shares in the Polo Towers and took over running the company. Starting with a negative $5 million, Cloobeck turned the Polo Towers into a huge success and, in 2004, he sold his majority interest in the company but kept his hand in the timeshare business by partnering with Wyndham on a couple of projects.
With time on his hands, Cloobeck seriously considered running for governor of Nevada in 2007, but instead purchased Sunterra Resorts, a struggling timeshare company, in a $700 million buyout. The acquisition brought a portfolio of 100 timeshares in 17 states and 13 countries along with more than 3,300 employees to the Diamond Resorts International brand.
Noting that Sunterra never had leadership with timeshare experience, Cloobeck went back to work, stating, "I plan on being an active CEO in running the company."
'Capital lite'
Diamond Resorts International weathered the recent recession by building a robust and lean company, what Cloobeck calls "capital lite." In addition, the company speaks 16 languages and has a proprietary technology system with the ability to run thousands of resorts with multiple currencies and multiple languages.
Since 2007, Diamond Resorts has acquired seven smaller timeshare companies that contributed to its growth. The most recent acquisition, in August, included Gold Key Resorts, which manages five vacation ownership resorts in Virginia Beach, Va., and one in Outer Banks, N.C., for $167.5 million.
When asked by a UNLV business student about the key to his success, Cloobeck replied that it is all about "communication and training." He elaborated about how he gave every executive in his organization a Blackberry and told them that he wanted to see communication between all departments.
He admits that he would call people at two in the morning to see if they would answer their phone; if they didn't answer they were fired.
"The resort business is 24/7 and 365 days a year, and it is a lot of work to be successful," said Cloobeck.
However, on the subject of communication, he admitted that when people ask his secretary for a half-hour appointment with him, she tells them 'good luck if you get 15 minutes' claiming that he is too busy to listen to a lot of stories. "Besides," said Cloobeck, "I have been in this business for over 25 years, I have forgotten more in the last two minutes then most of these people will ever learn." He also commented that he quite often answers email correspondence with "Y," "N" or "WTF."
Cloobeck emphasized that customer service is very important and at each resort has introduced the catchphrase "the meaning of YES," where each guest is entitled to what they need and expects his employees to go out of their way to provide that service. Likewise, Cloobeck doesn't tolerate any abuse of his employees and has been known to call rude guests to tell them that they are no longer welcome at a Diamond Resorts property.
"When I did 'Undercover Boss,' it changed me forever being a CEO," said Cloobeck. "Because you can go to your resorts and you can talk to your team members and they are not going to really tell you what is going on. So you really don't have any idea what's going on until you're working at the resort."
At the end of each of the two episodes, Cloobeck gave money and other generous gifts to employees in need. This prompted him to establish an "Employee Crisis Fund" to help any employee in their time of need. The fund was established with a $1 million personal contribution from Cloobeck and an additional $1 million contribution from the company. The fund is run by the human resources department, but the decisions are made by a committee of employees. So far, more than 250 employees have received benefits from the fund.
Tourism ambassador
In addition to Cloobeck's duties as chairman of the board, he has also taken on the position of chairman of Brand USA, an organization tapped by Congress to promote the U.S. as a destination for international tourists. He describes this position as "like being the tourism minister."
He speaks passionately about the work he does on America's behalf, including a campaign he's launched to make U.S. borders friendlier. "There is no reason our customs agents can't do what they have to do to protect our borders and smile at the same time," says Cloobeck, who wants the agents to say "Welcome to the U.S." to all international arrivals.
Cloobeck, along with Steve Wynn, is also responsible for the "Strip Beautification Project" on Las Vegas Boulevard from Russell Road to Sahara Avenue. Now designated as a Nevada Scenic Highway, the project consists of 4.5 miles of streetscaping of the landscape medians on "the greatest midway in the world." The project was completed in 1995 after more than 200 Strip frontage property owners unanimously approved the $13 million special improvement district project, which had no fiscal impact on individual Clark County taxpayers.
At the end of his UNLV talk, Cloobeck asked the students if they knew the most important asset on the balance sheet.
"The most important asset on your balance sheet is human capital. It's actually not on a balance sheet, but it is your most import asset. You had better nurture it, you'd better train it, you'd better retrain it, and if people don't work — get rid of them. Don't be lazy — otherwise you create a cancer in the company," stated Cloobeck.
In classic Cloobeck style, he declined a request for an interview after talking to the students.