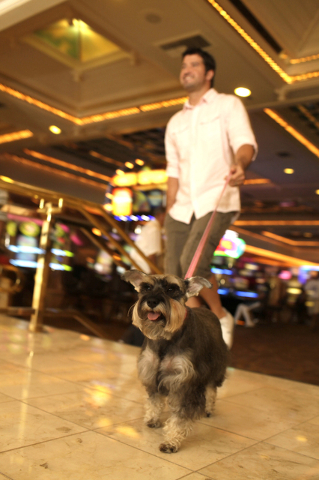 Through the ups and down of the American economy across the last decade, one of a handful of industries that has seen a constant increase in demand is the animal care and pet industry.
And Las Vegas' hospitality industry has taken note, with more and more casino-resorts adopting pet-friendly policies to accommodate guests.
The pet care industry will converge in Las Vegas from May 11-14 during Animal Care Expo 2016 hosted by the Humane Society of the United States at Rio All-Suite Resort.
"The Humane Society of the United States has long recognized and celebrated the bond between pets and people," says Inga Fricke, director of shelter and rescue group services for the Humane Society of the United States. "We are thrilled to see various segments of the economy, like the tourism and travel industry, supporting that important bond as well."
It is a bond that has added to the resort experience on the Strip by hotels offering pet-friendly rooms and services, and further distances properties from the uninviting casino stereotype that has pretty much disappeared in the 21st century.
"More and more pet owners view their four-legged companions as part of the family, so it is only natural that they want to bring them along when they travel," says Fricke. "Hotels that welcome pets have simply recognized this trend, and realized that there is no reason not to welcome travelers with pets."
Both Caesars Entertainment and MGM Resorts International have identified this trend with a strong push to market towards tourists with pets.
Caesars Entertainment launched its PetStay program in October 2010 at Caesars Palace, The Quad (now The LINQ) and Rio. The program was so popular that in early 2011 the company expanded it to its other five resorts on the Strip: Bally's, Flamingo, Harrah's, Paris and Planet Hollywood. They offer a variety of rooms for guests, from the standard PetStay rooms to upgraded rooms and suites including the Laurel Collection by Caesars Palace, one of their top luxurious accommodations.
At Vdara, their V-Dog program was launched two years ago and has been extremely successful. The program includes a dog park and in-suite dog butlers available through the concierge team. In-suite dog butlers check on dogs while guests are out and take them on a daily walk around the resort. Just last September, Bellagio and The Mirage joined Vdara and Delano Las Vegas on the list of pet-friendly MGM Resorts properties.
"At Vdara and all of our participating hotels, there are complimentary designated relief and play areas, and guests may request kennels, food and water bowls from the concierge," says Mary Giuliano, general manager of Vdara. "We also have dedicated rooms on particular floors for those with pets so that all of our guests can be comfortable during their stay."
It is a stay that begins differently than the normal hotel check-in. At the Caesars Entertainment properties, guests receive their PetStay welcome packet upon check-in as the pets are confirmed to be below the 50-pound weight limit and given clearance to stay in the room. The guest also receives food and water bowls, treats and waste bags upon check-in.
The PetStay rooms are offered as a room upgrade and are available for up to two dogs of 50 pounds or less. Dogs must be crated when alone in the room and crates are available to rent. Pet owners receive directions to nearby dog parks, and given a list of resources for pet walking, pet sitting, grooming services and veterinary care available through third parties. The price for the upgrade varies based on hotel occupancy levels.
"We are happy to see hotels and other facilities welcoming pets," says Fricke. "We believe that every city should celebrate people and pets, and embrace them in every venue. Every facility should establish its own criteria, but it is our hope that every companion animal will be welcomed in hotels and similar venues in Las Vegas."
The trend has equal popularity from guests all across the country, from regular California tourists to east coast tourists who want the company during their cross country trek. The competitive nature of Las Vegas has seen the trend cross into all of the major casino hotel resorts on the Strip.
At MGM Resorts, dogs are the only pets allowed to stay at Bellagio, Delano, The Mirage and Vdara. The pet fee ranges from $50 per night at Vdara to $125 per night at Bellagio. Both Delano and The Mirage have a fee of $75 per night, however it is $75 per night per each dog at Delano. All four properties allow up to two dogs, with a maximum combined weight of 40 pounds at Bellagio and The Mirage; 70 pounds at Vdara and 100 pounds at Delano.
"Pet friendly programs have become increasingly popular and we continue to see steady bookings for our canine-friendly rooms," says Giuliano. "With the four dog-friendly resorts, guests and their dogs now have the opportunity to experience more of what MGM Resorts International has to offer."
The trend of pet-friendly hotel rooms will only expand as the industry size and number of pet owners continue to multiply. As the interest of owning pets and pet care receives more visibility, The Humane Society of the United States hopes that guests seek adopting abandoned dogs and bring them to Las Vegas to celebrate their bond together.
"As an organization, we are most interested in getting the rental housing industry to follow the lead of many temporary housing providers like hotels, and welcome all dogs and cats, regardless of breed or size," says Fricke.