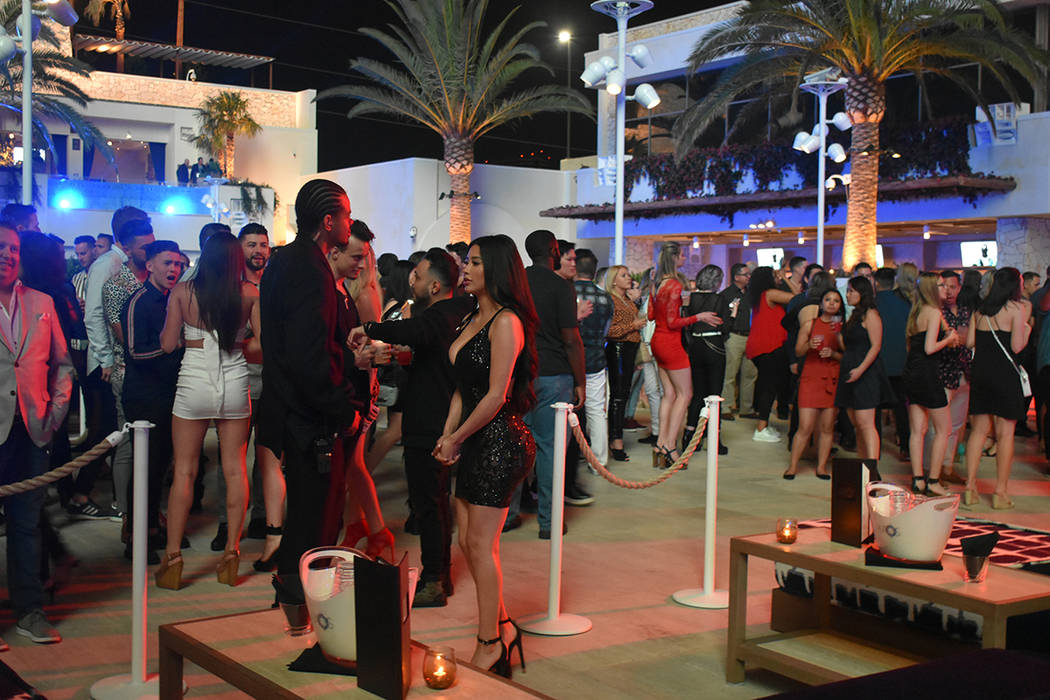 It sounds like the Las Vegas casino nightclub craze is over as we know it.
The business model is broken for Las Vegas casino nightclubs, and visitors are turning to dayclubs and restaurant lounges in greater numbers and properties are responding.
That was the surprising take-away from Matthew Minichino, vice president of nightlife and daylife for Hard Rock International, when he spoke to a group of commercial real estate professionals at the monthly CCIM meeting on April 24 at The Orleans Hotel.
Basically, night clubs have lost the coolness factor where they once were viewed as a place to go out and see and meet celebrities. With social media, millennials can check out that action on Twitter and Instagram without spending any money.
And, money is also a factor. Those who spent $10,000 to $50,000 a night for VIP treatment have grown up and aren't making those same trips to Las Vegas anymore and when they do, they aren't spending it at nightclubs in those amounts.
Others who've paid $50 to $200 to get in a club just to be crammed into a space don't see the value in that anymore.
Those people have other options with casinos opening nightclubs across the country where they live. Millennials are opting for music festivals that are growing around the country and provide an experience that's more fun for them and their friends.
When millennials come to Las Vegas, pool parties and dayclubs are where they can start before noon and go past 6 p.m. are the preferred way to party rather than late-night trip to a club.
Casinos are heeding that lesson and are applying that now and what they do in the future, Minichino said.
The latest to open was the KAOS Nightclub and Dayclub at The Palms. The dayclub measures more than 70,000 square feet and is touted as having the most number of pools at a North American resort. It has a seasonal dome so it can operate year-round and host about 5,000 people. The nightclub has about 30,000 square feet.
"When it comes to nightlife, you are starting to identify more hotels and casinos (that) are realizing what customer base they want to drive to the property," Minichino said.
Minichino talked about how The Palms just rolled out its $100 million-plus build-out at KAOS to drive a 3,000 to 5,000 people to that property on a nightly basis.
"You are seeing so many additional forms of nightlife being built into these properties," Minichino said. "There's small intimate cocktail lounges. There's a really cool concept at the Cosmo called the Barbershop,which is like a speakeasy – alive entertainment venue only 3,000 to 4,000 square feet. They are looking for small intimate concepts so that you can have more offerings and live entertainment."
That's how nightlife has expanded, so it's just not a nightclub any longer, Minichino said. Every market has a Las Vegas-style nightclub, whereas 10 years ago that wasn't the case and everyone would want to come here, he said.
"So, now the visitation per nightclub customer has gone down and because of that oversaturation the model is a little broken now and people are pivoting to a more controllable concept."
Minichino said The Venetian is an example of what he calls trying to be "the anti-nightclub" property by rolling out multiple high-end cocktail lounges to keep people on its property.
"They are being very successful with them, and they are driving good masses," Minichino said. The trend of going out to dinner at a restaurant at 8 or 9 p.m. and then going out to club afterward isn't the case any longer, Minichino said. People now go to a restaurant at 9:30 or 10 p.m. and stay at a speakeasy lounge in the back of the restaurant until 1, 2 or 3 a.m. He cited Bavette's Steakhouse & Bar at Park MGM as an example of a restaurant and nightlife experience as well.
"Those trends are going to keep growing, and what we're noticing is a lot of younger clientele that want value for their experience," Minichino said. "The mindset now of going into a nightclub and spending $50 to $100 to $200 to walk in and just get crammed into a space and be uncomfortable is not what the customer wants anymore. They want to feel like they're getting value and getting a true experience for their leisure dollar."
As for the mass hangouts, Minichino said multiple dayclubs are doing 3,000 to 5,000 people every Saturday. The revenues for those clubs are good because people are inclined to spend more money during a long period of the day. Dayclubs have evolved from being part of the daytime pool party at the Hard Rock, Wynn and other locations, he said.
"You are talking these daytime experiences, and people go at 10 or 11 a.m. and not leave until 6 or 7 at night," Minichino said. "People love day drinking, but that has hurt the nightclub business and late-night drinking. Five to 10 years ago in this city there were multiple afterhours clubs that were very successful, but with the enhancement of the dayclubs, they want to go to bed at 3 or 4 a.m. so they can get up early and go to the dayclub."
Minichino, who previously worked for Wynn Resorts with its clubs and with the SLS, said he's learned that it's the properties themselves that make the nightclubs successful rather than the nightclubs that make that properties successful. Minichino talked about XS at the Wynn, Omnia at Caesars Palace and Hakkasan at the MGM Grand.
"When you depend on venues to make the property successful, it is very challenging, and the SLS was a perfect example," Minichino said. "That property was made to believe that nightlife would be a key driver for additional revenue, but it didn't line up correctly."
Minichino recounted about once taking over an operation of one in which there was a $30 million build-out with the expectation of $60 million in gross revenue. There was $30 million in commitments made for DJs, and the property was comping 2,000 people on a nightly basis, he said.
"What is going on is every major nightclub comps 1,000 to 2,000 people on a nightly basis against their competition," Minichino said. "That's why it's beneficial to look for alternatives of nightlife concepts and smaller live entertainment venues and sports entertainment venues like sporting clubs and Top Golf."