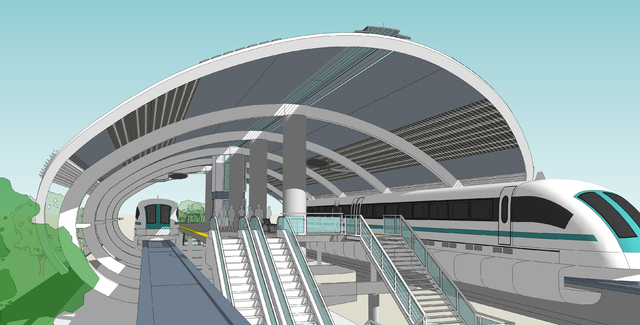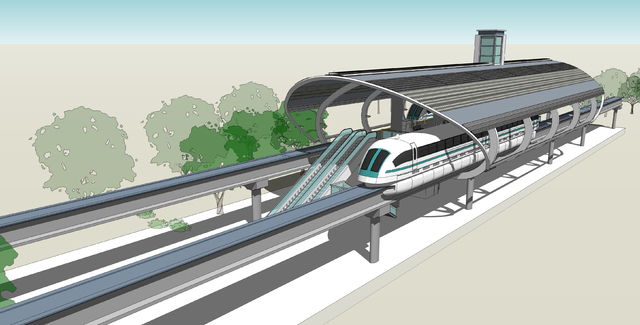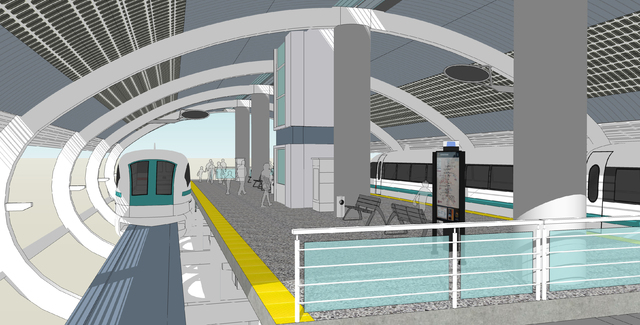 For months, Las Vegas Convention and Visitors Authority President and CEO Rossi Ralenkotter has been sounding the alarm that it's imperative that Las Vegas enhance its tourism infrastructure to maintain its lead as the nation's top tourism destination.
Ralenkotter's focus has been on the Las Vegas Convention Center campus, which will be transformed into the Las Vegas Global Business District over the next decade.
It started with the acquisition of the Riviera hotel-casino, and eventually will evolve into adding exhibit hall space, more meeting rooms, a general conference facility with thousands of seats and office space within a World Trade Center building.
One of the less visible components under consideration is the enhancement of transportation facilities and that includes more than just the Convention Center campus, which may need an onsite circulator system to move conventioneers over the expanded area. It also includes mobility issues for the thousands of more people the convention industry hopes to attract as the Global Business District takes shape. That means efficiently moving people from the airport to the city's major convention facilities and to the resorts.
While some seem convinced that people will continue to come to Las Vegas regardless of what happens to the transportation infrastructure, others aren't so sure.
One of Las Vegas' convention rivals, Orlando, Fla., will put that to the test in the next couple of years with plans to enhance its transportation system from Orlando International Airport to the Orange County Convention Center and a cluster of hotels.
Last month, Orlando officials announced plans to begin construction next year of a magnetic levitation system that would link the airport east to the convention center and International Drive, the home of several hotels surrounding the center.
Marietta, Ga.-based American Maglev Technology will break ground later this summer on the 13.7-mile, privately funded $400 million system that will transport passengers for between $10 and $16 a trip.
American Maglev is partnering with Ricardo Plc, a British engineering and design company with an American presence in suburban Detroit, to provide the vehicles for the system.
Contractors are promising a quick, smooth ride between the airport and International Drive.
Many longtime Las Vegans have a familiarity with maglev technology because it was touted for possible use between Southern California and Las Vegas as an alternative to high-speed rail in the 1980s and '90s.
Maglev has many advantages over traditional steel wheels on rails, including reduced maintenance costs since there are minimal contact points between track and vehicle — the train levitates atop a magnetic field generated by a guideway.
Another plus for maglev is its speed. In recent weeks, a Japanese maglev system broke records by reaching 373 mph on test runs.
The Orlando project isn't selling itself with speed records, but efficiency. After all, how fast do you have to go when you're only traveling 13.7 miles?
Las Vegas' big advantage over most convention cities has been the close proximity between the airport, hotel rooms and convention centers. A conventioneer hypothetically could land at McCarran International Airport and be on the trade-show floor or in a hotel room within an hour. Once the Orlando maglev is place, Las Vegas' close-proximity advantage disappears.
With the new system in place, it's likely that some trade shows would want to take a look at Orlando simply to check out the new system and see how much it enhances the visitor and convention experience.
Which leads us to Las Vegas' counterpunch.
The details still haven't been fleshed out, but Ralenkotter, the Regional Transportation Commission of Southern Nevada and several transportation experts recently unveiled some recommendations for what the city's transportation scene could look like in the next five, 10 and 20 years.
The Transportation Investment Business Plan, as it's being called, is jaw-dropping in its breadth and its prospective expense.
Imagine a subway beneath Las Vegas Boulevard serving the Strip corridor from Hacienda Avenue to Sahara Avenue with underground stations at Strip resorts and possibly extending farther north to downtown below or above ground.
Consider a light-rail system connecting the airport with some existing or proposed transportation options across the valley.
Think about the potential of connecting Southern Nevada's three largest convention facilities — the Las Vegas Convention Center, the expanding Mandalay Bay Convention Center and the Sands Expo Center — with an extension of the Las Vegas Monorail to Mandalay Bay and construction of a new station near the Sands.
Committee members also are considering that some day the often-discussed dream of building a high-speed rail line between Las Vegas and Southern California would become a reality and extending the monorail to the most likely location for a station, across Interstate 15 from Mandalay Bay, would be a necessity.
Those proposals, incidentally, are all on the list of long-term improvements, viewed as possibilities between 10 and 20 years from now, or midterm improvements, occurring between five and 10 years from today.
There's no doubt the projects would be expensive, some possibly prohibitively expensive.
But that's probably what those in Orlando thought about installing a maglev line from the airport to its resort and convention corridor.
If Las Vegas doesn't start thinking about solutions to looming transportation problems, it'll someday be looking up to the Orlandos of the world and wondering what happened.
Follow @RickVelotta on Twitter. Contact reporter Richard N. Velotta at rvelotta@reviewjournal.com or 702-477-3893.