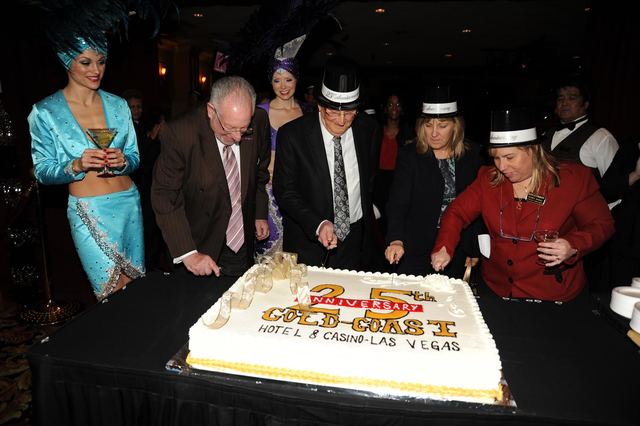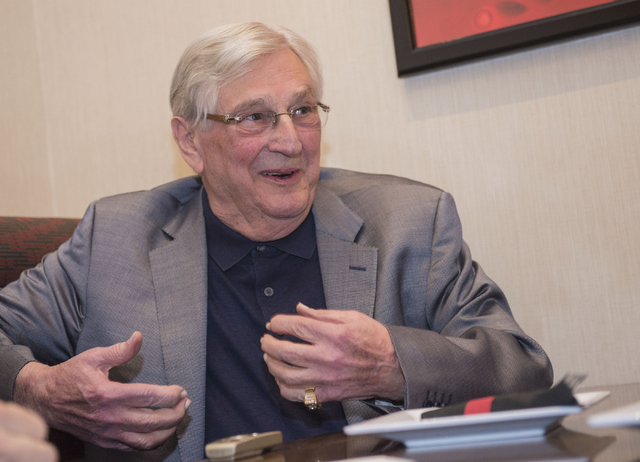 It was a cool, bright Sunday morning in Las Vegas.
Americans were first hearing news of the fatal hate crime assaults committed in New York's Howard Beach neighborhood one day earlier. "The Way It Is" by Bruce Hornsby and The Range topped the pop charts. Quarterback Bernie Kosar was taking the field to lead the Cleveland Browns to a 47-17 victory over the San Diego Chargers that would secure the AFC's top seed going into the NFL playoffs. And Gold Coast opened for business.
That was Dec. 21, 1986. The hotel-casino is celebrating its 30th anniversary jointly with The Orleans, which marks 20 years of existence. Both properties — part of the Boyd Gaming Corp. stable since the 2004 purchase of Coast properties from Michael Gaughan — will host champagne and cake public celebrations Dec. 20, and will feature buffet and drink specials and cash giveaways through Dec. 24.
"Mr. Bill Boyd, our executive chairman, will be at both properties on Dec. 20," said Tony Taeubel, vice president and general manager of Gold Coast and The Orleans. "We will have a line dance at the Gold Coast. At The Orleans we will have a Mardi Gras parade and photo opportunity with the Mardi Gras girls that afternoon."
Gold Coast was the first local customer-based casino situated in the western side of Las Vegas, and according to Taeubel, marketing off-Strip properties has proven to be a continual challenge.
"You have to work a lot harder," he said. "On the Strip, people want to be there. You just have to open your doors. But we have to market in two fashions. One, to the local guests — who are very tough, very discerning in what they want. And, also, the destination, regional customers — which is driven by hotel rates, events — things like that. So you have to have a dichotomy of customers there."
Local customers represent about 75 percent of Gold Coast business, and about half at The Orleans. Taeubel said the two properties tend to be marketed together, although they feature significant clientele differences.
"The Gold Coast is very Asian-centric," he explained, "especially with the pit and table games that are offered. And the restaurants we offer, with Ping Pang Pong (specialty dishes from China) and Noodle Exchange. The Orleans is for everybody under the sun — so to speak — with more than 1,900 rooms, we attract a wide variety of clientele."
The industry trend toward nongaming amenities has been a driving factor in the properties' evolutions in recent years.
"We have put $40 million into The Orleans in reinvestment," said David Strow, Boyd Gaming corporate communications vice president. "All new restaurants. All our rooms have been renovated. We are renovating suites at the Gold Coast and doing some new restaurant amenities there, too. So we are trying to stay up with what's out there — what's new, what's hot. And we have a lot of new offerings."
"Everybody is looking for what's new," Taeubel said. "And we think we have a bit of that in our new gastropub, Bailiwick, at The Orleans, for instance. It is a constant effort to look at the market, at your customer base and see what you can do to attract more of that customer base."
Although trends have moved toward a focus on the peripheral offerings to customers, he said gaming remains solidly the heart of the industry.
"It is still our livelihood, so we put a lot of attention on our product — especially slots — to make sure it is fresh and fun and that we have the latest games," he said. "But there is the discerning customer who is spending more money on food and entertainment and rooms. We are trying to make sure we have all that as well."
Another key to success for local customer-based casinos is the ability to build guest loyalty and maintain it in an environment that regularly increases gaming and other entertainment options.
"Anytime a new casino opens up, I think there is still a time frame when customers go check it out, but they usually make their way back to you," Taeubel said. "For a lot of different reasons. They are comfortable. They have built relationships. So for any new casino to benefit, they have got to cultivate different streams of customers. They can't rely on locals right around their property like maybe the new Lucky Dragon (a 203-room hotel-casino on Las Vegas Boulevard and Sahara Avenue that opened in late November) might.
"Some of our customers come in every day — or two or three days. We rely on their constant return as part of our livelihood. We know them as friends, family. Those are definitely the types of relationships we seek out."
Boyd Gaming owns 10 properties in the valley and 22 nationwide. The industry was heavily impacted after the onset of the December 2007 recession, but Taeubel points to strong customer-casino bonds as one reason Gold Coast and The Orleans fared relatively well.
"We relied a lot on our good customers that came out of California and Texas, customers that we brought over from the Stardust (which the company closed in 2006)," he said. "And also, our Hawaiian customers kept pretty much the same pace. We did not lose a lot from some of those guest segments. And, during that time we still had our local customers.
"Twenty-five team members at the Gold Coast have been there 30 years, and The Orleans has 125 people who have been there 20 years. These folks have really garnered customers over the years and kept them coming because of their relationships with the customers."
"It is something the company is very proud of — that we create a culture that values our team members," Strow said. "They feel like they are almost like part of the family and tend to stay with the company a very long time. One of the stats we like to note is that one third of our employee base has been with the company more than 10 years, which really speaks volumes about the values we have built as a company. And I think Gold Coast and The Orleans are good examples of that."
Both casinos are also among the six local properties participating this month in Boyd Gaming's "Tree of Hope" charity contest. The company event, which began at a Vinton, Louisiana, property in 2007 and spread to Southern Nevada last year, is a Christmas Tree decoration contest voted on by members of the public.
"(The event) is a fantastic opportunity for us to give back to so many deserving charities," said Marianne Johnson, Boyd Gaming vice chairman, executive vice president and chief diversity officer via a press release. "Giving back to the communities we call home is at the core of our culture."
Boyd's "Tree of Hope" donations — which totaled more than $25,000 in 2015 — benefit a range of local nonprofit organizations.
The Orleans Dec. 20 anniversary celebration begins at 1 p.m., followed by Gold Coast festivities at 3 p.m.