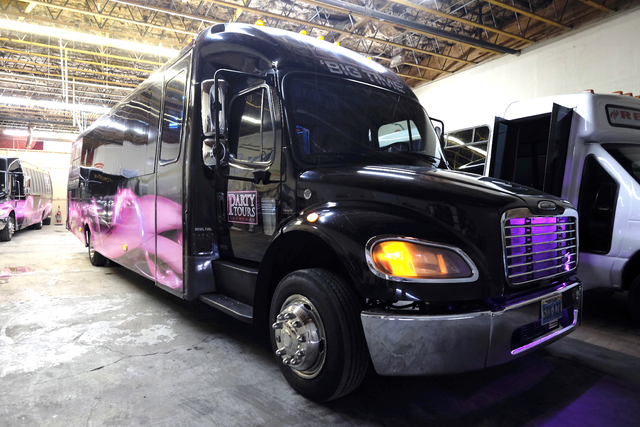 Operators of party buses and pub crawl tours are chaffing at what they feel are excessive regulation and fees that are harming small operators.
As Las Vegas transforms from slot machines, cigarette smoke and cheap meals to festivals, pool parties and an overall more family-friendly environment, the Nevada Gaming Control Board has followed suit by requiring all individuals who promote nightlife venues in a casino to undergo background checks for licensing for quality control purposes.
Under this provision, it also requires transportation companies — and party buses in particular — to also possess a license from the Gaming Control Board because they are dropping off patrons at casinos to consume alcohol and enter nightlife venues. While the purpose behind the regulation is understood by the transportation industry, many believe the side effects of the regulation and the addition of more expenses to small businesses in particular has not been thoroughly reviewed by the board or elected officials.
"I care about small businesses and especially those in transportation," says Lou Castro, owner of Earth Limousines and president of the Nevada Bus and Limousine Association. "We already are having to deal with Uber and Lyft, and now they are squeezing even more out of our transportation small businesses. Las Vegas is a big city, but everyone has to remember that it is made up of many small businesses."
The issue has risen because as the modern day Las Vegas business climate has developed in the last decade, the interaction between the growing number of nightlife venues and an even faster growing amount of "party bus" or "pub crawl" companies has never been truly defined with input from all entities. Party bus and pub crawl experiences can range from the high-end private tours that visit luxury cocktail lounges like Lily at Bellagio and FIZZ at Caesars Palace to the more common party bus tours that cater to the 21- to 35-year-old demographic.
These tours often use promoters on the strip, giving more visibility to the party bus and pub crawl industry than ever before.
"To the extent that regulators and lawmakers can make experiences safe is definitely needed," says John Leilu, lobbyist for the transportation industry, including the Nevada Bus and Limousine Association. "I do not think they are overreacting, they are just trying to maintain oversight on what is going on throughout the casino floor."
It is a casino floor and surrounding areas that has grown increasingly busy in the past decade with nightclub promoters, party bus companies, timeshare representatives and even food and beverage promotions all taking up space. The tight competition has led to more oversight from the gaming control board, which has led to additional licensing costs for transportation companies and their employees that could range between $250 and $2,500 in estimated expenses, depending on many variables.
"For small businesses in the transportation industry, our whole selling point is that we are good people with a good price and good customer service," says Castro. "That continues to be harder and harder to provide with all the cost increases being thrown at us. [Small businesses] are the backbone of our economy, yet we do not get the same cost and tax breaks for big businesses that come here and it is getting very frustrating."
One of the rub points involves the fact that many party bus and pub crawl hosts switch tour companies routinely, as often as three or four times in one year. It is not clear yet if those employees would need to refile with the board every time they changed employers or if their licensing would be a valid for a set amount of time, regardless of their employer.
"I would like to see the Las Vegas transportation industry as a whole develop younger employees through more professional development opportunities, so maybe licensing could be the first part of that," says Michael Rodriguez, longtime tour operator and driver in Las Vegas and Hollywood. "The lower we can keep employee turnover, the higher quality experience we can provide to tourists."
What tourists do not see in their Las Vegas vacation experience is the new three percent rideshare tax that transportation companies now pay, in addition to the standard taxes and annual business licensing fees.
"I get what they are trying to do, but there are easier ways to fix problems," says Castro. "I feel that what is proposed now does more harm toward small business transportation businesses than good it does for the situation overall."
Although the popularity of pub crawls and party bus tours have skyrocketed in the last five years, in reality it is a hard business to maintain because of client cancellations, low profit margins and high costs for advertising and promotions.
"People seem to forget we are just coming out of a recession and this is a segment of the transportation industry that grew, and is now highly competitive so passing along extra costs is not good for the long-term," says Castro. "In my opinion, the lawmakers or the regulators do not understand what it takes to operate in this industry in Las Vegas."