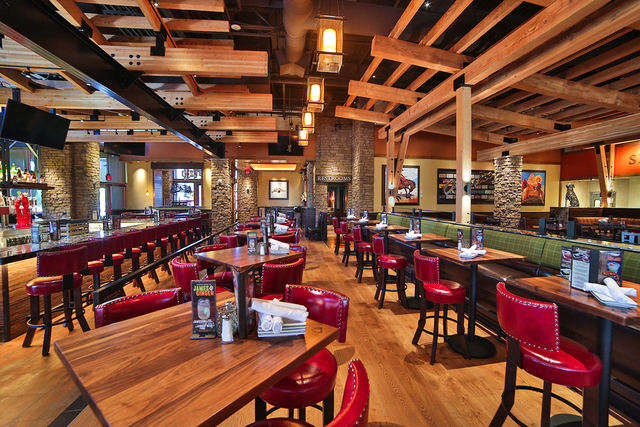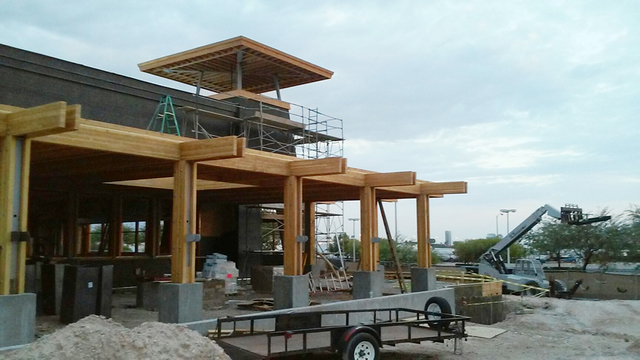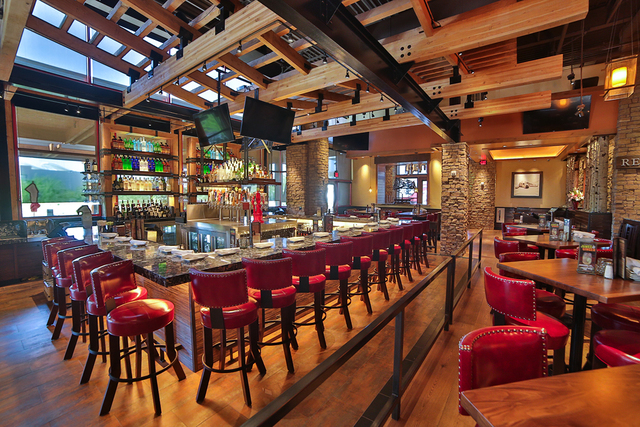 As Las Vegas continues to expand its restaurant brands, from local establishments to national chains, the Lazy Dog Restaurant brand finds itself in the middle of a trend. The company will open its second Las Vegas location at Town Square in October. The 8,397-square-foot location will add to its current presence in Summerlin.
Two hundred positions will need to be filled immediately at the new restaurant, from bartenders to servers to cooks, dishwashers and bussers.
"No matter our location, we have three main pillars of our experience," said Chris Simms, founder and CEO of Lazy Dog Restaurant, which also has 17 restaurants in Southern California and three restaurants in Texas. "We want to make sure people understand and appreciate the fact that we serve authentic, handmade food from scratch, our ambiance brings people together to share stories and we remain true to our roots in Jackson Hole, Wyoming."
Simms grew up in Jackson Hole, long before it became known as an annual international destination for the world's financial leaders. He founded Lazy Dog Restaurants in 2003 and the Jackson Hole that Simms grew up in is reflected in all of his restaurants, from the rustic exterior to the menu that features bison from Wyoming to the family-oriented environment he creates for his staff.
Lazy Dog will continue its successful relationship with Las Vegas baker Amato's Bakery at the new location.
"We want to make sure we are there for the locals, that is our top priority," said Gabriel Caliendo, vice president of research development and corporate executive chef. "That includes the locals who are our guests at the restaurant and the locals who are vendors. We like to have synergy with our local vendors because we believe that adds to the guest experience in that city."
The Town Square location will feature a lot of the same characteristics and ambiance as its sister property in Summerlin, as well as some unique aspects. With a denser population at Town Square, Simms is going to keep a close eye on the hours of operation, as the restaurant is scheduled to close at midnight.
The Summerlin restaurant has experienced tremendous success with the breakfast and brunch crowds, something that Simms and Caliendo hope to duplicate at the new Town Square location. No matter the meal or demographic being served, the consistency of experience at the new location is the focus of both management and staff.
"We do not pretend to be something we are not. We fit the bill of a chain restaurant, but we have a real story behind us. We are not just a restaurant that represents a symbol on the New York Stock Exchange," Simms said. "I love food, pushing the limits of what is offered on our menu and the fulfillment I get from interacting with our staff. Some of our team members tell me it is the first time they have been able to talk with their restaurant's CEO and it makes me proud about the culture we have built over the years."
The Lazy Dog Restaurant corporate culture includes The Lodge, an online community for employees to share ideas, post videos and discuss new restaurants and policies.
"The Lodge helps keep our company small, and it let's our employees know that their opinion matters and they are not restricted by location or state," Simms said.
The Lazy Dog Restaurant menu is not restricted by geography, as the anticipated October opening of its Town Square restaurant is perfect for the debut of its fall menu, including braised lamb shank with gravy and mashed red potatoes served in Burgundy wine sauce. For those with a sweet tooth, pumpkin cheesecake and a homemade S'mores dish with marshmallows made from scratch will also be a part of the fall menu.
"Ninety-five percent of our food is made from scratch on-site and it takes two days alone just to make the marshmallows for the S'mores," Caliendo said. "Our menus may change, but fresh produce and original items will always be a part of the Lazy Dog experience."
The signature aspect of the Lazy Dog Restaurant, its pet-friendly ambiance, also will continue at Town Square. The pet-friendly trend of recent years is something that the restaurant began participating in nearly a decade ago, but not by design.
Simms already had heavily decorated the first store in Southern California with dogs but did not incorporate the dog-friendly aspect to the restaurant. In the restaurant's first week of opening, a random customer asked if they could bring their dog to the patio, coincidentally members of the state's health department were on-site having lunch and approved the request.
The rest, as they say, is history.
"Las Vegas locals need to give us a shot, because we are not representative of what a 'chain' restaurant is," Simms said. "We continue to grow and our food and service gets better every day."