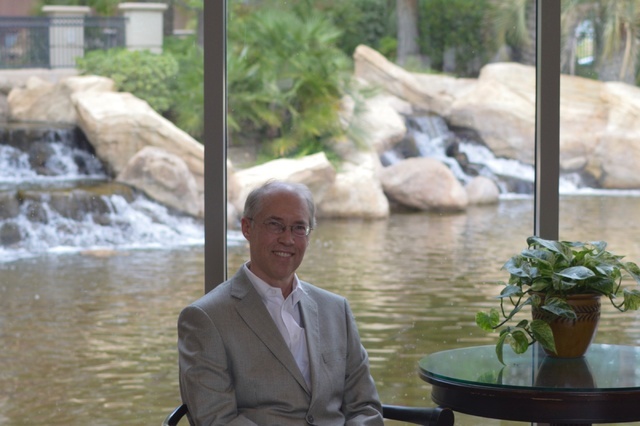 Dave Newton, president, CDC Seminars, has a human resources background. He's experienced in hospitality and in gaming environments. And his latest endeavor fits nicely at the intersection.
CDC Seminars trains gaming management and is expanding both its programs and its global reach.
Newton grew up in New York. He received his BS from Cornell University's School of Industrial and Labor Relations and he has an MBA from Pace University in New York City. Newton holds several certifications including senior professional in human resources.
He spent 12 years with Accor, an international hotel company based in France. He opened Novotel New York in 1984 and became vice president-human resources for the North America hotels in '89; moving to general manager for the Noveltel Meadowlands hotel from '94-'95. Newton came to Las Vegas in 1995 and began working for Stations Casinos as the corporate director of HR. At that time, Station Casinos had three properties.
Newton went on to The Venetian and worked as the vice president-human resources from 1997 to 2003. "The Venetian wanted to open non-union and because of my experience having done that I got the job at the Venetian," he said.
Newton partnered with Jeffrey Compton who owns Compton Dancer Consulting. Together, they did seminars for marketing and networking. In 2010, the partnership changed and Dave Newton took the lead and set up CDC Gaming Seminars.
Q. What training programs does CDC Seminars offer?
A. In the past, we have done two different types of training, seminars in Las Vegas and webinars, which we just started last year. The seminars in Las Vegas (which we do at UNLV) are aimed at gaming management. The seminars that we've done over the years have been on casino marketing, various aspects of slot operations, food and beverage management. Our most successful and long-running seminar (is) slot performance analysis (which covers) using data to measure which slots are performing well and which ones aren't, taking into account various issues such as the location of the slot machine, the cost and revenue sharing of the machine, etc. Since we have started doing webinars we have been doing two different types of webinars.
Webinars are aimed at teaching casino management approaches to some of the key challenges they face. Examples of these webinars are: The True Cost of Free Play, Marketing Reinvestment Analysis, Advanced BJ Advantage Play, How to Dial Back on Free Play, and Keep Your Customers. These are aimed at casino management, although the Advantage Play was also relevant for and shown to surveillance operators.
Webinars aimed at providing general and more basic knowledge about gaming. We did two different seminars on Gaming math and one on table games math and terminology. The original idea for these came during one of the marketing seminars we did at UNLV. We always try to make the seminars interactive and when teaching something we include exercises so people can practice.
Q. What basic training programs are offered to entry-level personnel?
A. Just within the past month we have started expanding beyond seminars at UNLV and webinars. We have partnered with a training company, Soaring Eagle Enterprises, and are now selling management training conducted by Soaring Eagle at the client's site. Just this past week we began promoting an on-line training program — Emerging Leadership Certification Program — which is aimed at new and prospective leaders, supervisors, and managers.
Q. How do upwardly mobile or advancing casino workers fit into the program and what training is available to them?
A. Upwardly mobile casino workers, this is a market that we hope to expand into. The CDC Gaming Report list goes to management people, but I am building a database of casino HR and training people and as they become aware of the opportunity for training hourly people, I think there will be lots of growth in this area. With the labor market becoming more challenging for casinos, offering opportunities for personal development and career growth becomes more and more important. Also, they are a win-win-win, because the training creates more engaged employees and better retention, which has a positive impact on customer loyalty, which has a positive impact on financial results, all for the cost of comping a high end player a meal in the steak house.
Q. What are the major challenges you are seeing?
A. The main challenge casinos are facing is increasing competition. Casinos keep expanding into new areas to bring in max revenue. This creates a lot of pressure on the bottom line of the existing casinos. Casino managers have difficult choices to make. They can try to cut costs and buy business through generous marketing offers or they can take a more long-term approach and try to create a guest experience that increases customer loyalty. If a casino is under pressure to improve short-term results, there may be quicker results by taking the former route.
Building a company culture that supports a great guest experience is much more challenging and does not show results as quickly, but in the long-term it creates a competitive advantage that is much harder for the casino down the road to copy. This means that the challenge for us as a training company is to convince casinos that training does have a positive bottom line impact. We focus on this in every session. But it's much easier to see the impact in the management level courses than it is for the more basic level courses, like gaming math.
Q. How does technology change affect CDC Gaming Seminars?
A. Technology has been huge for us. Webinars have been a game-changer for us because we can expand our reach tremendously and offer a great product delivered conveniently and for a very low cost. The webinar software is inexpensive and easy to use. With the huge email list Jeff Compton has, we can easily and inexpensively communicate the training that's available to thousands of gaming professionals.
We can hire the top experts, people like Eliot Jacobson and Nicole Barker, who would normally cost a casino a lot, and provide their expertise at a low price for multiple people. The trainers have the opportunity to become known to a large number of new potential clients. And we can reach people around the world, although they may have to stay up late or get up early if they want to do the webinar live.
For one webinar, we had people from Switzerland, South Africa, South America, Mexico, New Zealand and Hong Kong. Recently our overseas friends have trended more toward purchasing recordings of the webinars, which have the advantage of being available any time of day or night.
Our new initiative for Emerging Leadership is also possible as a result of technology. There are a lot of new managers and supervisors out there who get put into jobs with little or no management training.
It's challenging to organize training in casinos because of the varied schedules people work and the often-tight staffing. The on-line Emerging Leadership program can be done 24/7/365, and done at the trainee's own pace, which is perfect for the casino industry. Again, we have a top trainer – Tim Schneider of Soaring Eagle – available for people across the country and around the world.