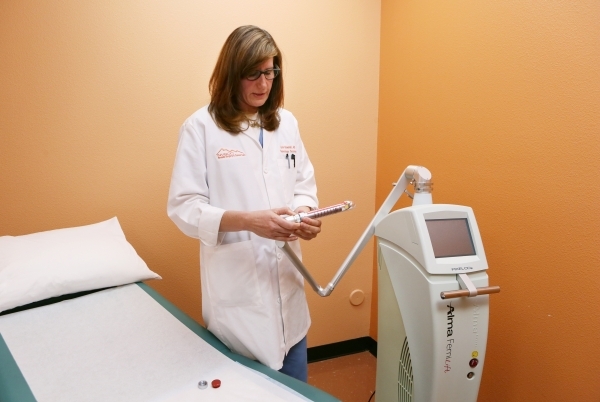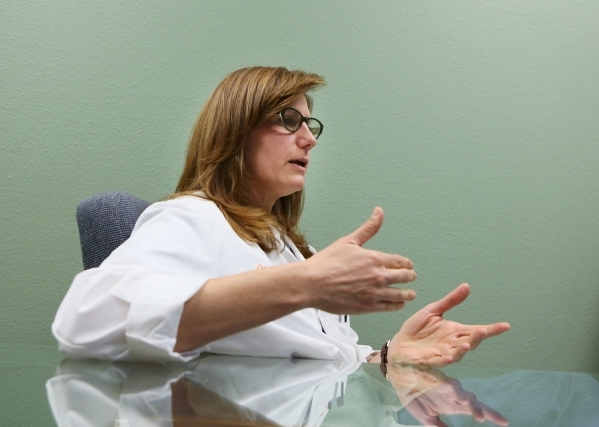 Dr. Lynn Kowalski decided at a young age she wanted to be a doctor. When she was 5, Kowalski required stitches when she hit her face on the edge of a table. The experience made a lasting impact.
"I remember the whole thing," Kowalski said about the doctor who stitched up her wound. "He was so nice and calming. I knew right then and there that is what I was going to do."
Kowalski never swayed from her dream. After graduating high school, Kowalski earned a Bachelor of Arts degree in Biology from John Hopkins University in Baltimore in 1986. In 1991, she received her medical degree with honors from Washington University in St. Louis.
During her residency at Magee-Women's Hospital in Pittsburgh, she realized her interest was in gynecologic oncology. She returned to Washington University for her fellowship in the gynecologic oncology field in 1995.
When Kowalski moved to Las Vegas in 1998, she began practicing gynecologic oncology at the Women's Cancer Center. In 2005, she along with her partner, Dr. Stephanie Wishnev, founded Nevada Surgery and Cancer Care.
Today, Kowalski runs one of the busiest robotic surgery programs in the United States. Her practice provides minimally invasive surgical approaches. She recently introduced FemiLift, an advanced laser technology that helps women deal with, and overcome, menopausal symptoms.
Q. What is FemiLift, and why did you decide to bring this technology into your practice?
A. We literally just got it between Christmas and New Year's. It is a breakthrough technology using a CO2 laser for vaginal laser treatments.
Dermatologists use this technology to resurface the skin stimulating the production of collagen. FemiLift stimulates the body in a similar way to produce its own collagen to reinforce the vaginal area.
The outpatient procedure takes literally five minutes with no anesthesia. It's essentially painless.
It addresses issues for women experiencing menopausal symptoms, and those medically induced into early menopause who can't take hormones or don't want to take hormones. It also treats issues related to recent child birth or urinary incontinence.
The biggest reason I got into it was, as a cancer doctor, I have all these women who have been cured of the cancer but have aftereffects from the cancer treatment. I can't give a number of patient's hormones because that could cause their cancer to come back. We've been looking for a long time for something we could treat them with and this came along.
Then on the business side, it's a procedure that works so I can put my reputation behind it and it is more profitable for the practice because it is strictly a cash-pay service. We're not dealing with the insurance industry.
Q. How did you evaluate your competitive position in the marketplace?
A. We investigated others providing the laser treatment in Las Vegas, and found a practice offering a similar but not identical laser treatment. They were not marketing or promoting it in any way. We also found another general OB/GYN who purchased the laser one week before us in the north end of the Vegas Valley.
As part of our research, we attended conferences by doctors in the Phoenix and Denver markets, asking questions about the robustness of the laser business. They were both making an excellent profit against their investment in the equipment.
We felt with my background and reputation as a GYN oncologist and the paucity of competition, we were well positioned to get an early advantage in the market for vaginal laser treatment.
Q. What changes have you/will you make to assure the investment pays off?
A. We would like to recruit another physician in my field. A gynecological oncologist would be wonderful to expand the practice. The more physicians you have, the more you spread out your overhead. The practice becomes more profitable.
We have had other ideas of expanding into general women's health care, such as integrating the FemiLift procedure in coordination with another doctor who focuses on hormonal management, as it's an issue with a number of our patients.
Q. What prompted you to start Nevada Surgery and Cancer Care?
A. Dr. Wishnev and I were members of a different practice that went bankrupt. We were literally out on the street. We had a temporary office within a week and were seeing patients right away. We made a lot of mistakes but both of us learned a lot. I think what really helped us were our reputations. We both had been in town already and had good reputations. I think that is what saved us.
Q. What did you learn from the experience of starting a business?
A. As doctors, we don't have training in hiring people, firing people or how to interview someone for a position. We made a lot of mistakes with personnel along the way.
We learned all the ropes of billing with coding and charging. We had little exposure to that at the previous practice. It's very different when you're the owner and learning about accounts receivable and making sure the insurance companies are paying the contracted amount.
One of our large initial purchases was an electronic medical records system (EMR). Once you purchase the system, you're stuck with it. Another difficult thing was none of the EMR systems communicate with each other. We found EMR doesn't do what it is designed to do, which is to improve patient care by improving communication.
Q. How do you see the health care landscape changing for private practices like yours?
A. I have to say unfortunately we're holding onto the past. I think it's very difficult for a small practice like ours to stay afloat. As you know a lot of doctor practices are consolidating. They are becoming bought out by larger national entities or by local hospitals. The physician who owns and runs their own practice is going by the wayside. The reason is the insurance industry squeezes us so hard that it's very hard to make ends meet. There are a lot of government regulations to comply with, so it's pretty onerous to run a business and make it profitable. It's almost impossible.