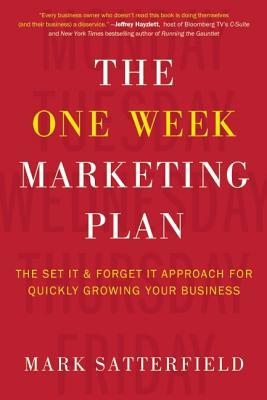 "The One Week Marketing Plan" by Mark Satterfield (BenBella Books, $24.95).
Many small business owners don't capitalize about marketing's brand-building opportunities. Why not? Some are consumed with other aspects of their business. Some believe marketing campaigns require research-backed analytics, and lack the time and the deep pockets to do the research. Some confuse sales with marketing.
Regardless of their reasons, entrepreneurs need to understand that marketing coordinates 4 P's (i.e. product, place, promotion, price) needed to build and strengthen customer relationships. A marketing system helps a business create the 5th P – Profit.
Satterfield's one-week plan simplifies the process for businesses and uses the Internet to maximize results:
Day 1 – Create differentiation and credibility by focusing on a niche market. When prospects believe you understand their problems and provide solutions, they'll check you out. You can choose a niche by industry or end user. Factors to consider include market size, competition, growth potential, ability to reach decision makers.
Develop a story about why you're in the niche. Most often, the story relates to the experience of the business owner; a been-there-experienced-that message garners attention.
Day 2 – Create a free report offer that piques a prospect's interest. Put yourself in their position. Think about their headaches and information of value to them. Satterfield provides a fill-in-the-blanks exercise that helps define prospects and their hot buttons.
Once you identify the hot buttons, create a "benefits" offer that pushes them. Satterfield's favorite format is the "Steps" model – _ steps to…. Ideas: Talk to the consequences of ignoring a problem and introduce options for addressing it. Provide information on your approach to solving problems; include some case studies.
Day 3 – Work with a website designer to develop a one-page website add-on specifically for your free offer. The link to the offer should be prominently featured on your home page; its "lead capture" copy highlights the offer's relevance to prospects. Check out Satterfield's website, gentlerainmarketing.com, to see how he teases prospects to provide their contact information in return for the report. An alternative to the "lead capture" approach involves showing prospects a few excerpts of the report before asking them to opt in.
Once a prospect opts in by providing contact information, the one-page website comes up. It should affirm their opt-in choice. Its content should contain a headline and bullet points, which connect to the benefits in the report. It should close with a thank you and information on when they'll receive the information.
Day 4 – Develop "drip" marketing messages that follow the freebie at regular intervals. Satterfield uses a seven-message follow-up and provides templates for each message. The messages aren't a boldface sales pitch; they continue building credibility by being helpful and having a point of view. While you may be writing to one person, it's likely that your email will be forwarded to others in the firm involved with the problem.
You need an autoresponder system to send out the emails to prospects. It's essentially a database of contact information that allows you to personalize and send bulk email. Most contact management software packages have an autorespond feature. A $297 online source is autorespondermadness.com.
Day 5 – Attract prospects to your website with pay-per-click (PPC) sponsored ads on search engines. Google, the 800-pound gorilla of Internet advertising commands higher prices than Bing and Yahoo. All the sites use templates to walk you through the process creating ads using keywords; Satterfield uses Google's screen shots to explain each step of the process. He cites LinkedIn ads as a good source for B2B prospects. All sites involve "bidding" for ad placement.
Valuable freebies: Register your book at theoneweekmarketingplan.com and receive the companion video series, ongoing tips, tactics and ideas.
Jim Pawlak is a nationally syndicated reviewer of business books.