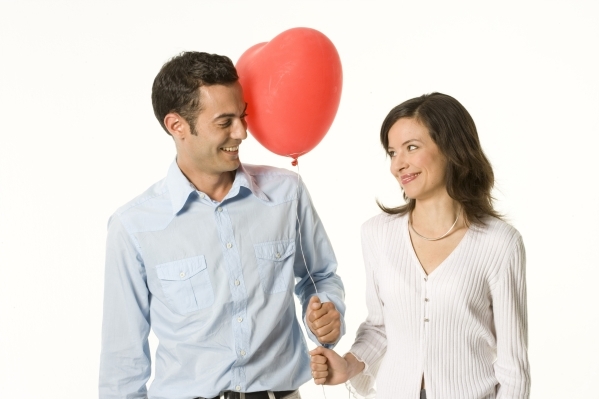 A recent study marked Las Vegas as the most popular destination for Valentine's Day. And the hospitality industry knows it — the day is marked with heavy price increases for visitors.
Though Las Vegas hit No. 1 for popularity, it didn't hit the peak for high prices. The city's hotel rooms do see a 62 percent spike in prices — heading from an average $110-per-day rate on the weekend preceding the holiday to $178 on the day, according to the study. But cities like our northern neighbor, Reno, saw prices climb by 114 percent, the study said. Valentine's Day prices climb toward $150 on the day — leaving behind the prior weekend's $68.
But Vegas and Reno can't compare to the steep prices of such places as Key West, Florida, where rates hit $410 for the night and $324 during the prior weekend. Miami Beach saw prices hit $337 for Valentine's Day — up from $201 the weekend before.
The study was conducted by San Francisco-based travel website Hipmunk, which used the average price customers paid when booking rooms in U.S. cities through its site as the model for the study.
Las Vegas didn't hit the highest mark for most romantic city. That title went to New York City. Vegas made it to No. 19.
Despite a lot of planning by the world's hopeless romantics, Valentine's Day travelers do a lot of last-minute preparation. According to Hipmunk's databases, 69 percent of the people who booked travel during the holiday did it right before.
Nevada's lagging in STEM fields
Despite all the talk of the coming diversified, tech-driven economy and some signs of progress, it seems Nevada is coming from way back.
A recent study by WalletHub rated Nevada as the 10th-worst metro market for STEM professionals to start a career. Science, technology, engineering and math professionals, in general, should expect to see a growth factor 1.7 times higher than their non-STEM counterparts in the near future.
But as a metro, Las Vegas landed at 91st out of the 100 metros surveyed. In comparison, our southern neighbor Phoenix came it at No. 24. Los Angeles, came in at No. 34. No. 1 went to the San Jose, Caliornia area of Silicon Valley.
WalletHub used 16 metrics to add up its totals for the markets ranging from per-capita job openings for STEM graduates to the median wage growth for jobs in the sectors. It also took into account the projected demand in the area for that type of position.
For the number of current workers in STEM positions, the general Clark County region ranked 94th. However, Las Vegas ranked 28th in STEM employment growth. And the city ranks 33rd for per-capita job openings for STEM graduates.
On the forefront of projections going into 2020, Nevada rated last for number of STEM jobs needed in order to fill the field's necessary demand.
Las Vegas also ranked low on its school offerings, coming in at No. 64 for quality of engineering universities. Housing affordability was also an issue. Las Vegas ranked 98th.
The city's students also performed poorly in the realm of one STEM aspect: mathematics. Las Vegas came in 84th on performance.
Other areas that were lagging included cost of living adjustments for a STEM worker's annual median wage — Las Vegas ranked 70th. And Las Vegas ranked nearly last at 98th in the annual median wage growth for STEM workers in general.
Autograph authentification event
Ever wonder if that George Washington autograph you inherited is real?
The Gold and Silver Pawn at 713 Las Vegas Blvd. South, known for its appearance on the History Channel through the show "Pawn Stars," will host an autograph authentication event, open to the public, on Saturday.
The professional-grade autograph authentications will be done by PSA/DNA Authentication Services' member, along with Steve Grad, PSA/DNA Authentication's principal authenticator who often appears on the "Pawn Stars" show.
PSA/DNA staff members will be on site at the store from 10 a.m. to 4 p.m. to assist the public identify their famous or fake signatures.
Following the event, between 4 and 5 p.m., Grad will host a meet-and-greet session, where he will answer questions about autographs and collecting.
To help authenticate the autographs, Grad willuse a ProScope Micro Mobile, which is essentially a high-resolution, handheld microscope. The images under examination are compared to an archive of more than 140,000 genuine and forged signatures stored on Grad's iPad.
PSA/DNA has been in operations since the 1990s, and its experts have helped identify the authenticity and certified more than 25 million autographs, trading cards and other entertainment and sports memorabilia.