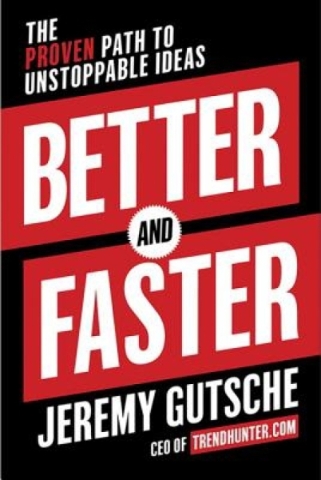 "Better and Faster – The Proven Path to Unstoppable Ideas" by Jeremy Gutsche (Crown Business, $25).
Farmers tend to their fields and follow the rules of fertilization, crop rotation and governmental subsidy to produce a bountiful harvest. Weather, which can change quickly and affect market conditions, can make or break them. When hit with unfavorable weather, the farmer accepts the circumstances, tightens the belt and hopes next year will be better.
Similarly, most businesses tend to their "field" and follow the rules (i.e. procedures, policies and processes) that produced success. Changing consumer preferences, governmental regulation and market and economic conditions affect their continued success. When confronted with declining revenue and profit, they downsize, postpone investment and hope to ride out their financial storm.
When they're successful, they think they can't lose. Encyclopedia Britannica didn't see the future of the PC and lost its market to Microsoft's Encarta CD-ROM encyclopedia. Because Microsoft didn't offer Encarta on the Internet (odd for a company that dominated the web-browser market,) Encarta lost its market to Wikipedia. Bill Gates wrote: "Success is a lousy teacher. And it's an unreliable guide to the future."
The hunter business differs 180 degrees from the farmer business. Instead of accepting the situation, hunters rely on "insatiability, curiosity and the willingness to destroy" to change outcomes. Gutsche cites Zara (zara.com), an international clothing dynamo, as an example. For Zara, it's all about fast fashion. Instead of taking months to design and produce its women's men's and kid's lines, it takes 14 days from concept to store.
While it doesn't offer all sizes and limits the choice of colors, Zara sees that as a plus, not a negative. Why? Low cost. Quick inventory turnover, no advertising and exclusivity (i.e. what's there this week may be gone next week) allows the firm to keep operating margins high and prices low. Salespeople from its 2,000-plus stores talk with every customer. Their feedback drives analytics that determine next week's products.
The bottom line: Hunters always think about "what's next." They make things happen.
"Learning to Succeed: Rethinking Corporate Education in a World of Unrelenting Change" by Jason Wingard (AMACOM, $29.95).
Decades ago, management guru W. Edwards Deming wrote: "Long-term commitment to new learning and new philosophy is required of any management that seeks transformation." Given that training budgets are still among the first cuts when companies experience financial difficulties, it's apparent that many C-level execs don't believe that continuous learning creates success.
Wingard, the managing director and chief learning officer of Goldman Sachs, makes Deming's point again: "Well-planned and administered (education) programs will contribute to return on investment in nearly every sector of a company." His "Continuous Integration of Learning and Strategy" (CILS) model makes learning part of strategic planning. First, CILS identifies what needs to be learned to effectively execute the strategic plan. Next, it uses 4Cs – communication, collaboration, critical thinking and creativity – as tactics to develop a thought leadership and insight framework for managers and their subordinates.
The "organization" weighs in on what it needs to succeed. Group input crystalizes and shares the information and experiences of "a tapestry of topics," including management and operations. Part of the process involves asking employees for input on how what they learned from the group can affect their roles.
Overall, the group-think provides a framework for organizing learning around various topics. Once identified, information can be distributed formally and informally to those involved.
Wingard points out that the CILS process involvement isn't just for large firms. Group meetings can be coffee-and-donuts discussions. Information can be provided to employees by disseminating information from trade publications and trade associations.
Key takeaway: Corporate learning programs are critical to producing strategic results.
— Jim Pawlak is a nationally syndicated reviewer of business books.