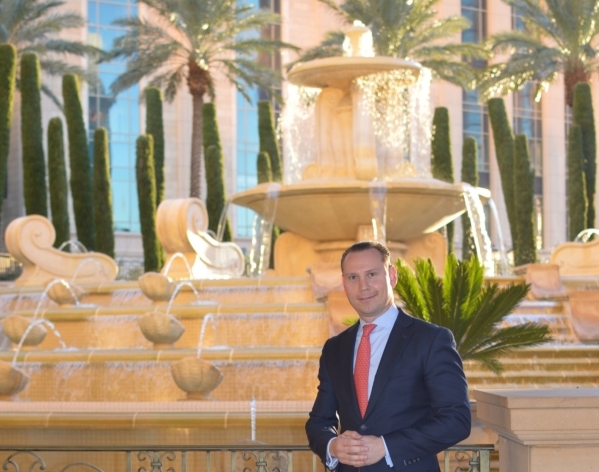 In 2015, Max Tappeiner took on a new challenge as vice president of hotel operations at The Venetian and The Palazzo, the world's largest hotel.
It's a full-time job and much more. Yet Tappeiner has made time to honor his commitment as president of the Las Vegas Business Academy.
Tappeiner is from Munich, Germany. After earning his degree in Europe and working in cities across the globe, he spent 13 years with Mandarin Oriental, including time leading its Las Vegas property. During his time with Mandarin Oriental, he graduated from the corporate-sponsored MBA program.
His role as president of the Las Vegas Business Academy is an important way in which he serves the community. The Academy recently made headlines when it awarded former UNLV basketball captain Justin Hawkins a $38,000 scholarship to continue his studies is the hospitality field.
Q. First, how did your move from the Mandarin Oriental to The Venetian and The Palazzo take place? What was your motivation for the change?
A. At first I did not know what to expect, and going from a hotel with 392 rooms to a 7,100 all-suite property, the largest hotel in the world, seemed like a daunting task. I had been part of Mandarin for quite some time. I had fairly fast career growth. It was an incredible platform for me to be part of an international brand such as Mandarin Oriental. I've been in Las Vegas about six years and I was always intrigued by environments such as this one here. The Venetian and The Palazzo with 7,100 rooms, the largest hotel in the world, certainly is an environment that was very appealing to me. So, when I had the opportunity to come work here I certainly jumped on it. It is a high-performance environment; it is a very positive culture here on property, and there's a true focus on the team member and the guest experience that I think is very unique in the casino world.
Q. How did you become involved with the Las Vegas Business Academy?
A. I joined the Las Vegas Business Academy about two years ago. I was privileged to serve as president for the past year. I joined the organization because I feel in our city oftentimes attracts great talent but unfortunately the talent doesn't always stay. The Las Vegas Business Academy certainly is committed to attracting, molding the right talent, but then also for the talent to commit to another five years after graduation.
The academy really addresses a couple of key components — one, forming future leadership; two, making sure the future leadership remains in the city and is committed to the city. That was very important to me.
Q. As president of the Las Vegas Business Academy, what was your role and how was your time allocated?
A. Having just started at The Venetian and The Palazzo, the vast majority of my time was consumed here, rightfully so. But prior, just before leaving Mandarin Oriental, I was able to dedicate more time to the organization and I find myself recently being able to dedicate more time to the organization. But it certainly is a task that falls on mostly weekends and evenings.
Q. What's your personal motivation for getting involved with the Las Vegas Business Academy?
A. I believe in order to be successful you need to mold your No. 2s and your No. 3s. You need to mold future leadership of your organization, of your business, or your city, whatever it is that you're committed to, right? I believe we will make tomorrow a better day because we choose to do so and not by coincidence. I think that's what Las Vegas Business Academy wants to do. We want to make tomorrow a better place than what it is today. And how we're going to achieve that, well, we'll work with young talent to get the younger students to contribute to our society.
Q. How did the scholarship, awarded to former UNLV basketball captain Justin Hawkins, come about and what is the scholarship's goal?
A. We saw in Justin a strong leader already, a leader that had all components of strengthening our community. And so by allowing him to participate in Las Vegas Business Academy, we believe we can further hone his leadership skills. We felt it was the perfect balance between bringing somebody on board that already has a history of strong leadership with UNLV and now taking him to the next level.
Q. How do you identify scholarship recipients as people with big upside potential who are worth an investment?
A. When we first started, we had a challenge with getting the word out to the students. What we found now, five years later, is it's almost become a club-like environment. Every single student was referred in by another student. Students that already believe in the program certainly can speak to what we have to offer with much greater credibility than any of us ever could. So we've found that students currently in the program referring other students really has been the recipe for success. Students that are currently onboard understand what we are looking to achieve. Therefore, there's a certain profile that will do very well with us.
Q. How does someone interested in the Las Vegas Business Academy go about getting involved?
A. First, we are always looking for accomplished business professionals to join our board and act as mentors for our students. Second, please check us out on online and check for upcoming events. Lastly, if you are a student and you feel the LVBA could be right for you, submit your application and we will schedule an interview for you to meet our board.