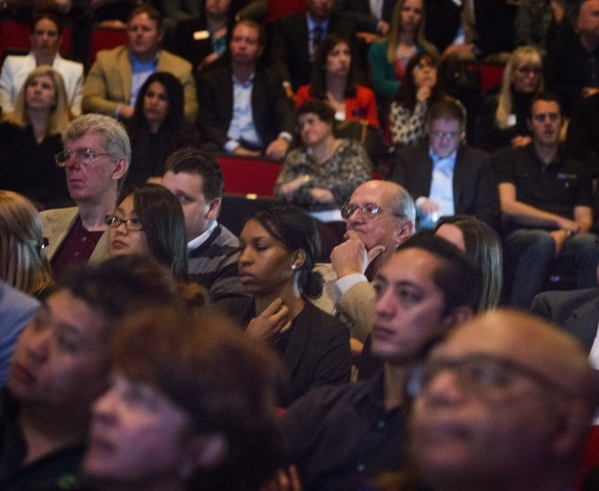 More than 2,000 members of the business community passed on 70 degree temperatures outisde to sit in Cox Pavilion and listen to a variety of high-powered speakers Jan. 29 during the annual Preview Las Vegas event.
But one of the most telling presentations looked back, reviewing rather than previewing.
Dr. Stephen Miller, director of the UNLV Center for Business and Economic Research, provided a number of charts and graphs depicting Nevada's economy from before the recession and into our continuing recovery.
According to Miller, the recession started early in 2007 and lasted until the middle of 2010. While it took a little bit of time for Nevada to feel an economic decline when the recession started, we were very slow to start our recovery after the recession ended.
Nevada Employment
Nevada was hit hard but by 2010, job losses had slowed to 7,400. But, we saw moderate job gains in 2011 of 12,500, in 2012 of 23,200, and in 2013 of 34,700. Growth was even stronger in 2014 with a gain of 41,200 jobs. However, while we still had job gains in 2015, the number, for the first 11 months, had dropped off to 28,800. With the construction of the new Faraday Future automobile plant and the projection of an additional 4,500 full-time jobs, employment figures should look a lot better in 2017.
The unemployment rate in Nevada before the recession was 3.9 percent and rose to 13.7 percent in 2010, at the height of the recession. As of November of 2015, the unemployment rate was 6.5 percent.
Housing Market Still Recovering
During the recession, more than 70 percent of the home mortgages were underwater. "While much progress has been made as home prices have risen in recent years, Nevada still faces a substantial issue with underwater mortgages, leading the nation in the percentage of mortgages with negative equity," said Miller.
In the 2015 Q2, Nevada's negative or near negative mortgages equaled 23.6 percent of the total mortgages. "Florida and Arizona follow behind at 21.5 and 18.6 percent," he said.
Clark County taxable sales
One of the bright spots of the recovery is the taxable sales due to increased visitor spending and rising personal income. In October 2015, Clark County saw approximately $3.4 billion in taxable sales compared to a previous high of around $3.2 billion before the recession.
Gaming revenues
Gross gaming revenues have shown a lot of volatility after the recession and while slowly climbing are still off from their peak of $1.05 billion before the recession to around $850 million as of November 2015.
According to Jim Murren, chairman and CEO of MGM Resorts International, the corporate customer makes up 60 percent of the visitor base and only 30 percent of hotel revenue comes from gaming.
Employment growth
While leisure and hospitality employment has fallen from about 35 percent to just over 30 percent of the valley's total employment, those sectors still lead by a large margin over the trade, transportation, utility sectors at around 18 percent and the professional and business services sector at 14 percent. Construction dipped from a peak of around 12 percent down to six percent.
Tourism index
This index is composed of three components—Clark County gross gaming revenues, Las Vegas hotel/motel occupancy rate, and total passengers at McCarran International Airport. While gaming revenues are down, McCarran passenger levels in 2015 were a record breaking 42.3 million visitors, according to Rossi Ralenkotter, president/CEO of the Las Vegas Convention and Visitors Authority. From the pre-recession index high of around 128 down to a low of around 118, recovery has been slow but steady and at the end of 2015 had recovered almost 99 percent of its fall.
Construction, real estate activity
The construction segment took the largest hit. Experts see that the industry is in the recovery mode but do not foresee a return to the heights seen during the construction boom and leading up the financial crisis. Construction permits went from around 125 per month to about 25 permits per month and had risen ever so slightly. Likewise, construction employment went from over 110,000 to under 40,000 workers in 2012. Most recently, construction employment has recovered to just over 50,000 workers. Construction of the new Faraday Future plant and a couple of project on the Las Vegas Strip will see those numbers rise slightly over the next couple of years.
Nevada business confidence
This index consists of business expectations for sales, profits, hiring, and capital investment as measured by a survey of Southern Nevada business leaders. For the first quarter of 2016, all components were above 100.
According to Miller and his team, "Based on our assessment of national and Nevada trends in 2016 and 2017, we believe that the Southern Nevada economy will continue to see improvement. In sum, because the Southern Nevada economy heavily depends on tourism, its outlook is tied to the growth of the U.S. and Western states' economies."