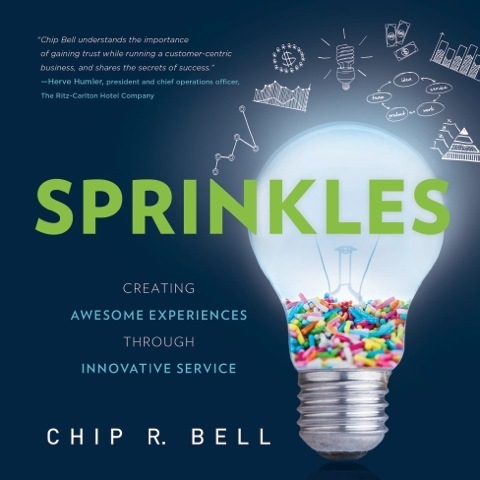 "Sprinkles: Creating Awesome Experiences through Innovative Service" by Chip R. Bell (Greenleaf Book Group Press, $15.95).
If you want to grow your business, always remember that customers deserve more than plain-vanilla customer service. Bell let's his examples of sprinkles (i.e. innovative customer service) show how plain vanilla can be turned into something special.
Here are some stories that will get you thinking about simple, unique ways to enhance your customer service:
How many hotel laundry-service employees have a business card? Nuriya Mohsen does. Bell needed a pair of pants pressed ASAP. Mohsen promised she'd have them done in an hour, and delivered them in 45 minutes. She handed him her card, "Nuriya Mohsen Laundry/Valet," and promised prompt attention to his laundry needs during his stay. But wait; there's more. She gave him a package of collar stays for his dress shirts.
Andy Hartman, a marketing executive at FirstBank &Trust (Tahoka, TX,) had a dilemma: Being one of two banks in town, having a broken ATM was a customer service disaster. Customers who didn't want to wait in line at the teller's cage were forced to use a higher-fee ATM at the other bank or a convenience store. When the ATM was fixed, Hartman sprinkled a few $50 bills with the $20's in the ATM, and ran an ad in the local paper telling customers that if they receive a 50 instead of a 20, that it was the bank's way of apologizing for the ATM glitch. FirstBank didn't lose customers; in fact its customers told their neighbors about the bank that really cared.
Billy Rivera of Karaoke Cab (Charlotte, NC) turns a ride from the airport into an unforgettable, sensory experience. With a laptop with over 39,000 songs in the front seat and a screen on the back of the front seat, riders can turn a dull cab ride into their onstage event – especially when there's a group of passengers. Not surprisingly, Rivera gets great tips.
Sandy, a waitress at the Park Inn (Harrisburg, PA,) has a million-dollar smile guaranteed to light up any diner's day. From the moment you sit down to the moment you're ready to leave, that smile enhances the dining experience. The cherry on top: Sandy offers a go-cup of coffee/soft drink to her guests. The cost to the Park Inn is minimal; the return business substantial.
Matt Garafaio, the owner of Onconee Cellar (Greensboro, GA,) operates a high- end wine and spirits shop. Like many such shops, it offers a membership rewards card and a wine club. Garafaio offers even more. He commissioned a Kentucky distillery to create a signature bourbon for his store, and offered his best customers the opportunity to taste-test the five samples and register their preference. Customers "co-created" the special brand; they're buying it and telling their friends about "their brand".
As I read the stories, I thought about how the staff at the nearby Costco makes my granddaughter's day. She's six and loves to draw happy faces. She learned to draw them at age three from the staff that checks receipts as you leave the store. My daughter would let her hand the receipt to the employee, who would draw a happy face and hand it back to her.
The moral of the stories: "Serve every customer as if you were serving your best friend." By making your customer service unique, people remember and tell others. Check out Bell's innovative customer service LinkedIn group if you're interested in sharing ideas and picking up on Bell's advice.
Jim Pawlak is a nationally syndicated reviewer of business books.