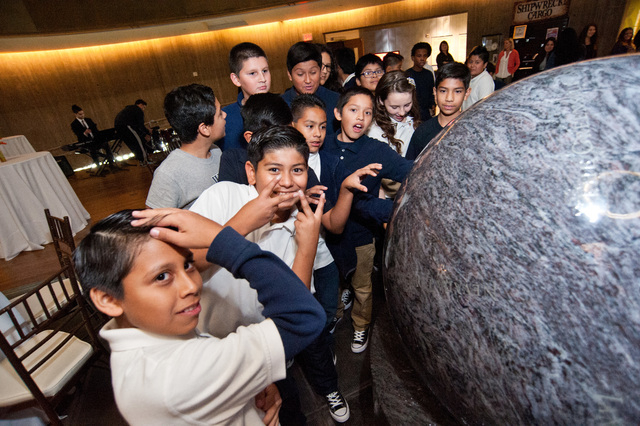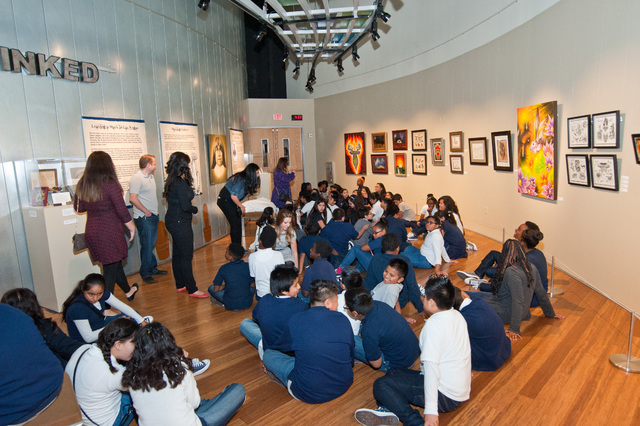 Quality education — or the lack thereof — in Clark County is a quandary for both local business owners and parents.
It's the focus of the Be Engaged program launched by the Metro Chamber of Commerce and was one of the subjects that drew attention at the recent Green Chips Convene for Green 2016 sustainability conference.
But strides are being made, and new programs are making a difference, thanks to innovative teaching methods and the philanthropic efforts of The Rogers Foundation.
Without a good education system, employers find it difficult to find enough locally grown talent to fill the available jobs and even more difficult to entice quality employees to move to Nevada with their school age families.
Since 2012, according to rankings by the Annie E. Casey Foundation, Nevada has ranked 50th in the nation for providing a quality education.
Part of the problem is the fact that Nevada spends less per pupil than all but four states — $8,222 per student compared to an $11,700 national average. Part of that reason is that Nevada does not have a state income tax and must rely on other limited tax measures for school funding. During the recession, when gaming and mining revenues were down, and real estate prices hit bottom, education suffered along with everything else in Nevada.
Funding aside, poverty and a language barrier seem to be two of the dominant factors that continue to plague academic achievement.
Sixty percent of Clark County School District students are living in poverty and eligible for free or reduced-fee lunch. Only one-third of Nevada families have at least one parent with a college degree, lower than any other state. One-quarter of Nevada children have parents who don't speak fluent English, leading to 20 percent of the CCSD population categorized as English Language learners.
However, there is a silver lining for the Silver State called Core Academy, and right now it is having a positive effect on the lives of 175 students.
Core Academy is the evolution of all of the best elements of the national "I Have a Dream" Foundation, which opened its Las Vegas chapter in 1996 and had an impressive 99 percent graduation rate for its small group of 100-plus students over the last 20 years.
Lindsay Harper, who identifies herself as the chief inspiration officer, saw first-hand which elements of the "I Have a Dream" Foundation worked best to enable students to reach their full potential. In 2012, she helped to develop and introduce an improved "Character Education" model, where the emphasis is placed on creating individual successes for students.
In 2014, philanthropist Stanley Tomchin provided capital funding to help the foundation further innovate and scale the "Character Education" model to reach more students.
And in 2015, Beverly Rogers recognized the impact and potential of the new program and the name was changed to Core Academy, Powered by The Rogers Foundation.
Unlike most set curriculum programs, Core Academy is an in-school and out-of-school model that focuses on the development and empowerment of the students. The program is individualized to fit the different needs of each student and mentors work alongside the students on a year-round basis, following them from sixth grade to their junior year in college.
This year, Core Academy adopted the entire 6th and 9th-grade classes — 175 students — at the West Prep Academy. The school is operated by the Clark County School District and is located near West Lake Mead and Martin Luther King boulevards.
"We love our students and have become pseudo parents to them, and it is exciting to see where they will go in life," said Harper, during a panel discussion at the Green Chips events March 3.
It is the belief of all those involved in the Core Academy that if a student is given the resources, support, and hope for their future, that they can focus on school and make really, good decisions in life. But that belief costs money and Core Academy, backed by The Rogers Foundation, spends $2,500 per student for their year-round services. "We don't want students to think — I'm not good at math —we want students to think 'I'm not good at math yet,' and we develop life-long learners," said Harper.
To answer the language learning problem, the Core Academy has adopted a dual language program and uses the Norton Dillingham Academic Platform to catch students up. Research shows that if students cannot reach their English proficiency level by seventh grade without high-level intervention, there is a high likelihood that they will not be able to pass the proficiency testing to graduate from high school.
The Academy also has a cultural enrichment program to develop social skills and teach students that when they go out into the world, they have to be good citizens on top of everything else. "Students that don't have the ability to see beyond the five-mile radius that they are born into really won't be successful in life," said Harper.
While Harper and the Core Academy are beginning to make a difference, there is still a great deal of work to be done in order to change the direction of a ship as large as the Clark County School District.
"I am a firm believer that if everyone in this room partnered together and stopped silo building that we could solve this problem," Harper told the Convene for Green attendees.
To that end, Core Academy is building alliances with public and private sector organizations to scale their program and reach even more students in the following years. Not only will Core Academy take on a new class of sixth graders next year and follow them through to college, but they also need to plan for the day when the current group of 9th graders graduate high school and begin their college career.