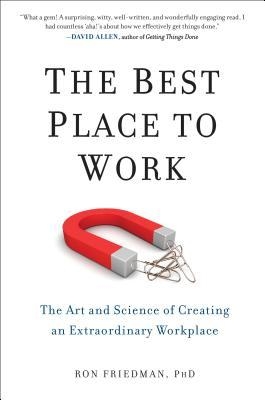 "The Best Place to Work – The Art and Science of Creating an Extraordinary Workplace" by Ron Friedman (Perigree, $25).
The best places to work aren't the best because of their perks. They're the best because they believe that their employees are assets, not expenses. As such, they're the intellectual capital a company needs to execute its plans. So, it's not surprising that a key part of their culture involves ongoing employee development.
Part of that development deals with the BP counterintuitive approach to failure. What's worse, failure or not trying? The BPs answer: "When we're afraid of failure, our performance stalls."
With that ingrained in their culture, employees are encouraged to take risks. By doing so, they create more possible solutions. The quality of their work improves as they learn what does work and what won't work. They also know that won't-work-now knowledge might be of value as situations change.
BPs also focus on expanding the skill set of their employees. By encouraging knowledge growth, they heighten employee productivity. Providing challenging assignments "fulfills their (employees) psychological need for competence and autonomy."
Peer-to-peer coaching plays an important role, too. Peer coaches help employees "figure it out" by asking open-ended questions like: "What would success look like on this project?" "What are some steps you're considering taking?" "How can you break the project into manageable chunks?" The session focuses on developing the direction of an action plan and its steps. Subsequent sessions explore what's next.
The benefits of peer-to-peer coaching engage empowerment. The coachee figures it out and handles execution. The coach learns how to teach by listening. The organizational benefit: Peers know they have go-to colleagues with "whom they can discuss their next biggest challenge, without feeling pressured to have all the answers."
The bottom line: Think of employee development as an investment in the creative future, not as today's expense.
"A Beautiful Constraint: How to Transform Your Limitations into Advantages, and Why It's Everyone's Business" by Adam Morgan and Mark Barden (John Wiley &Son, $28).
To most people, a constraint represents a limitation that materially affects the ability to do something. The authors take a different view; they see a constraint as the "stimulus to find a better way of doing something."
There are four areas of constraint that all businesses face at one time or other: Foundation (core business maxed out); Resource (manpower and money); Time and Method (doing things a certain way). In many cases, these constraints intertwine.
Here are two examples of how companies used constraints to stimulate thought and develop creative solutions:
In auto racing, Audi found the answer to how to win more races when its R10 could go no faster than its competition. Its team shifted its focus from increasing speed to saving time. Audi used a fuel-efficient diesel engine and created the R10 TDI. Its increased fuel mileage meant fewer pit stops, which saved time. The R10 TDI won the 24 Hours of Le Mans three consecutive years.
Louise Waters, CEO of LPS charter schools, wanted to find a way to measure achievement of high school students. Beyond academic issues, there were variables related to low household income, stability of home, hunger, etc. She wanted to quickly find out if students grasped a lesson. Using donated remote-control clickers used to poll audiences at a conference (right-click to agree, left-click to disagree,) students would provide instant feedback to their teachers. With feedback identifying a problem, a teacher could then work with the student.
Seeing a business opportunity that would help students nationwide, she used a limited budget to hire techies to develop the ExitTicket app for tablet computers. It's now used in 4,800 schools in 108 countries.
Key takeaway: Constraints shouldn't constrain ambition.
Jim Pawlak is a nationally syndicated reviewer of business books