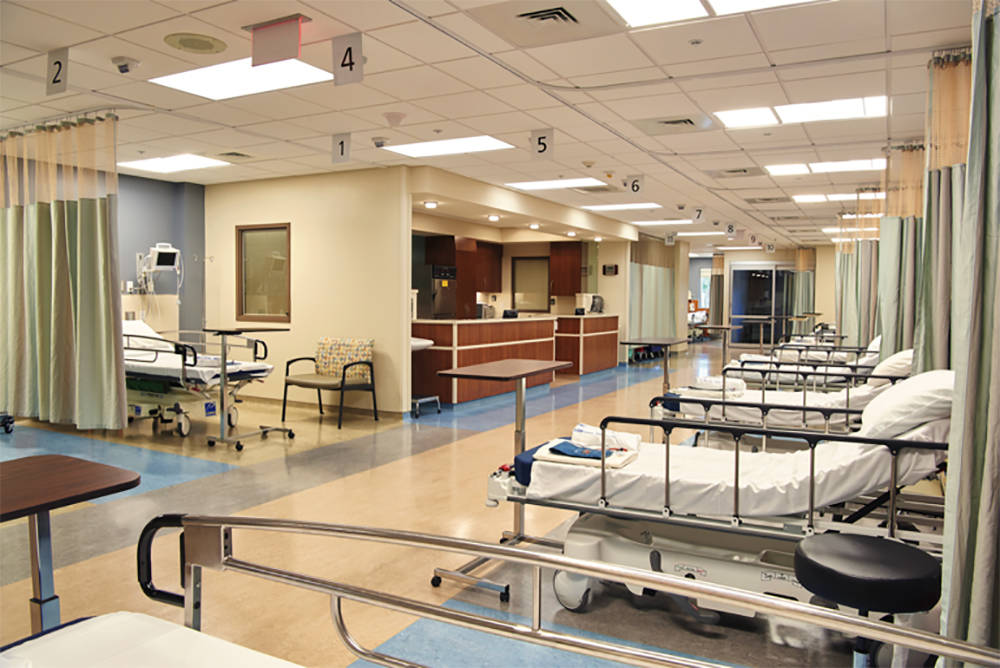 Southern Nevada companies invited to join 2018 corporate challenge
The city of Las Vegas invites local companies and organizations to sign up to compete in the 2018 Corporate Challenge by Feb. 9. For 33 years, the Corporate Challenge has been a healthy way for local companies and their employees to stay active in the community. As the largest amateur athletic competition in the state of Nevada, Corporate Challenge provides employees the opportunity for unity, teamwork and camaraderie in a fun competition that promotes company pride, corporate wellness and community socialization. Some of Southern Nevada's most successful companies are annual participants. Well-structured events are an excellent way to encourage initiative, reward the commitment of key staff, improve morale, inspire cooperation and team spirit and supercharge future performance. Sponsorship opportunities are available.
Corporate Challenge brings the spirit of the Olympics to a local and more intimate playing field. Forty different events are offered throughout the Las Vegas Valley during an 11-week period from March 1 through May 12. From archery to volleyball, and everything in between, there is an event for everyone's skills — even a blood drive, torch relay, trivia, chess, kart racing, poker and laser tag. Opening ceremonies March 3 will include family fun, a comical executive relay, parade of companies and lighting of the flame.
In addition to the many benefits for employees, Corporate Challenge can be a cost-effective marketing tool to promote business and raise awareness. Throughout the 11 weeks of competition, more than 20,000 players and spectators are repeatedly exposed to company names and logos while they witness team spirit and sportsmanship. Each company that participates designs individual team shirts to wear at events. In addition, company names are displayed during opening ceremonies and mentioned throughout various event publications.
Costs for participation range from $1,800 for companies of up to 300 employees to $2,700 for companies of 1,000 or more. Companies are divided into three divisions, based on the number of employees. This makes competition fairer, so companies with only a few employees are not challenging those with a base of thousands. Smaller companies that share business often join forces to form a combined team.
Companies, players and spectators can share photos in the 2018 photo challenge album by joining the Las Vegas Corporate Challenge Facebook group at Facebook.com/groups/lvcorporatechallenge. Photos posted by April 29 will be eligible for this year's photo contest. Group members will be asked to vote on the top three photos during the week of April 30. The winner will be announced at closing ceremonies May 12. Event photos can be shared across social media channels using the #lvcc2018 hashtag.
Corporate Challenge is operated by the city of Las Vegas. For entry packet, game schedule, handbook, sponsorship opportunities, poster, pocket calendar and more details, go to www.lasvegasnevada.gov/corporatechallenge. For questions or more information, call city of Las Vegas Park and Recreation at 702-229-6706 or email corporatechallenge@lasvegasnevada.gov.
Southwest Medical adds ambulatory surgery centers
Newly renovated, Southwest Medical's two surgical facilities now include ambulatory surgery centers — also known as outpatient surgery centers or same-day surgery centers.
While ambulatory surgery centers can be seen on many hospital campuses, they are relatively new to medical practices. Ambulatory surgery centers allow for surgical procedures not requiring an overnight hospital stay.
These changes have meant improvements to Southwest Medical colon cancer screening program, with the addition of direct access colonoscopies. This means that patients can schedule a colonoscopy without having to come into the office for a consultation, providing much more convenient access to care, as well as the availability of Saturday scheduling.
Physical improvements include:
• An enhanced HIPPA-compliant patient tracking system in the waiting area and in the medical lab. This allows family members or others designated by the patient to know where the patient is in the surgical or recovery process and provides a higher level of detail to the medical team.
• Enhanced visuals for colonoscopies. Standard video monitor size for most facilities in Southern Nevada is 22 inches. Depending on the operating room size, Southwest Medical is using video monitors from 48 inches to 55 inches.
Staymobile opens Las Vegas store
Staymobile, an industry leading mobile repair, warranty and accessories company providing electronic repair and protection for businesses, schools and consumers, announces the arrival of its first Las Vegas store. Thus, enabling Staymobile to offer increased services to the electronic and wireless repair customers including: residents, educators, business owners and tourists. Located at 21 N. Pecos Road, Suite 103, Staymobile's first site has capabilities to repair and house thousands of K-12 devices.
"With the opening of our first store in Las Vegas and first K-12 device repair depot, we plan to position ourselves as the local leader in consumer, business and education device repair services. The Las Vegas store is a strategic location for Staymobile because the market attracted a record-breaking 42.9 million tourists in 2016 and has the sixth-largest school district in the country," said Brian Hutto, CEO of Staymobile. "Additionally, the soft opening coincides with CES; thus we're excited to offer a preview of our new flagship to CES attendees. The premiere convergence of all things consumer technology."