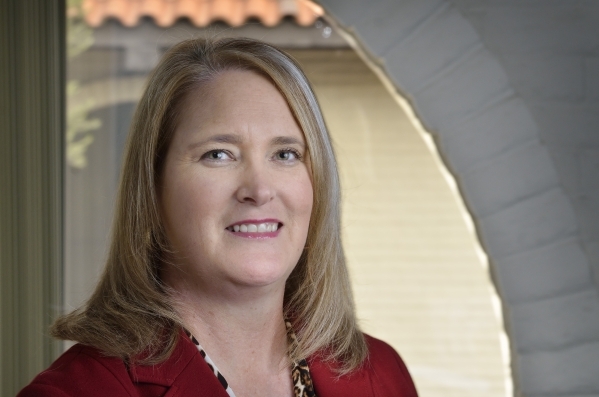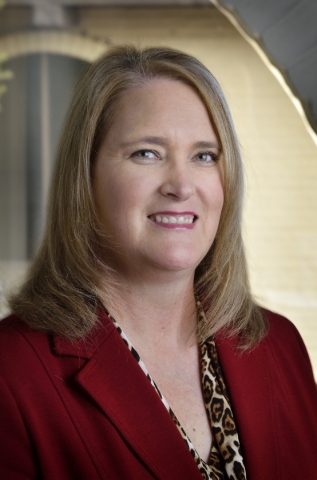 For April Mastroluca, the newly selected president of the Association of Fundraising Professionals, finding herself at the right place at the right time has resulted in playing key roles that effect change in the community.
While working in the newsroom at KVVU-TV, FOX 5, Mastroluca learned of and provided research to the group working to pass Nevada's Safe Haven law in 2002, a law giving mothers the ability to surrender their newborns with no questions asked. After its passage, she helped develop a public service announcement about the law.
In 2002, she began her nonprofit career as a coordinator for the Nevada Partnership for Homeless Youth's Safe Place program.
"It was kind of one of those right things at the right time," Mastroluca said. "I wanted to work in nonprofit to impact someone's life in a positive way."
Her desire to serve led to accepting roles as director of development at the American Red Cross and field service coordinator for the National PTA. While with the PTA, Mastroluca was elected to Legislature in 2008, serving two terms as assemblywoman for District 29.
She resigned from the Legislature before the start of her third term when she became the executive director for the Nevada Conservation League. In June 2014, she accepted her current position as executive director with ALS Association of Nevada.
After starting at ALS Association, she accepted a scholarship to join the Association of Fundraising Professionals. Serving on the board one year later, timing was once more on her side. When the president stepped down last October, Mastroluca was asked to take that position, assuming the role on Jan. 1.
Q. Tell us about AFP. How does it differentiate itself from other nonprofit organizations?
A. The Association of Fundraising Professionals is an opportunity for people who work in nonprofit to network and educate themselves. I look at it as it's an amazing amount of professional development for $300 a year. We have monthly luncheons with speakers and topics covering everything from ethics training to planned giving to interacting with donors. It's really not just a one-on-one but it's a two-on-one, three-on-one. It hits a lot of different levels.
We provide workshops and training throughout the year for people. Because we're an international organization we can interact and get ideas from other chapters across the country, the world. We have webinars that we all have access to and we have an amazing web site that has tons of resources that, by just being a member, you can access.
From a networking standpoint, I think it's important nonprofits network with one another. In Southern Nevada, it's been a challenge getting collaboration to happen on a regular basis. The more we get to know each other and the more we interact with each other, the better the community will be overall. AFP is the organization vehicle to do that
Q. As president, what do you hope to accomplish this year? What are your goals?
A. I hope to publically shine the light on fundraising as a good thing. There's the fear of asking for money, and people don't realize that a good fundraiser's job is to build a relationship so that you feel comfortable with not only the fundraiser but with the mission of the organization. At the end of the day, you want to give money.
I think that is something that can be taught. I want our organization to help people understand that. We all can be effective fundraisers and we all can be ethical fundraisers. That's a big piece with AFP. We actually have an ethics pledge we all subscribe to.
Q. Where do you see the biggest challenge this year?
A. Time management.
Besides being AFP president and executive director for ALS, I am in Leadership Henderson, a program through the Henderson Chamber of Commerce. I am one of 30 class members and we are doing two projects this year. We are helping the organization In Twelve Days, a nonprofit helping families who have lost a loved one. I am helping them with board development.
I'm also working with the Henderson Library District on building small free libraries in Henderson. The class ends in May so both projects need to be in a position to hand off to others. I am very passionate about the little libraries project so I may continue to work on the project after May.
In December, Gov. Sandoval appointed me to the Board of Medical Examiners as a public member. My first meeting is in March.
Q. Tell us about being executive director with ALS?
A. It is demanding, but the rewards are pretty awesome. It's hard to work in an environment where every patient we have has a terminal disease. You meet people that touch your heart that are absolutely amazing that you can't believe in three to five years they are going to be gone. It helps you remember every day the value of the work that we do. Whether it's raising money to provide resources or help find a cure or educating family members on what their loved ones will be going through, that's what drives us.
Our staff is myself and a full-time events and development coordinator and two part-time care services employees. One part-timer is in Reno. We serve about 90 people and their families in Nevada and put on four events a year between Las Vegas and Reno.
We host three ALS clinics, along with support groups. We have a loan closet that has medical devices we loan to people who need them. In Las Vegas, our biggest use of our loan closet is tourists. We deliver medical equipment to hotels.
Q. How do you define success?
A. For me, the knowledge that I've helped someone. Whether it's helping one of the people we serve in the organization, mentoring someone new to development and fundraising or giving someone good news. Those are things that make me happy, make my day worthwhile.
Q. What keeps you in service work?
A. You learn so much. Volunteerism is an opportunity to try on a job that you've always wanted that you might not have the skills for yet. The volunteer experiences I had working with the PTA, learning about advocacy, working with the Junior League and improving my leadership skills, all those things have created the person that I became that led me to the jobs that I have.