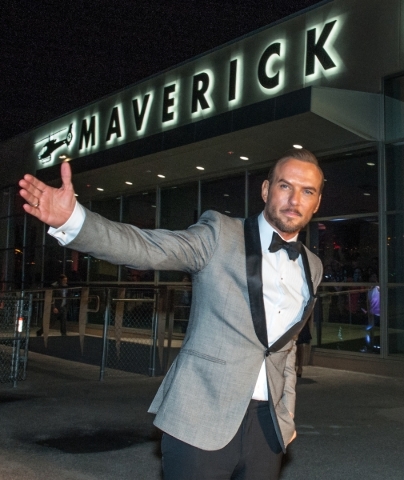 Maverick Helicopters, a tour and charter company founded 20 years ago, celebrated the grand opening of its $5 million Las Vegas terminal with a party Nov. 19.
The 6,000 square-foot terminal officially opens Nov. 30.
"We broke ground on this project approximately one year ago, and this opening represents a big milestone for Maverick Helicopters," said John Buch, president of Maverick Aviation Group. "This year has been one of our best yet — from opening our fifth location in Maui to now unveiling one of the most elaborate helicopter terminals in the world. We couldn't be more thankful to everyone who has helped us get to where we are today."
During the celebration, guests were offered free flights over the Strip and photo opportunities of Maverick's Airbus EC130, along with tours of Maverick Airline's fixed-winged aircraft.
Features of the new terminal include floor-to-ceiling windows overlooking McCarran's runways, a private room for VIPs and group events, a cafe with expanded food and beverage selections, a registration desk with double the capacity of the previous terminal, a separate desk for customers to purchase photos and videos of their flights, and a waiting area with plush leather couches. There's also a large courtyard for group and corporate events.
Maverick is also planning to renovate its existing building adjacent to its new terminal.
Maverick, a division of Maverick Aviation Group, flies its helicopters out Las Vegas, Phoenix and soon from its Maui location. Maverick offers tours to the Grand Canyon and over the Strip. Maverick also offers chartered flights. The company uses ECO-Star Helicopters.
Blau joins TV's 'Restaurant Startup'
A capital opportunity is heading to the television screen, with a Vegas connection. The third season of "Restaurant Startup," a CNBC reality series that seeks contestants with ideas to start a restaurant but having little capital, premieres Jan. 6 at 10 p.m.
Elizabeth Blau, a Las Vegas restaurateur and hospitality consultant, will appear in three episodes.
The series brings on two teams each week that are selected from hundreds of applicants. They are invited to pitch their ideas to investors on the show. Only one team will receive an opportunity to have their idea brought to life.
The winning team gets keys to a working restaurant in Los Angeles. The team then gets 36 hours and $7,500, so it can put its concept to the test and create a business plan, along with creating a branding campaign. After that, the team launches its dream restaurant.
But the dream hasn't been totally funded yet: the concept has to be tested on the public under the guise of Antonia Lofaso, a culinary consultant.
Based on diners' reactions, the quality of the branding and the business plan, contestants could get the green light for funding from the show's hosts: Joe Bastianich, restauranteur and TV personality; Tim Love, chef and restaurateur; and guest experts like Blau.
"Restaurant Startup" will run nine weeks and offer larger deals than previous seasons, including its first seven-figure investment.
For more information, visit restaurantstartup.cnbcprime.com
Heller donates computers to school
U.S. Sen. Dean Heller, R-Nev., donated 25 computers to Clark County's Kathleen and Tim Harney Middle School through the U.S. Senate Computers for Schools program, which allows senators to give computers no longer being used by the Senate to schools in their home states.
"As the spouse of a life-long teacher, making sure Nevada's students are equipped with the necessary tools to compete and succeed in the 21st century remains a top priority for me," Heller said. "In today's fast-paced digital world, computers play a central role in all of our lives, especially when it comes to education. I'm excited these computers were delivered to Kathleen and Tim Harney Middle School today.
"I spoke with Principal Susan Echols earlier this week and relayed my gratitude for the effort she and the rest of the faculty and staff at the school make on a daily basis. I hope these computers help the school, faculty, and students achieve successes for years to come."