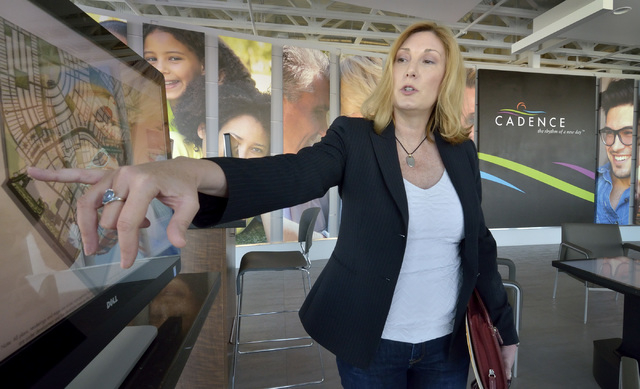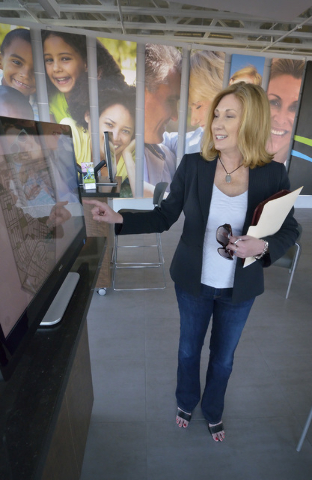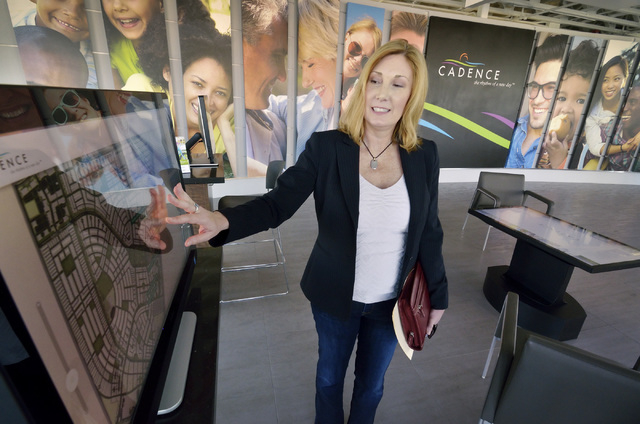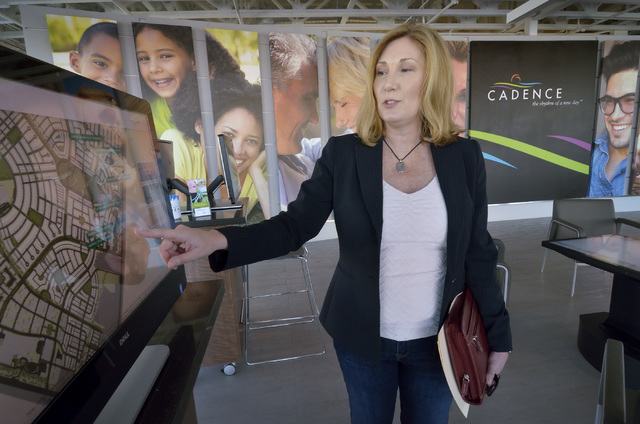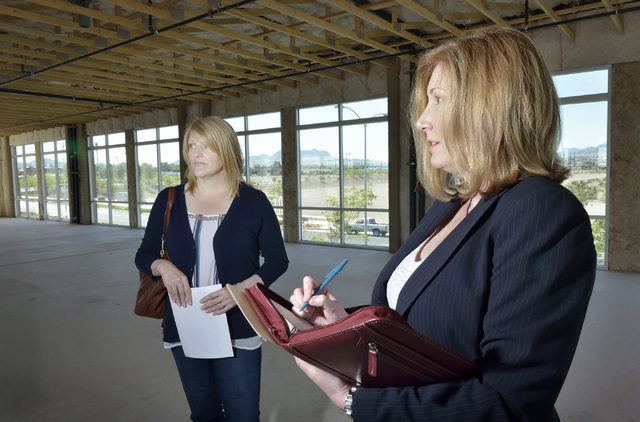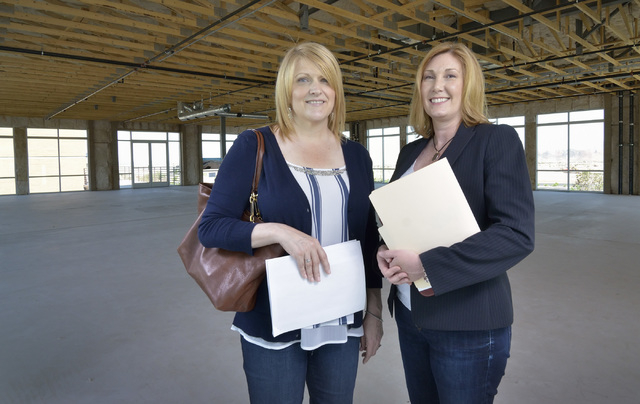 Leasing or purchasing commercial space in Cadence, the master-planned community in Henderson, might not be for every business.
The community is looking for just the right mix for both residents and commercial tenants.
"That's really what we're trying to do, not just here's a great office building; it works with people who are going to work here," said Cheryl Persinger, Cadence's vice president of marketing. "What about how it works with the people who are going to be living here, just to make sure it all flows together."
Some of that flow can be seen in the open design aspect of Cadence with its absence of large stone walls around the communities and big lettering branding them.
But who is doing commercial business in the complex is also an important part of Cadence's quality of life.
"We're looking at those types of businesses on the retail that would be best serving for the residents," Persinger said.
Persinger said she is looking for a coffee shop to join the community and other small mom and pop-type businesses. The community is also looking at veterinarians, insurance agents and other service providers, she added.
Cadence is being developed by LandWell Co., a land development company that redeveloped several sites including the Valley Auto Mall and the Black Mountain Industrial Center in Henderson.
The 2,200-acre master-planned community broke ground on its first-phase development in August 2013. The first commercial development came to life this past Dec. 11. Both milestones are but markers on a long road for Cadence.
The property was originally earmarked for sale by LandWell to Centex Homes in 2004. Just before the recession in 2007, the Centex deal collapsed and LandWell was left with empty land that also needed millions of dollars in clean up. The development was once the site of a magnesium plant during World War II that used part of the now-developed property as a waste pond.
Persinger said LandWell still benefited from the negative situation.
"There are times when we put something in, and it's just not looking right, so we can change it," Persinger said.
The first phase will develop over 750 acres of the restored land with several more in the future. The potential build out will take about 10 to 15 years, Persinger said. She said the developers are flexible and will build based on market demand.
"The first phase will likely develop over the next two to three years, and we are already planning phase two," Persinger said.
The first phase will bring more than 30,000 shrubs and 2,000 trees, along with an elementary school and more than 2,400 homes from builders such as Ryland and Woodside. Cadence will see brands such as Lennar and Richmond American Homes this year. Residents will also find 11 acres of the planned 50 acre central park developed.
On the commercial side, 200,000 square feet of retail space is being planned in phase one. Cadence hopes to add a grocery store in some of that space.
One of the three planned office buildings is up. The home-finding center is the two-story building's the first floor. The 5,000 square feet of office space on the upper floor is in shell condition and would need a few months of work before someone could move in. Cadence hopes to fill this space with a single client.
There is also 850 square feet of completed office space available on the first floor, fully furnished and move-in-ready.
Cadence is negotiating with a tech company on the sale or lease of another office building — a 14,000-square-foot, single-story space.
The third building will be 11,000 square feet and mirror the home-finding center, which will be attached to it by a bridge. The wing buildings will share an elevator.
Both are build-to-suit and completion is dependent upon market demand.
Patti Dillon, vice president, office division, at Colliers International, said the build-to-suit options could be ready in 18 to 24 months.
Colliers is contracted to help lease or sell the commercial office space for Cadence, Persinger said.
The ideal office space client may also bring something more than a potential job to the community.
"The idea on the office component is to find a use that's compatible with the project that actually services the community — somebody's that's invested in the community that can give back which they get from being a part of the community," Dillon said.
The tenant could be a resident of Cadence but doesn't have to be, Dillon added. The future office space tenant could be anything from finance to insurance or a small tech company, Dillon said.
The community is also prepared to offer something back to the office dwellers.
Office workers are welcome to use some of Cadence's amenities, including the bike share program, which offers 20 bikes for community use. Riders will need to visit cadence.socialbicycles.com and sign up with a credit card before they can ride, but the service is free. After signing up, riders can go to the bike rack and key in their account number and personal identification number, Persinger said.
Many retail locations will face the street side. Persinger said the design will look good from the office suite and make it easier for but workers, who won't have to walk all the way around a strip mall.
The absence of walls and the retail facing street-side also gives residents better access to these businesses.
Persinger said Cadence is looking at putting in a community pool, a dog park and other features.
"We're still toying with different ideas," Persinger said.
There is also a 100-acre sports park planned with baseball and soccer fields.
The community is also in talks with Boyd Gaming Corp. on a planned 1,500-room hotel-casino.
If the deal were to go through, Persinger said, the Joker's Wild Casino, across the street from the potential new site for Boyd, would be closed, and Boyd Gaming would move to a new site zoned for 1,500 rooms.
Persinger said the deal isn't done and is likely a few years away from fruition.