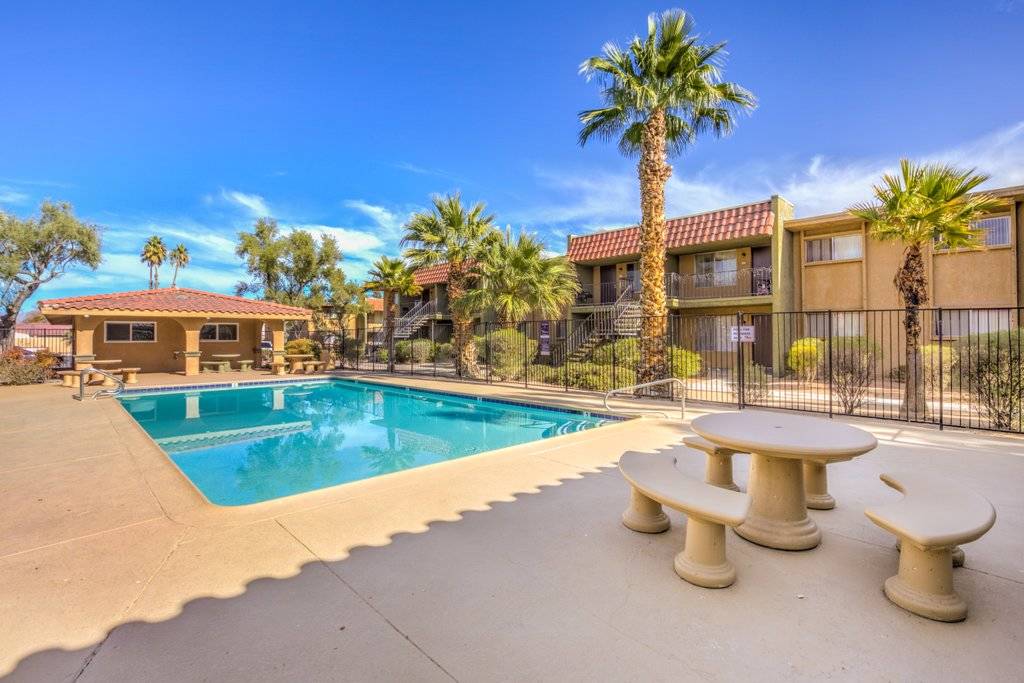 SPANISH OAKS APARTMENTS SELLS FOR $28.075M
Next Wave Investors LLC, a private equity firm focused on value-add multifamily investments, has acquired Spanish Oaks, a 216-unit garden style multifamily community for $28.075 million.
Through existing broker relationships, the firm was able to acquire the property in an off-market transaction at a discount to replacement cost, according to Jordan Fisher, principal at Next Wave.
"Spanish Oaks fits seamlessly within our investment strategy of acquiring value-add assets in well-located, secondary markets positioned for economic growth," he said. "We have deepened our relationships and presence as an owner in Las Vegas for several years now, while also leveraging economies of scale to deliver long-term value for our investors."
Next Wave intends to upgrade all unrenovated units. The firm enhance the exterior and amenity spaces.
David Sloan, principal at Next Wave, adds that Las Vegas continues to be a market the firm remains highly active in due to its in-migration, particularly from Californians, resulting in high demand for modernized apartment communities.
"Despite Las Vegas' high concentration of hospitality jobs that have struggled during the pandemic, Las Vegas has benefited from major construction projects over the last several years including new stadiums, entertainment centers, resort developments, among others," Sloan said. He noted that Next Wave's current portfolio in the Las Vegas market totals 304 units. "The region has been among the most resilient throughout the pandemic and has even seen an increase in rent growth by 4 (percent) to 5 percent. We believe the city is poised for strong future growth as travel and hospitality rebounds once the COVID vaccine is fully rolled out."
Built in 1976, Spanish Oaks features a mix of one- and two-bedroom units that feature large closets and private balconies or patios. Community amenities include a fitness center, pool, clubhouse, laundry facilities and a leasing center. The property is at 2301 S. Valley View Blvd.
DEVELOPER SELLS, ACQUIRES MULTIFAMILY PROPERTIES
Las Vegas-based Camino Verde Group, a real estate investment, development and asset management company, has sold one of its central Las Vegas multifamily properties for $3.5 million. Camino 1107, formerly known as the Desert Inn Apartments and located at 1107 E Desert Inn Road, closed for nearly $100,000 per unit.
The 36-unit property encompasses roughly an acre and features one-bedroom, two-bedroom and three-bedroom floor plans up to 1,050 square feet.
"The property was built in 1963 and needed some significant improvements. We were able to make those improvements and turn this into a great investment for everyone involved, including the residents," said Kevin Romney, co-founder and managing director of Camino Verde Group.
Following the sale of the Desert Inn building, Camino Verde Group acquired Radcliff Apartments at 2566 Sherwood St. near downtown Las Vegas for $1.7 million. The building is directly across the street from 2575 Camino, another property owned and managed by Camino Verde Group.
Built in 1962, Radcliff Apartments is a 22-unit property featuring a gated garden-style building with studio, one-bedroom and two-bedroom floor plans. It includes a community laundry facility available to all tenants and a central gated courtyard, which has secured entrances on both sides of the building.
As part of the acquisition agreement, the property has a two-year master lease for all units with U.S. Vets, the largest nonprofit organization in the country that provides comprehensive services to homeless and at-risk veterans.
"Our partnership with U.S. Vets for all of the property's units gives us the opportunity to focus on other needs such as making the necessary improvements to the building that will provide a better overall experience for residents," Romney said.
MCA REALTY SELLS THREE INDUSTRIAL BUILDINGS
MCA Realty, a full-service real estate investment and management company based in Orange County, California, has sold three multitenant industrial buildings and a parcel of land in the Las Vegas metro area for a combined total of $17.260 million.
"The Las Vegas metro is a region where we have been able to consistently find opportunities to add value over the last several years," said Tyler Mattox, principal at MCA Realty.
The four recent sales include:
— MCA Realty has sold Arville Gateway Center, a 43,702-square-foot multitenant industrial asset at 4460 Arville St. for $8.26 million. The firm initially acquired the asset in February 2019 for $4.650 million. Jeff Chiate, Mike Adey, Brad Brandenburg, Greg Tassi, Donna Alderson and Nick Abraham with Cushman and Wakefield represented MCA as the seller.
— MCA Realty sold 4550 and 4560 Donovan Way, a 41,226 square-foot multitenant industrial property, consisting of two buildings, in North Las Vegas for $4.484 million. According to Mattox, this property was the firm's first acquisition in the Las Vegas market.
"We acquired the asset in 2012 for $1.06 million early in the recovery from the 2008 economic downturn," he said. "The property was only 47 percent occupied at the time of acquisition. We implemented a strategic capital improvement plan to the property and increased occupancy to nearly 100 percent where it has remained for the last eight years."
Mattox explains that the Las Vegas market has continued to recover over the last several years and is increasingly attracting more institutional capital.
Dan Doherty, Mike Kendall, Gian Bruno, Chris Lane, Jerry Doty and Paul Sweetland with Colliers International represented MCA as the seller.
— MCA Realty also sold 2475 W. Cheyenne Ave., a 27,227 square-foot industrial asset in North Las Vegas for $3.116 million.
"This was another asset we acquired early on in Las Vegas where we were able to create significant value," Mattox said. "We initially acquired the asset in 2014 for $1.105 million where we increased occupancy and streamlined operational inefficiencies, stabilizing the asset and increasing NOI."
— In addition to these recent industrial sales, MCA Realty has also sold a 4.9-acre parcel of land in for $1.4 million to CapRock Partners. MCA acquired the land parcel for approximately $800,000 in 2017.
Doherty with Colliers International represented MCA as the seller.
COMPLETED SALES TRANSACTIONS
• Robin Willett; Devin Lee, CCIM; Jerad Roberts; and Jason Dittenber of Northcap Commercial has announced the sale of Hilltop Villas and Stewart Villas Apartments for $22,150,000 ($98,009/unit). This sale consisted of 226 multifamily units built in 1963, located at 600 N. 12th St., 600 N. 13th St., 601 N. 13th St., 2640 Marlin Ave. and 2601 Stewart Ave. This off-market transaction closed on Feb. 26. Northcap Multifamily represented the seller, Hilltop LLC.
• Jake Higgins of CBRE Inc. represented the buyer, 5360 N. Beesley Drive LLC in the purchase of a 106,705-square-foot industrial building at 5360 N. Beesley Drive for $14,000,000.
• Garrett Toft, SIOR, and Jake Higgins of CBRE Inc. represented the seller in -the sale of a 56,297-square-foot industrial building at 1060 Mary Crest Drive to Nation Wide Power Solutions Inc. for $9,289,005.
• CBRE announced the sale of a 14,680-square-foot medical office building at 3041 E. Flamingo Road to Inter-Cal Real Estate, a Northern California property management and leasing company, for $4.55 million, or $310 per square foot. Tyler Ecklund, James Griffis and Doug Mack with CBRE represented the seller, PacVentures Inc., a San Diego-based commercial real estate investment firm. The single-story, freestanding medical office building sits on 1.72 acres at the corner of East Flamingo Road and McLeod Drive. The two-tenant building is leased to CareMore Health Systems, a national health care provider for Medicare and Medicaid patients and Gentle Dental.
COMPLETED LEASE TRANSACTIONS
• BestLife Holdings LLC leased 9,852 square feet of industrial space in Spencer Airport Center at 6830 Spencer St. Jake Higgins of CBRE represented the landlord.