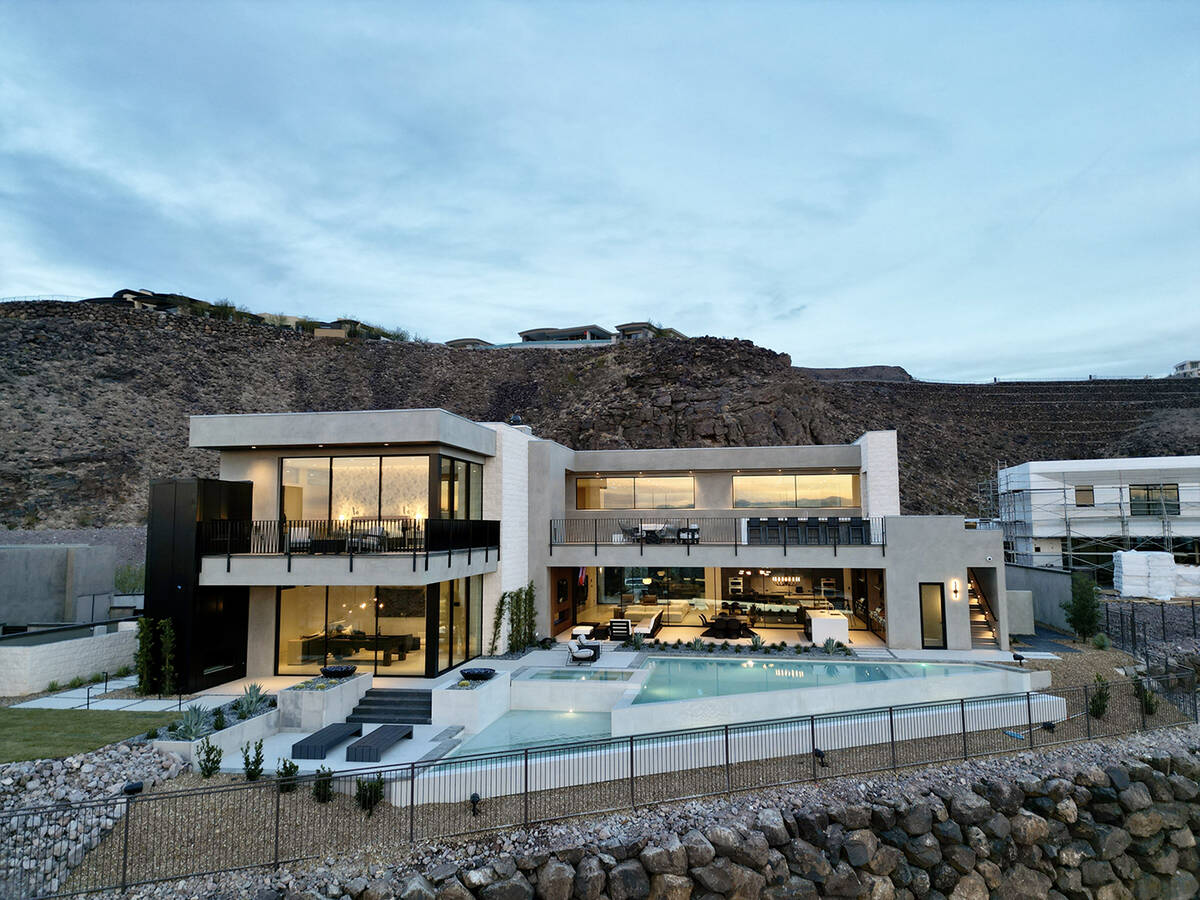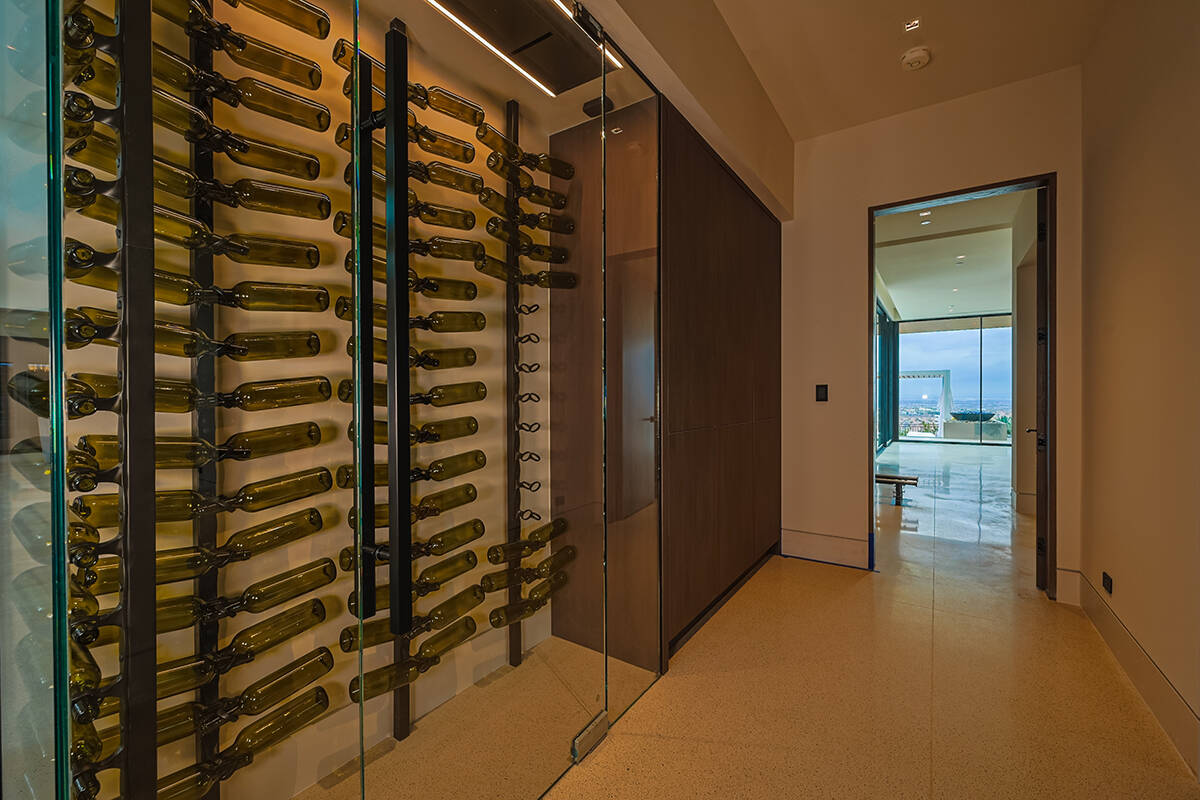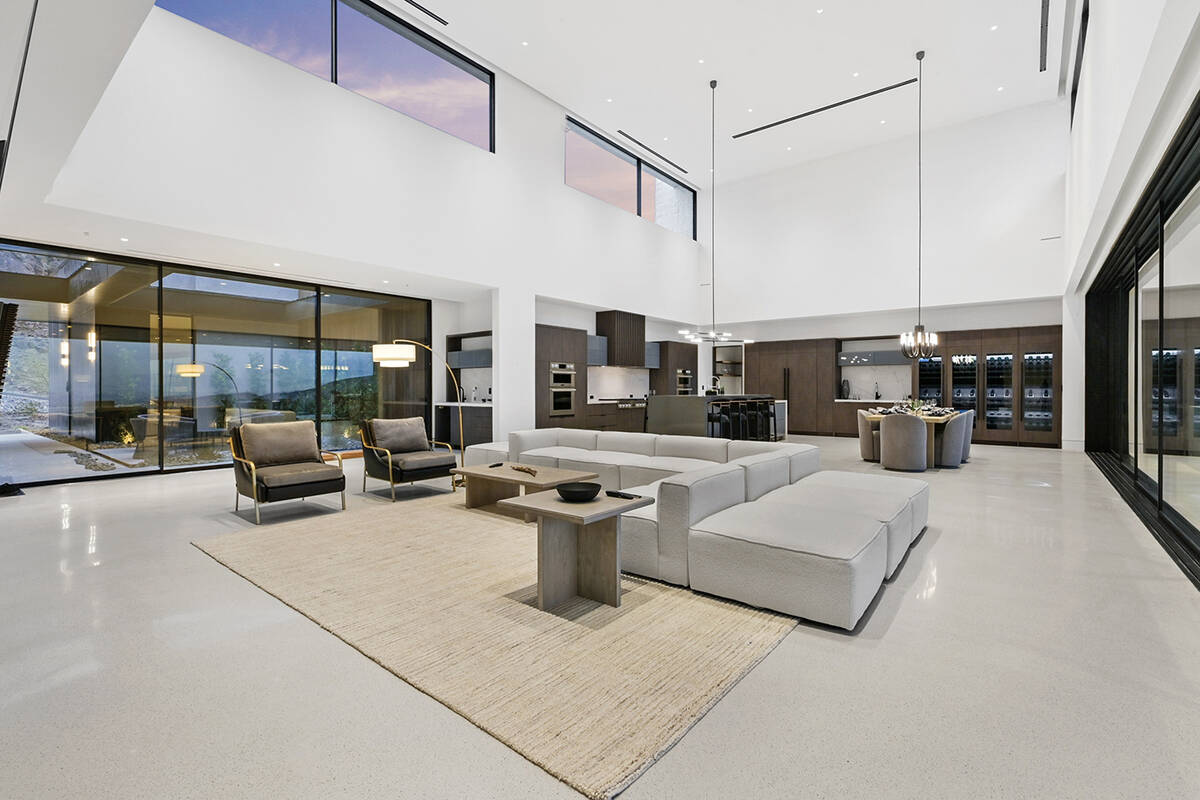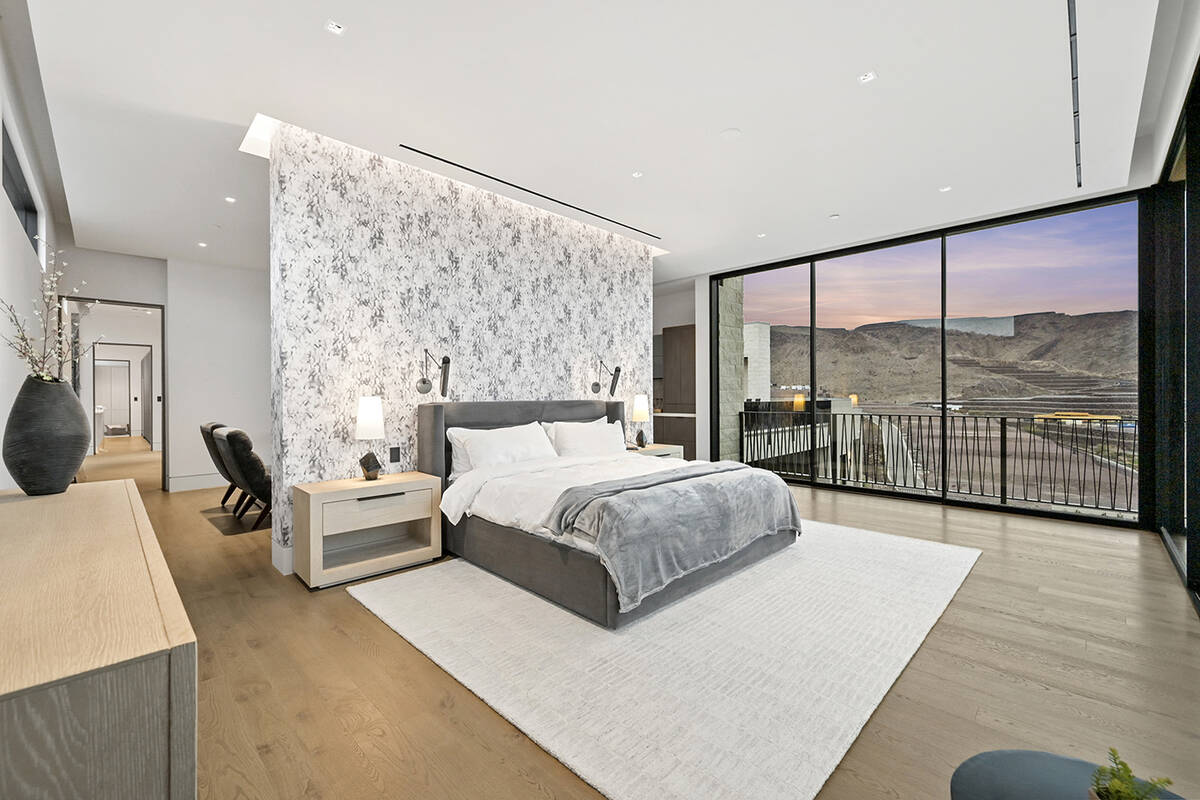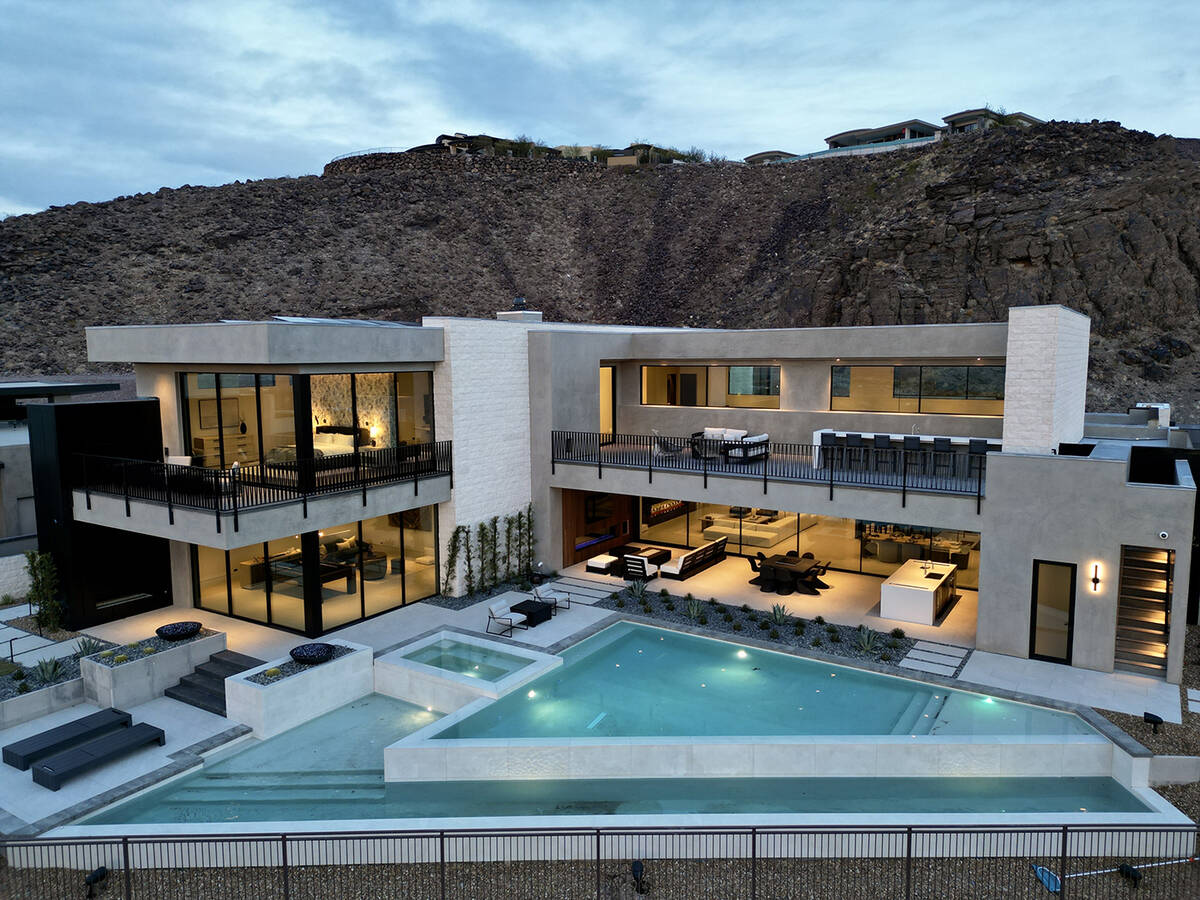 The 2023 New American Home exceeds expectations on every level — from sophisticated design to sustainability.
Designed and built by studio g Architecture and Luxus Design Build, 19 Rockstream Drive demonstrates industry innovations, revolutionary design and energy efficiency.
The desert-contemporary masterpiece depicts what Michael Gardner, principal, and founder of studio g Architecture and Luxus Design Build describes as "Vegas Sophistication."
"We wanted to show Vegas can be sophisticated and understated," Gardner said. "We feel we hit the mark, if not exceeded it."
The 40th edition of the event's show homes provides a glimpse into the future of residential construction. Gardner unveiled the property as part of the annual National Association of Home Builders International Builder's Show earlier this year. Thousands of IBS attendees toured the property in Ascaya, a Henderson luxury community, from Jan. 31 through Feb. 2.
"The home exceeded expectations in design and energy efficiency," said Tucker Bernard, executive director at NAHB, Leading Supplies Council, New American Home, New American Remodel. "The home's interior design is my favorite aspect of the project. It dials back the Las Vegas glitz prevalent on previous show homes."
The 7,575-square-foot two-story estate features state-of-the-art features and dynamic views of the Las Vegas Strip. The interior design uses layered effects, organic materials and warm neutral tones to inspire serenity while mirroring the surrounding landscape.
Understated architectural elements augment the sleek interior, including a main-level monolithic floor, innovative lighting and fully integrated systems.
"Everything is flush-installed and looks very clean," Gardner said. "But behind the walls, the home's infrastructure is incredible."
Designed at the forefront of energy efficiency, the home achieved National Green Building Standard Emerald certification, Energy Star certification, Indoor airPlus certification, Department of Energy's Zero Energy Ready Home Program Certification and net-zero status.
"This entry into our NAHs is one of the most efficient in IBS show home program history," Bernard said.
In addition to advanced construction methods, the design integrates innovative wellness features, with intimate spaces for relaxation and communal areas for social interaction. Additional wellness-focused amenities include the Broan-Nutone Fresh Air System, Kohler soaking tub — which can be used as a cold plunge or a hot bath, a Thermory Auroom ready-made sauna in the primary suite's bath and a steam shower in the pool bath.
"We look at the concept of wellness as both the environment the home creates as well as the functionality and features of the home," Gardner said. "After COVID, people realized they want their homes to be more encompassing — live, work, exercise and play at home. That is an underlying theme to the home as well."
The spacious open-concept floor plan integrates formal living, dining, gourmet kitchen, whisky bar and exterior seamlessly. It features four en suite bedrooms with an upper-level primary and main-level junior primary suite, 6½ baths, an executive office, multiple wine cellars, a multiuse game room, an upper-level balcony and a covered patio.
Luxurious amenities include a state-of-the-art outdoor kitchen, an elevator, a striking 12-foot dual-sided linear fireplace and a multilevel infinity-edge pool and spa.
Enhancing the main level's seamless indoor-outdoor connection is a unique 44-foot six-panel door system spanning the back of the home. Each panel is approximately 7-foot-wide-by-10-foot-high, separated by a three-quarter-inch thick metal strip. The innovative design provides opening and closing flexibility through a series of different combinations. In addition, the home's entry features a similar three-panel door system.
"It's unique," Gardner said. "And has a minimal visual impact. It's different from most windows and doors you see in Vegas."
The sleek kitchen's design incorporates dual spaces, each with a distinct purpose and function. The central kitchen, designed as an extension of the main living area, is a showpiece with flush Wood-Mode custom cabinetry, an oversized island with a quartz waterfall edge and LED lighting. In addition, the innovative Signature Kitchen Suite features a 48-inch Pro Rangetop, the first on the market with built-in water bath sous vide, two-zone induction and four gas burners on the cooktop.
The adjacent working kitchen serves as an extension of the main galley and functions as food preparation. It features a Signature Kitchen Suite Dual Fuel Pro-Range with Steam-Combi Convection and a microwave oven drawer. A series of "morning kitchens" located throughout the home offer added convenience.
Gardner's mother, Elma Gardner, designed the Wood-Mode European-styled custom cabinetry. The owner and president of By Design, Elma Gardner, provided Wood-Mode's engineer's hand-sketched designs to craft a unique stainless-steel base wrapped with volcanic sand textured laminate.
"I spent four days at Wood-Mode's factory," said Elma Gardner, who's been a Wood-Mode dealer for 25 years. "The challenge was to attach the texture without dimpling the stainless steel. It looks very clean and streamlined."
Rockstream is the third NAH project she has collaborated on with her son as the interior designer. She selected all the furnishings, artwork and household items.
"My favorite part of the project is working with my son," she said. "It's nice if I get to do a big project a year."
The multilevel infinity-edge pool is a unique exterior feature of the property, which takes advantage of the lot's topography. The upper level features a lounging area, shallow pool and wet deck, while the infinity edge spills into a lower linear lap pool.
"We were one of the lucky few that had been able to get plans processed before the water restrictions became public," Gardner said. "Traditionally, an infinity-edge pool has a trough at the end. We had the idea to make it functional, so we designed a two- tiered system."
The 2023 NAH's use of the latest products includes its televisions, Smart home technology and appliances. Highlights include immersive home entertainment with an LG 97-inch OLED G2 series television in the game room and an 83-inch television in the formal living room. Other unique features include two LG Styler Steam Closets in the primary suite, a fully integrated Crestron Smart Home system, Kohler intelligent toilets and a Real Rain showerhead integrating 775 nozzles.
Breaking ground in December 2022, the home took approximately 12 months to complete. It is the fourth NAHB project Gardner and his team have completed. Gardner designed the 2013 and 2016 NAHs and the 2019 New American Remodel in the Las Vegas Historic District.
"Building a custom home like this would normally take 18 to 24 months," he said. "I'm proud of our team and the subs that stepped in to deliver a high-quality project in a short timeframe."
The aggressive schedule presented several challenges, primarily product availability, shipping delays and delivery problems.
"Our strategy to deal with the challenges was just continually following up with phone calls," Gardner said. "I would say 80 percent of our focus was monitoring where the product was. You had to stay on top of it."
The 2023 New American Home is currently off the market, but Gardner plans to list it for $15 million through The Agency in mid-April.
About the mansion
Price: $15 million
Location: 19 Rockstream Drive in Ascaya, a Henderson luxury community
Size: 0.5 acres., 7,575 square feet, four en suite bedrooms including a private primary suite and junior primary suite, flex bedroom/office space, 6.5 baths including primary bath with sauna, attached 4.5-car garage.
Features: Custom contemporary designed two-story estate with stunning views of the Strip and surrounding landscape; ultra-energy-efficient design/net-zero; groutless monolithic flooring; temperature-controlled wine storage; 12-foot two-sided fireplace in great room; elevator; multiuse game room; main showcase kitchen with adjacent working kitchen; 44-foot, six-panel door system; three-panel door entry; covered patio with state-of-the-art outdoor kitchen; upper-level deck; multilevel infinity-edge pool; pool bath with steam shower; a solar system with backup; occupancy sensors; Crestron Smart Home system; fully integrated sound system throughout; LG OLED televisions; Kohler smart toilets; custom lighting throughout; fully furnished.
HOA: $825/month
Listing: The Agency.