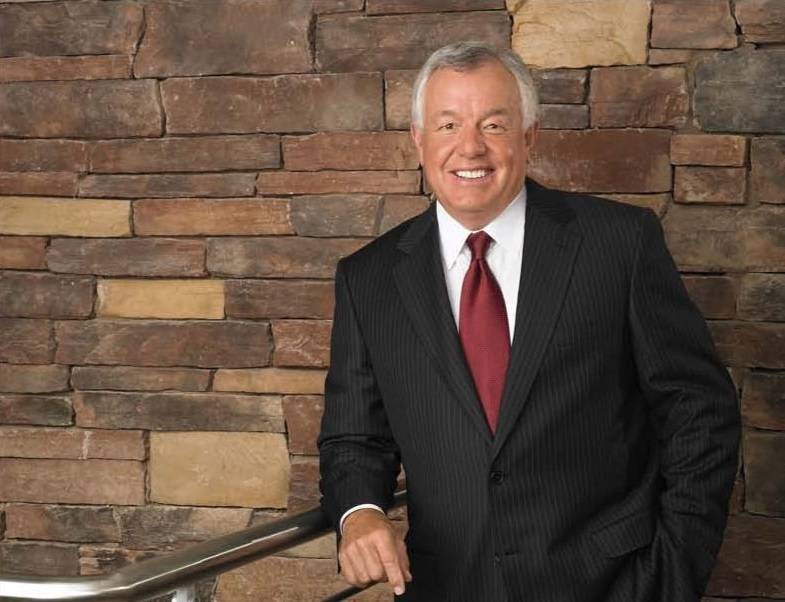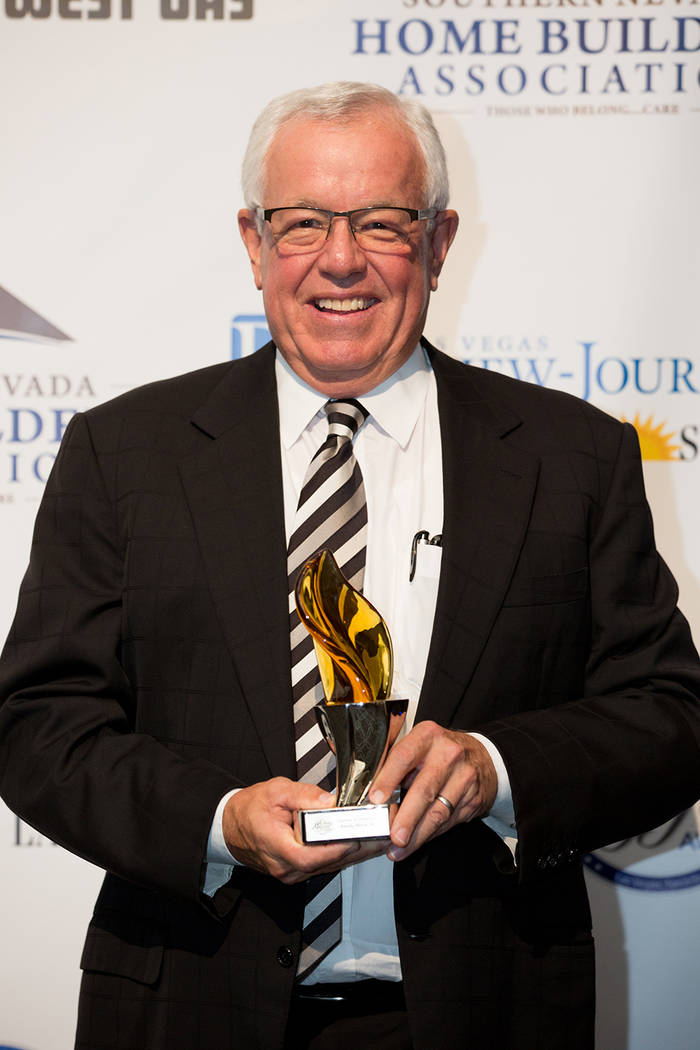 Robert (Randy) Black Sr., who has worked for nearly five decades in real estate development and across other parts of the real estate industry spectrum, was recognized for his achievements April 1 at Red Rock Casino Resort during the Southern Nevada Home Builders Association's Silver Nugget Awards. Black received the association's Lifetime Achievement Award for his work in helping shape the valley into what it is today.
"I like to put things together and make them work," said Black about development. "It's lucrative, if you do well at it."
During his career, Black has raised a wide range of properties — from residential projects, such as condos and single-family homes, to major commercial developments — culminating in more than 500,000 square feet.
Some of his residential projects include Redrock Heights subdivision and Rock Springs Vista, a 2,000-unit condominium project.
On the commercial side, Black said he's done it all — entertainment, retail, industrial and office. Black also is known for his ownership, up until 2013, of several Mesquite gaming properties: CasaBlanca, Virgin River, Oasis and Mesquite Star.
The SNHBA also sees Black's work as a great asset to the Las Vegas community.
"Randy Black is a well-respected professional in the homebuilding and development industries. He has distinguished himself as a creative, forward-thinking builder-developer who tenaciously rises above any and all challenges that he faces," said Nat Hodgson, who was the executive director of the Southern Nevada Home Builders Association at the time of the announcement. "Because of his proven leadership skills, the association's members elected him to the board of directors in the 1990s, and he rose to president of the association in 2000."
Black is originally from Kingman, Arizona. His father was a real estate broker, who developed homes in Arizona.
"I came here because I wanted to be a little bit bigger than a Kingman guy," Black said.
Black arrived in Las Vegas in 1970. His first job was with First American Title.
Not long after that, Black went to work for Roberts Realty, later becoming part owner in Consolidated Realty.
In 1977, Black opened Diversified Interests Inc., a commercial real estate firm. It's a label he still holds today.
One of Black's large projects was the development of a nine-story, 138,230-square-foot office building at 333 N. Rancho Drive, which he worked on in the early 1980s.
Terry Wright, owner and chairman of the board of Nevada Title Co., said Black presented the project to him as though he were an expert developer who had worked on projects all around the country. But Wright said the Rancho building was the first large-scale project on which Black had worked.
"That was really Randy's first move into major real estate development in Las Vegas," Wright said.
Wright said Nevada Title Co. became the anchor tenant in that building. He said he was offered a great deal: one year's free rent. But he also found Black to have other great attributes.
"Everything he said he would do, as a developer, as an owner of the building, as a landlord — he did those things," Wright added.
Wright finds value in these attributes, especially today.
"Black's an old-time guy," he said. "He does things with a shake of a hand. But he's one of the guys who does keep his commitments; he always has. It's part of his character. There's very few people left like that. It's a different world today."
The early 1980s was a turbulent time; interest rates were reaching into the teens, and a major recession was looming. Black had experienced the bust firsthand. He spent a year in Houston, Texas, where the economy, between 1982 and 1986, was collapsing due to falling oil prices.
"I was in Houston with three 20-story buildings when the bottom fell out of that market," Black said.
Back in Las Vegas, with the Rancho building, which was developed around 1984, Wright said the local economy was on the verge of a boom.
"In Las Vegas, at that time, the boom was starting," Wright said. "We didn't know it was starting."
Black has been a developer for the past several years, but he also had other interests.
"When I got into it (gaming) in 1990, there were only two jurisdictions that had it," Black said. "There was Atlantic City, New Jersey and Nevada, and there was a little place called Mesquite, where we could get into it easy."
Black built the Virgin River hotel-casino in 1990, followed by the Oasis. Toward the latter half of the 1990s, Black acquired Players Island Resort, owned by Merv Griffin's company. That property was renamed the CasaBlanca Resort, Casino, Golf &Spa.
Black also purchased the Mesquite Star, an unfinished project. It remained in that condition until he later sold the property.
Black lost a large portion of his 99-percent ownership in Black Gaming during the recession. In a Chapter 11 bankruptcy reorganization of the company in 2011, his holdings fell to 10 percent in a newly formed company, Mesquite Gaming LLC. Black remained on as the chief operating officer of that company until the end of 2013, when he retired.
Just after that, Black moved toward medical marijuana. His company, Clear River LLC, was approved for a cultivation and production facility in 2014. He also was approved for a dispensary in Laughlin. Black also has operations in Henderson.
Black still is active in development, though not as much as he once was. That could change, however.
A developer is like a farmer, he said.
"You can't plant when it's frozen," he said. "You can't build stuff when it's bad. It's pretty good right now, so I'm looking for things to do."
Black doesn't have any plans to slow down, either.
"It's in your blood to do things," he said. "I'm constantly trying to do something new — make a deal and do something."