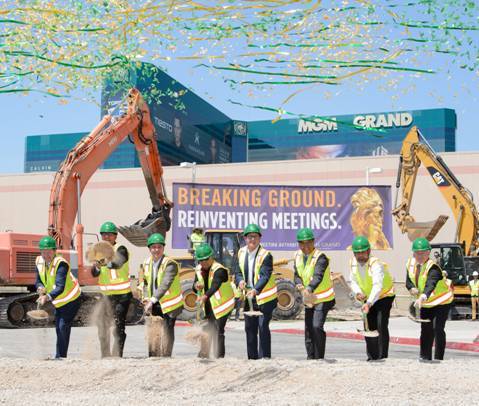 MGM Grand Convention Center expands
MGM Resorts International has started construction on a nearly $130 million expansion project at its MGM Grand Convention Center. It will add 250,000 square feet for a total of more than 850,000 square feet. The project is scheduled for completion the end of 2018.
As part of the expansion, Stay Well Meetings – a wellness meeting experience that launched at the hotel in 2014 – also will expand its footprint by 22,000 square feet and encompass the Conference Center's entire second floor. Stay Well Meetings feature amenities and programs that stimulate healthy, productive and creative work environments.
"The expansion of Stay Well Meetings, along with our 340 Stay Well accommodations, allows MGM Grand to offer a completely unique destination for groups that carries through the entire resort experience – from the board room to the guest room," said Ernest Stovall, vice president of sales for MGM Grand. "The Conference Center expansion allows us to grow with the needs of our clients and drive new and expanded business to Las Vegas."
The new 250,000-square-foot space at MGM Grand will connect to the existing Conference Center on all three levels and include a new 5,500-square-foot outdoor courtyard available for private events, a 49,000-square-foot ballroom, a 32,000-square-foot ballroom, three junior ballrooms and 11 breakout rooms. The resort's unique meeting spaces include the stand-alone, 92,000-square-foot Marquee Ballroom and the 16,800-seat Grand Garden Arena.
MGM Grand's new space comes on the heels of expansions at sister properties – Mandalay Bay and Aria. Mandalay Bay recently completed a 350,000-square-foot expansion totaling more than 2 million square feet while Aria is currently adding 200,000 square feet to create more than 500,000 square feet at the resort (opening February 2018). Upon completion of these projects, MGM Resorts International will offer a total of 4 million square feet of leading meeting and convention space within a 2-mile stretch on the Las Vegas Strip.
Multifamily project sells for $2.16M
Pine Tree Apartments sold for $2,165,000 to The Hoover LLC, according to Northcap Multifamily. The sale consisted of 56 multifamily units at 150 Hoover Ave. The transaction closed June 21. Devin Lee, CCIM, Robin Willett Jerad Roberts and Jason Dittenber, of Northcap Multifamily represented The Hoover LLC.