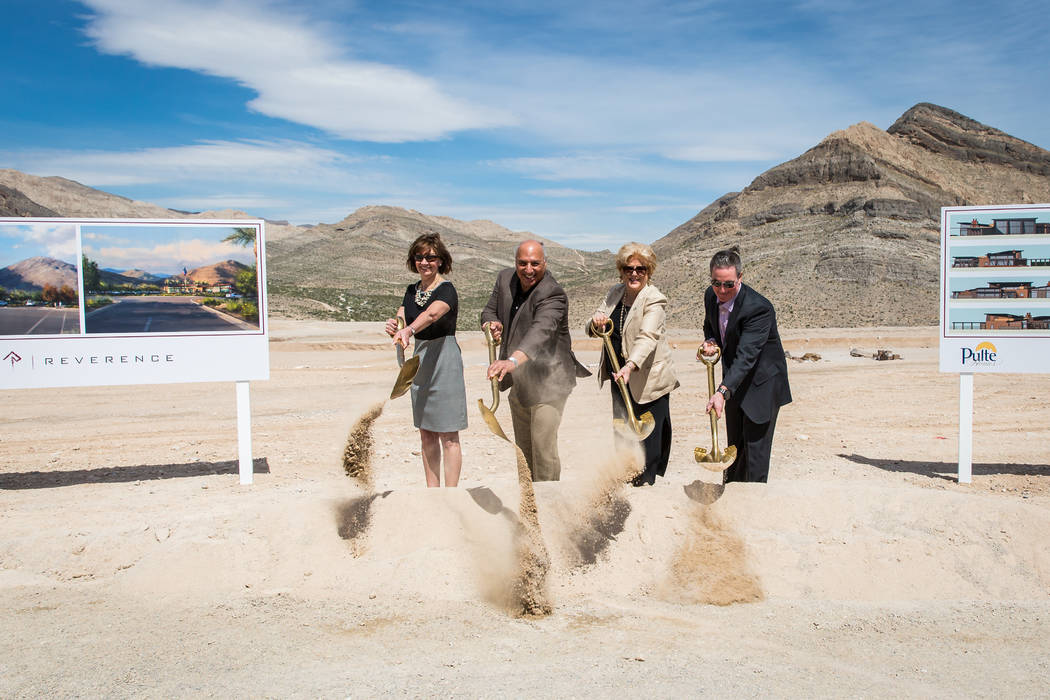 Home prices in Southern Nevada had a good first quarter in 2017, with median prices rising in each of the first three months of the year, according to data from the Greater Las Vegas Association of Realtors.
GLVAR reported the median price on existing single-family homes during March for Southern Nevada was $242,000, an increase of 0.8 percent over February. The Las Vegas Valley also had an increase in median home prices on existing single-family homes in February, which rose to $240,000, a 0.8 percent bump over January's $238,000 median home prices on single-family homes.
January saw a 1.3 percent increase in median prices over December on single-family homes.
"We continue to see a strong demand for housing heading into what is traditionally our best time of year for home sales," said David J. Tina, 2017 president of the GLVAR. "Combined with a tight supply, I think our home prices and home sales may continue to get a boost from the positive economic news we've been enjoying lately, including last week's announcement that the Raiders are moving to Las Vegas."
Tina said it was hard to quantify but "news that Las Vegas will soon be an NFL city with a state-of-the-art sports stadium is one more thing that solidifies our position as a world-class city and something that pushes some buyers over the threshold and encourages them to buy property here now."
The median price on existing single-family homes also rose on an annual basis in March, increasing 10 percent over March 2016, according to data from GLVAR's multiple listing service.
The condo and townhouse market also saw a positive increase in March. Median prices on existing product in this market in March was $122,950, up 4.2 percent from February and up 4.2 percent from March 2016.
The number of existing single-family homes, condos and townhomes sold was also rose year-over-year, with 3,903 units sold in March, up from 3,488 in March 2016.
GLVAR data also shows that Southern Nevada is ahead of the sales pace of 2016, when 41,720 total properties were sold.
At the current sales pace, Tina said there is less than a three-month supply of existing product, where a six-month supply is normal.
Short sales were down in March, when 4.4 percent of all local sales were short sales — in which lenders allow borrowers to sell a property for less than what is owed on a mortgage. In March 2016, 5.9 percent of all properties were short sales.
Bank-owned properties accounted for 5.4 percent of the homes sales market in March; it was 7.1 percent in March 2016.
Reverence breaks ground on recreation facility
Reverence, a nearly 900-home community in the northwest tip of Summerlin, progressed in early April with a groundbreaking event for the development's recreation facility.
Las Vegas Mayor Carolyn Goodman and Ward 4 City Councilman Stavros Anthony, along with officials from the Howard Hughes Corp. and PulteGroup, celebrated the 16,000-square-foot indoor/outdoor recreation facility, named the Reverence Recreation Center, on April 6.
The facility is expected to be completed by the spring of 2018 and contain a fitness center, outdoor resort and lap pools, spa and pickle ball and tennis courts. There are also plans for a multipurpose room, great room, fire pit and outdoor terrace.
The facility is inside the 300-acre Reverence project at Cheyenne Avenue and the 215 Beltway being built by Pulte Homes. Pulte's project encompasses an entire Summerlin village, which Jason Demuth, division director of marketing for PulteGroup, said is rare in the master-planned community of Summerlin.