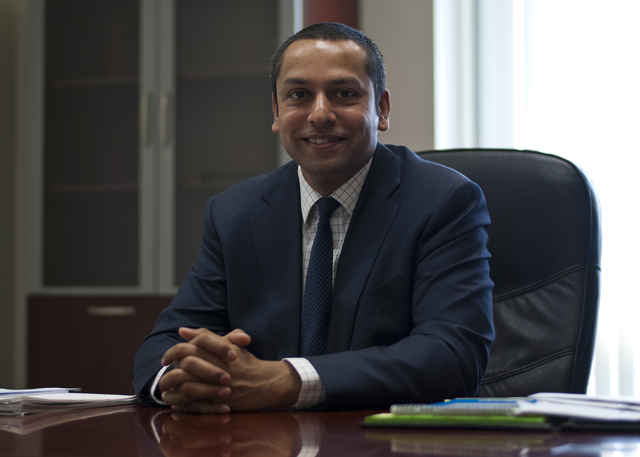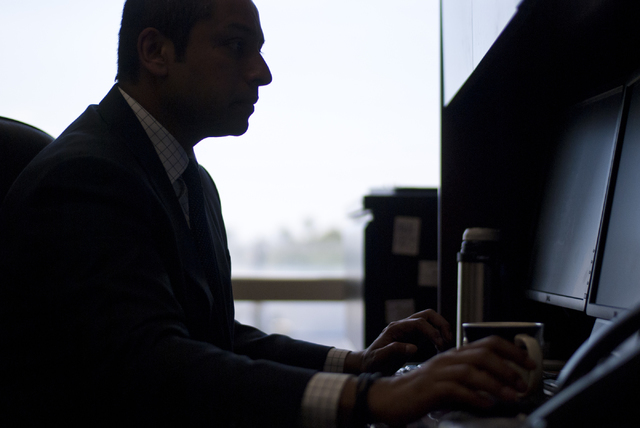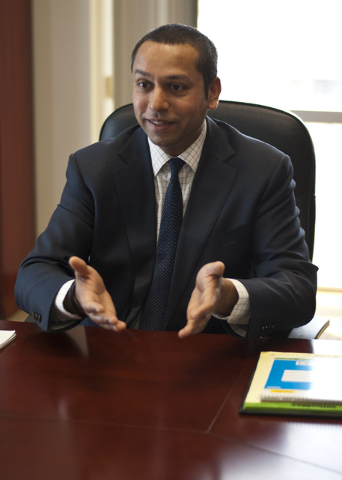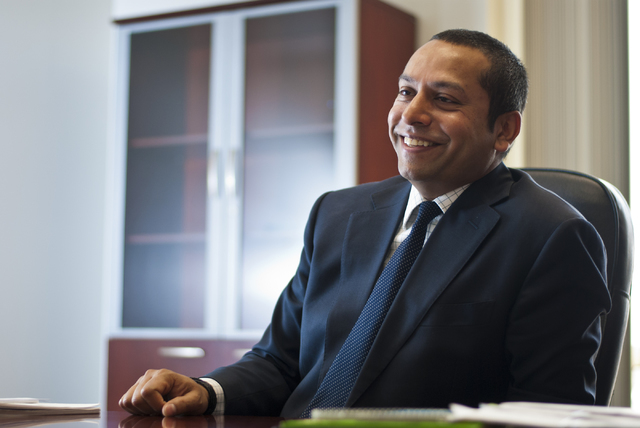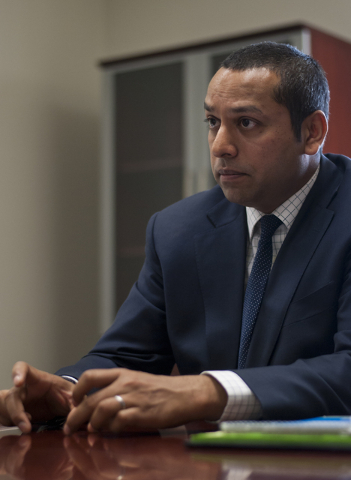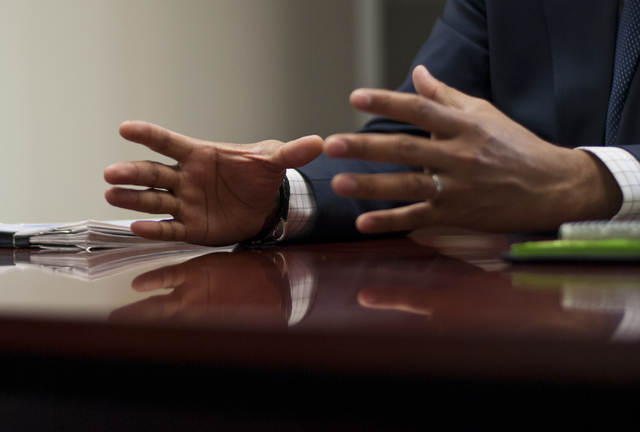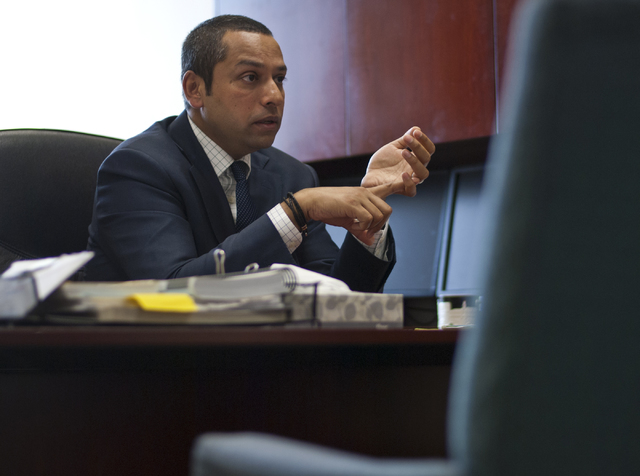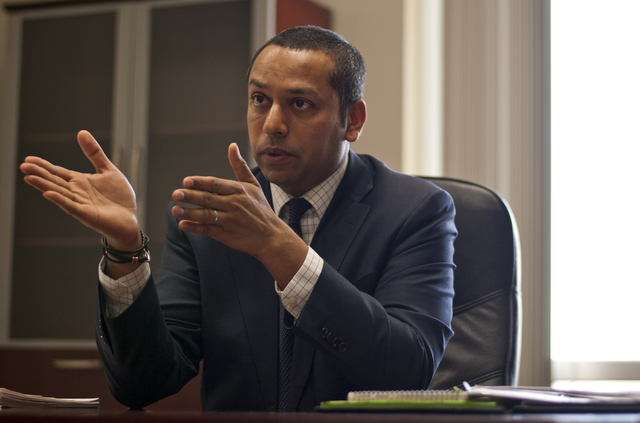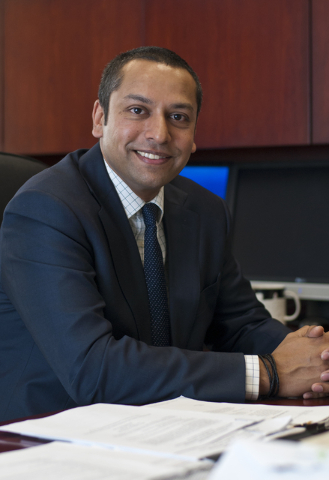 Sharath Chandra, the newly appointed administrator of the Nevada Real Estate Division, housed under the Nevada Department of Business and Industry, found his calling to public service during his college days and still carries that torch with him today.
"I really don't have any set plans as to this is where I want to be five years from now," Chandra said. "I think anywhere I can be of service in the state — enhance something or improve upon something is where I plan to be."
In Chandra's new position as administrator of the real estate division, which he was appointed to in August, improvement is already in the works. Chandra's goal is to better connect the agency to the real estate industry.
"The goal is, for one thing, education," Chandra said. "Education is important. I think it's how we prevent people from making mistakes."
Chandra said the real estate workforce makes up a huge segment in Las Vegas.
The Greater Las Vegas Association of Realtors' organization alone has about 15,000 members, he said.
Industry is ready to work with Chandra, as he takes over for J.D. Decker, who has moved onto an administrator position for the Nevada Division of Industrial Relations.
Dave Tina, 2016 president of the Nevada Association of Realtors, said Chandra has already reached out to the organization, promising a smooth transition of leadership.
"Our division is the caretaker of our laws and bylaws, and they definitely work with us on any changes or any questions that the agents will have, and they're always cooperating with us to make it better in anyway that we do it," Tina said.
Chandra was born in India, but moved to Europe at an early age. His father was a geologist and a lot of travel was required for work he did with governments and the United Nations.
Chandra said he spent his school days in Switzerland. After he departed Europe in the early 2000s, he landed in Nashville, Tennessee, where he worked in the hospitality industry at Opryland Hotel. He spent the next two years there and moved to Nevada to attend college. He received his undergraduate degree and his MBA from the University of Nevada, Las Vegas in 2006.
After school, he worked for UNLV under a federal education program, Upward Bound, for two years. The program supports high school students, who are from low-income families and families where both parents don't have a bachelor's degree, succeed in pre-college performance and entering into higher education.
"At that time, I just felt like government service is probably where I want to be," Chandra said. "That kind of formulated my goal of kind of staying in local government, state government."
Chandra worked for more than six years in the Clark County's resource management division, where he administered federal and state affordable housing grants.
That led to his next job when he took over as Nevada's Housing Division's deputy administrator in 2014. This was also Chandra's first move on the state level.
His time in the housing division helped him transition into his new appointment as administrator of the Real Estate Division.
"I think there are some parallels," Chandra said. "A lot of the state systems are the same: understanding building, legislative processes, working with different assemblymen, senators. Even at the housing division, we engaged the real estate division."
Chandra also engaged the same partners when he was in the Housing Division. The goals were slightly different at that agency, where developing more affordable housing was the key.
At the time Chandra was in charge of the Housing Division, there were challenges in the state.
"It's kind of ironic because when there was a recession, there were fewer resources; however, there were also federal dollars that were being sent through the American Recovery and Reinvestment Act," Chandra said.
Federal dollars poured in to assist homeowners, while the state level faced cuts, he said.
During his time at the Housing Division, Chandra was also part of another organization that was helping Nevadans with their underwater homes: Home Means Nevada. The state-affiliated nonprofit group oversaw the Nevada Home Retention Program.
Under the program, 221 mortgages were purchased with $50 million in state money, at discounted rates. This helped bring the loans down to manageable levels for homeowners. Some of the homes that were purchased, however, ended up being vacant and were sold at market rate, Chandra said.
The notes on homes that were occupied were eventually sold to other lenders, as the retention program was not set up to be a permanent holder of the mortgages. To date, all the funds initially given to the organization have been paid back to the state. The program is getting ready to wind down by the end of the year, Chandra said.
Nevada has since moved away from its issues with housing foreclosures and underwater mortgages. Once, one in 14 homes were in some type of foreclosure, compared to one in 735 as of July, according to Realtytrac.com.
"Now I guess it's a matter of not making those same mistakes," Chandra said.
There is a little more caution in Nevada these days. Many understand the challenges in the marketplace and that a steady climb is the best course, he said.
"These spikes are what cause the problems," Chandra said. "If there's a spike, there's a spike for resources, building permits."