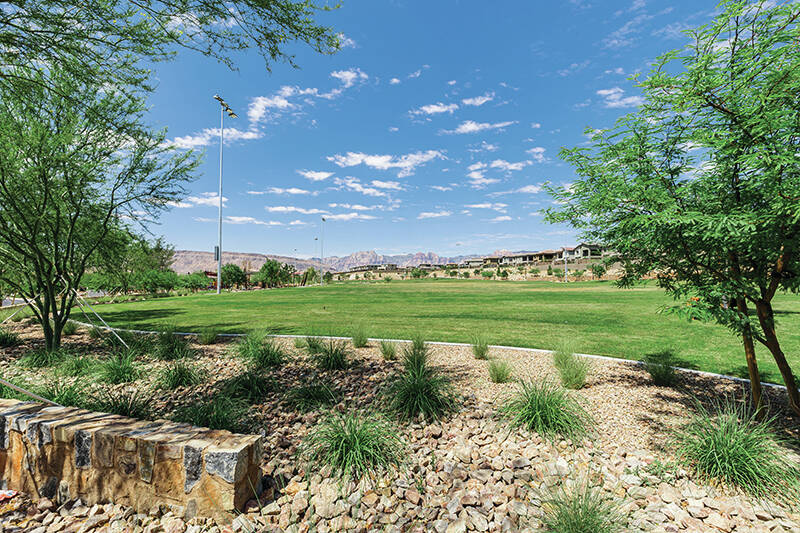 Parks and amenities have always been a big part of the draw for people to live in Summerlin.
The development of the Howard Hughes Corp. saw that elevated even more during the COVID-19 pandemic with Las Vegas residents seeking the outdoors in an era of social distancing.
Summerlin even opened its newest community park in May called Stonebridge Park. It helped Summerlin win the Silver Nugget for Best Master Plan New Parks and Amenities to build on its reputation.
Stonebridge Park was outfitted with a diverse range of amenities to meet the recreational needs of all ages reflective of the village's residents — from playgrounds and water features for children to pickleball courts and exercise areas for adults and seniors, according to Julie Cleaver, senior vice president of commercial and residential planning for Howard Hughes. Stonebridge Park spans 12 acres with two full-size lighted soccer fields, one full and two half basketball courts; adult exercise area; pickleball courts, shaded playground; and shaded picnic pavilions.
Summerlin has 250 parks of all sizes and types, 10 golf courses and 150-plus miles of trails. Every village is centered around a large community park, and all neighborhoods are required to have smaller parks, reflective of a planning requirement, which dedicates approximately one-third of the community's total acreage (22,500) to open space, parks, trails and golf courses, Cleaver said.
"Parks, amenities, streetscapes, arroyos and our trail system are the backbone of Summerlin," Cleaver said.
"It's where our community lives. One of the things we rediscovered about ourselves during the pandemic was that it was such a vital part of our community. It connects neighborhoods and villages to each other and connects neighbors to neighbors. It provides that outdoor recreational space that's safe to be in. It's also something we focused on and thought was an important part of the Summerlin lifestyle."
Cleaver said there's been greater appreciation of the parks and trail system because that was the only place people could safely distance. The goal is to ensure easy, immediate access to open space to encourage a healthy, active, outdoor lifestyle that was more vital during the pandemic, Cleaver said.
"Because we have such a great network of trails and parks, we were able to fill that need for our community in a way other places just can't do," Cleaver said.
Twenty-seven large community parks range from 5 to 70 acres and feature a variety of amenities: 20 tennis courts, 14 baseball/softball/t-ball fields, 13 basketball courts, 11 soccer/lacrosse fields, eight pickleball courts, four sand volleyball courts, four community centers, four interactive water-play areas, three community pools, two outdoor exercise areas, one football field, one outdoor roller hockey rink and dozens of picnic ramadas, Cleaver said.
The community association organizes year-round resident events and activities including Snow Day, Friday Nite Live summer concert series and Hometown Holidays, all hosted in parks, which serve as gathering places, Cleaver said.
To ensure residents can enjoy parks even in summer, many playgrounds include shade canopies and have heat-resistant rubber flooring instead of asphalt, Cleaver said. Many parks include water features activated with motion to preserve water; and turf is planted only in recreational areas. Design innovations, such as the preservation of arroyos that serve a dual use for parks and trails, are implemented throughout, she said. Summerlin continues to work with the Las Vegas Valley Water District to be more judicious with water conservation. They've been taking steps to remove grass from front yards and be measured in the way they install grass in their parks for recreational purposes, she said.
"In Summerlin North and Summerlin West we are part of a committee looking at turf removal and replacing it with drought-resistant plants," Cleaver said. "The idea is after it gets established, you don't have to water it. We have put a lot of that native material along our washes where we have trails. At the entrance at Summerlin West we're going to have 6 acres of native plant material to make a statement and say this is an important part of living in the desert to embrace the environment in which you live. Our community here loves that. Everybody wants to live in an authentic way."