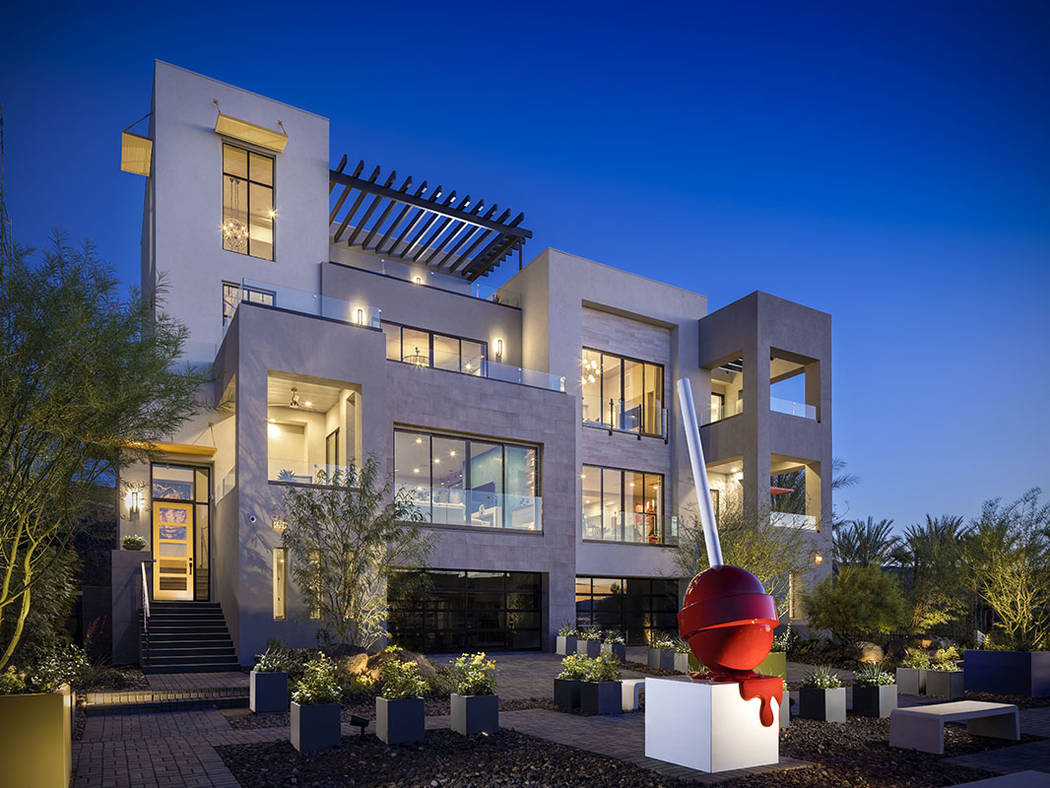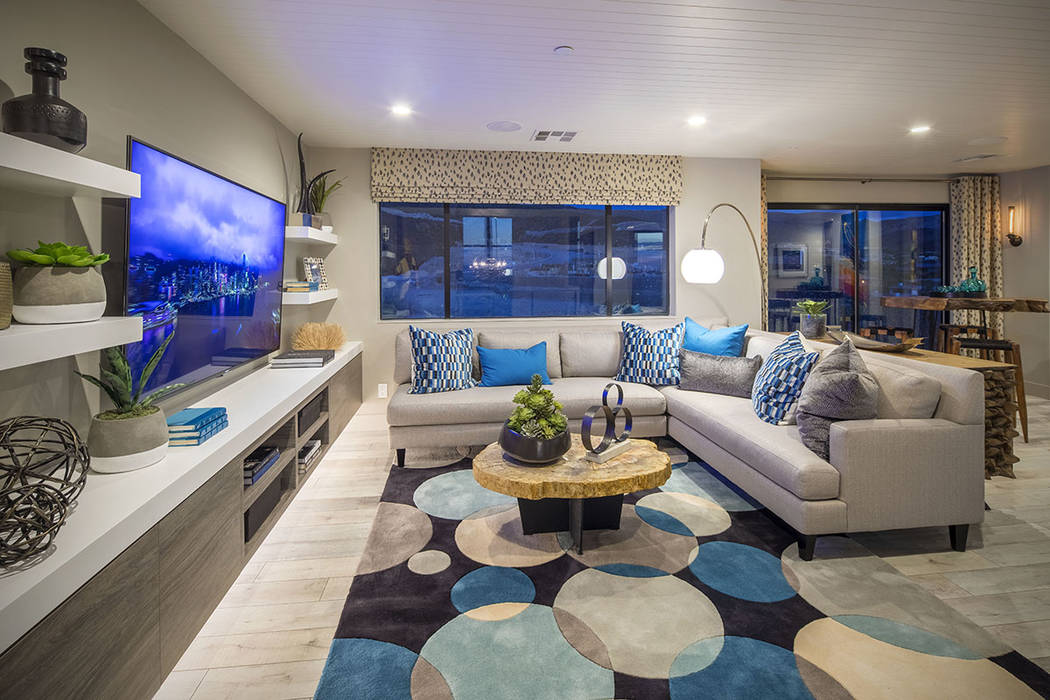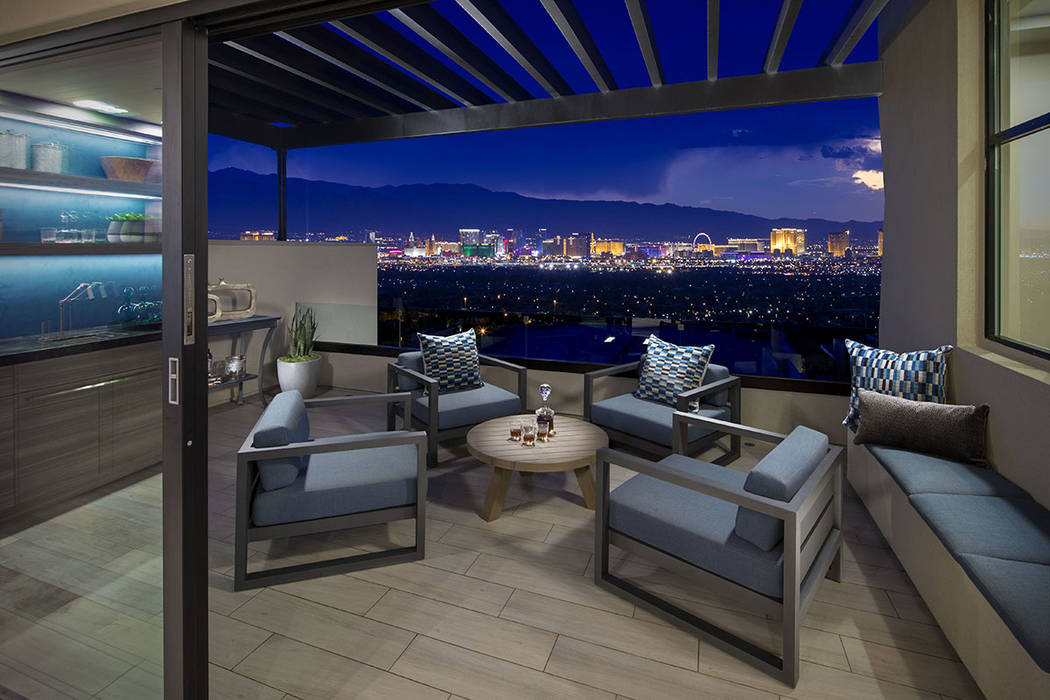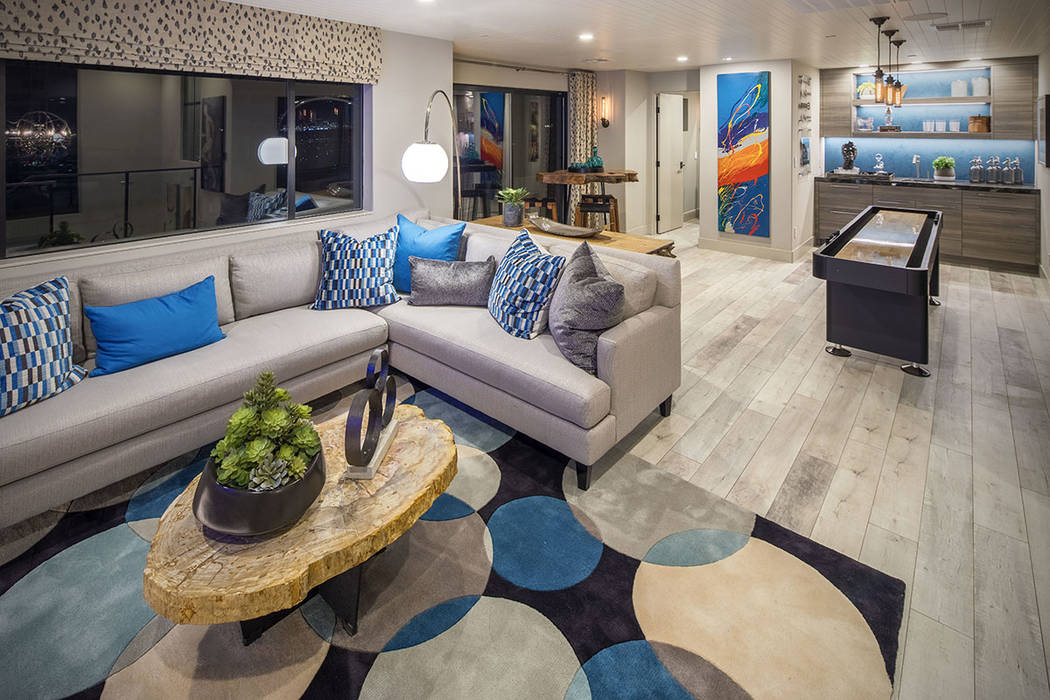 Vu, the hillside town house community that debuted in MacDonald Highlands in Henderson in September, won Silver Nugget Awards for two of its residences.
Vu Residence 3 won Best Home of the Year and Best Attached Home priced more than $400,000. Vu Residence 1 won for interior merchandising for homes priced more than $500,000.
Residence 3 is a multistory attached home that measures 2,639 square feet. It's designed for young, affluent professionals looking for a contemporary hip design and is great for entertaining, according to Erika Geiser, vice president of sales and marketing for Christopher Homes. It has design details and finishes that are on par with larger and more expensive homes, she said.
"These homes really live and feel like a single-family home," Geiser said. "It's only a paired home, and they technically don't share a wall. The overwhelming response of Vu is how unique the product is. They are able to get something in a 2,800- to 4,000-square-foot range that has a high level of design detail and level of finish and opportunity to customize. Typically, you only find that combination in a much larger home or a custom home, but these people don't want that 5,000- or 6,000-square-foot home or custom but all of those same attributes. They don't need all of the bedroom counts. Vu hit that on the market. No other product offers that. The lower-square-footage homes are for the first-time buyers."
There's a ground level with a garage with either a bedroom and an office or two bedrooms. You go up a half a flight to get to the main level that has the great room, kitchen and dining room. You go up the full flight to get to the master suite.
"They are choosing the multilevel because the homes are so unique," Geiser said. "It's not a traditional house. It's something that's very cool and very hip, and it optimizes the views because you get views from all of the main living areas."
The kitchen is designed as an entertaining space as well as for cooking. Appliances are hidden within cabinetry, and "a pop of color is added behind the open shelves and at the island to add a fun but sophisticated look," Geiser said.
There's an indoor-and-outdoor connection with decks on all floors and off all main living spaces, expanding the living space to the outdoors, Geiser said.
An optional fourth-story penthouse game room brings the total space to 3,265 square feet and provides additional entertaining spaces and views of the valley and Strip, Geiser said. People have the option of a game room, massage and yoga room and another master suite, a bedroom and office or two bedrooms, she said.
"By placing a large outdoor space on the penthouse level, we allow users to experience the surrounding view with as much emphasis as possible," Geiser said. "The disconnect from the public way below also creates a strong sensation of privacy."
The indoor flooring continues through to the exterior, further emphasizing this connectivity, Geiser said. The steel beams create an artistic patio covering that provides shade while maintaining an open and airy feel. Glass railings allow for unobstructed views of the Strip from not only the deck, but also the penthouse interior, she said.
Vu uses stairs "to celebrate the transition between all levels," Geiser said. There are concrete levitating treads that she said "reinforces the expansive feeling established in the home."
It offers a visual connection between spaces that allows light to flood the stairwell and other rooms, she said.
"Glass and metal handrails further push this theme of connectivity," Geiser said. "The stairs carry your eye upward and provide a gallery space for large pieces of art to be displayed and enjoyed."
Residence 3 starts at $895,000 and goes to $1,045,000 with a penthouse. Vu Residence 1 is a single-level attached home designed for the affluent, move-down empty-nester seeking a luxury home with design details and finishes on par with their previous larger, custom home, Geiser said.
It offers a dual master suite for guests and flex space for a den or bedroom.
The main background materials are neutral, with color added in key areas throughout the home.
Special attention has been given to art placement and selection, Geiser said.
"Large, oversized pieces reduce the clutter and evoke emotion," Geiser said. "Accessories were minimized in keeping with the modern design."
The main flooring with large format tile continues through to the exterior, and the outdoor furniture mimics the indoor furniture to create a seamless connection between the spaces, Geiser said.