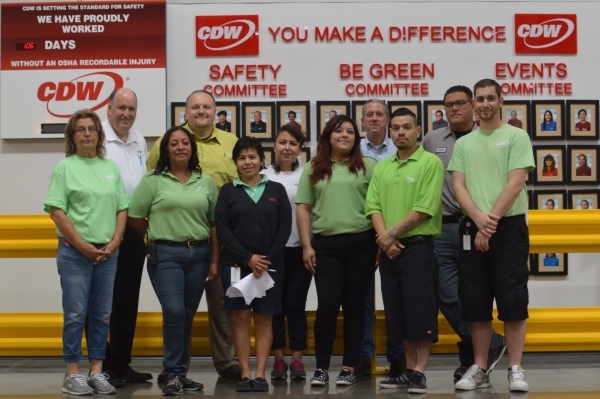 At CDW'€™s Western Distribution Center in North Las Vegas, recycling is more than a workplace concept — it's a lifestyle employees are encouraged to take home.
Dwight Dalton, director of logistics, is the beGreen captain and point person of the recycling effort that earned CDW a Green Award.
CDW is a publicly traded Fortune 500 technology company headquartered in Chicago. It provides a large selection of technological services and equipment.
"We do mostly business-to-business sector work,"€ Dalton said.
The North Las Vegas warehouse is massive and great care has gone into space planning.
"As a company, we've adopted the ISO 14001 standards,"€ Dalton said. The ISO 14001 standards are a family of standards related to environmental management that exists to help organizations minimize how their operations negatively affect the environment.
During the nearly 10 years CDW has been in North Las Vegas, Dalton said, there has been a focus on reducing the facility'€™s environmental footprint.
"€œOver the years, we'€™ve gotten better; each year as we set up processes. Recycling is one of our things that we're particularly strong at,"€ Dalton said. "€œFor example, all of our pallets get recycled."
CDW is able to recycle pallets through collaboration with other businesses, and is finding unique ways to collaborate and extend its efforts to recycle plastic wrap and cardboard boxes. Among its recycling partners is Republic Services.
Both the pallets and the cardboard are 100 percent recycled.
CDW has others ways in which it is both energy efficient and environmentally conscious. The site uses desert landscaping, which saves water and maintenance and labor expenses. The company uses evaporative coolers, which are more energy efficient than air conditioners.
"€œWhen a worker walks into an aisle, the lights go on automatically;when they leave the aisle, the lighting goes off," Dalton said. "€œIt reduces our electrical consumption and improves our green footprint."€
"Every year, we're looking at ways we can improve,"€ Dalton said. "€œOver the course of the (past ) 10 years … we work toward process improvement." The goal, he said, is developing "best practices."€
"We set some high goals and we've challenged our co-workers on how to look at things differently,"€ Dalton added.
One of the new approaches is presented as a benefit to employees.
Because recycling services may not be available in some places in the valley, "we'€™ve actually set up a dumpster that'€™s out in our parking lot, where the co-workers park,"€ he said. "€œWe encourage them to bring their recyclables actually to work and put it in the dumpster … and recycle."€
"€œIf co-workers recycle at home and are environmentally conscious at home, they'€™re likely to come to work and also be environmentally conscious at work."
The goal of many of CDW's programs is to include everyone; the culture is team-oriented. CDW has established a beGreen team that works in different areas throughout the building and works together on a variety of projects. The team has chosen Earth Day as the day for a yearly event.
Mitzi Gonzalez, a member of the beGreen team, said the Earth Day celebration is such an important celebration that "we're in our cafe the whole day. We do different events and activities for the co-workers. We also include the co-workers' children. This year, we had a bag decorating contest."
Dalton stressed "€œour green effort is consistent."
"It'€™s really a team award; the whole team accomplished this and that is the thing I'€™m most proud of."