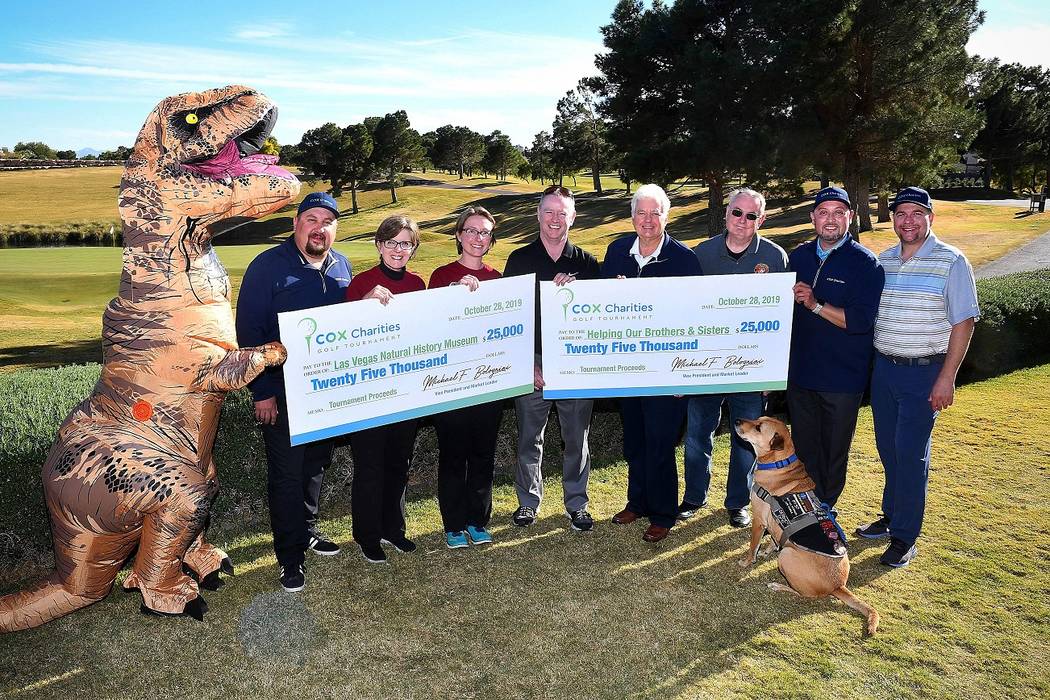 Cox Charities, the fundraising arm of Cox Communications, Las Vegas, donated $50,000 in proceeds from its annual golf tournament to Helping Our Brothers and Sisters and the Las Vegas Natural History Museum. The Cox Charities Golf Tournament, presented by Findlay Automotive Group, was held at TPC Summerlin.
Helping Our Brothers and Sisters, HOBS, is a nonprofit group dedicated to assisting United States combat veterans with an emphasis on those living with post traumatic stress disorder, PTSD, and other chronic issues. The organization also provides guidance to military veterans denied recognition and benefits including LGBTQ veterans.
HOBS will use the donation to kick-start a language immersion program that has proven beneficial to combat veterans in overcoming PTSD and traumatic brain injuries. For more information, visit hobs4hope.org.
The Las Vegas Natural History Museum will use the donation to enhance its hands-on youth exhibits including the Cox Charities Young Scientist's Center and the addition of a new "Draw Alive" interactive program that animates children's dinosaur artwork for display on a large video screen.
Located in downtown Las Vegas, the Las Vegas Natural History Museum is a private, nonprofit institution dedicated to educating children, adults and families in the natural sciences, both past and present, for nearly three decades. Through its interactive exhibits, educational programs and the preservation of its collections, the museum strives to instill an understanding and appreciation of the world's wildlife, ecosystems and cultures. The museum is accredited with the American Alliance of Museums. For more information, visit lvnhm.org.
Cox Charities is an employee funded and managed workplace giving program founded in 2007. Over the past 12 years, Cox Charities has awarded more than $2 million in charitable grants to over 100 diverse nonprofit organizations/agencies in Southern Nevada. The company's philanthropic cornerstones include children/families, education/STEAM, diversity and the environment. For more information, visit coxcharitieslv.com.