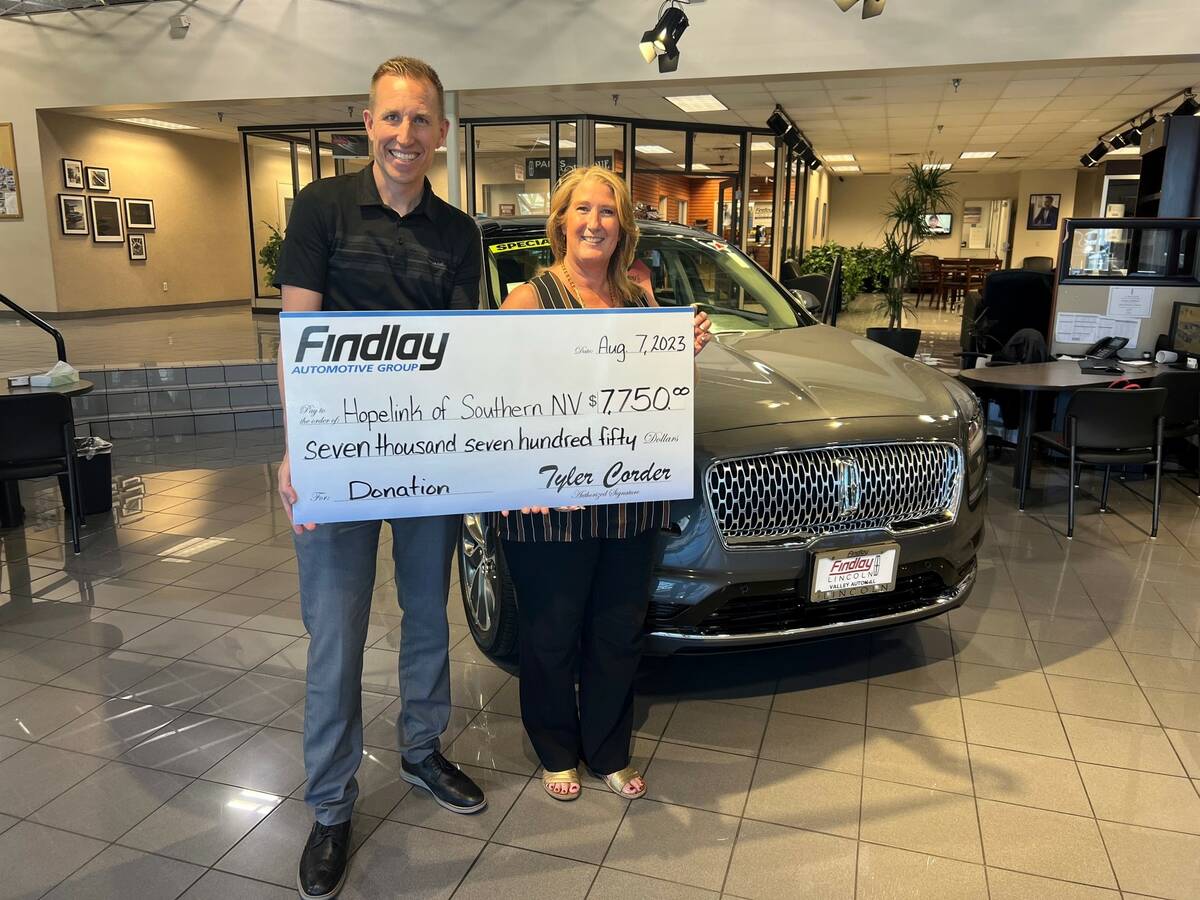 For this vehicle and others, visit Findlay Automotive Group's expansive inventory here.
In the bustling city of Las Vegas, amidst the glitz and glamour, there exists an organization dedicated to making a difference in the lives of those facing adversity.
Hopelink of Southern Nevada is a nonprofit organization that has been working tirelessly since its inception to provide essential services and support to individuals and families in need. Through their comprehensive programs, Hopelink aims to empower communities and create lasting positive change.
The Findlay Automotive Group is delighted to continue its relationship with Hopelink of Southern Nevada, said Findlay Marketing Director Jeff Giles. Through its charitable giving program the company gave Hopelink a donation of $7,750.
"Findlay Automotive is proud to support Hopelink of Southern Nevada because they serve families in our community when unexpected situations happen, like the loss of a job, medical emergencies and all the other things that can happen in life. Hopelink works to limit the impact of these events so they're just set-backs and not devastating, life-altering events that put families into homelessness, which is hard to come back from."
Stacey Lockhart, CEO of Hopelink, expressed gratitude for the generosity of Findlay. She said, "In the blink of an eye, everything can change due to unforeseen circumstances, and when that change threatens the housing security for a household, HopeLink, because of philanthropic financial investments from friends like Findlay Auto Group, is able to respond immediately."
At the core of Hopelink's mission is the commitment to addressing the basic needs of individuals and families struggling to make ends meet. The organization offers a range of services, including emergency food assistance, clothing and shelter. By providing these essentials, Hopelink ensures that vulnerable community members have access to the resources necessary for their well-being.
Lockhart said, "HopeLink's mission is to prevent homelessness, preserve families and provide hope. To me this means that HopeLink is not only a real solution to keeping families housed and together, but that we also are able to help those families find hope and know that they have a friend who cares and who will be there for them in their greatest times of need."
Recognizing the importance of education and employment in breaking the cycle of poverty, Hopelink offers various programs to support individuals in their pursuit of self-sufficiency. The organization provides job training, resume building and interview preparation workshops to equip individuals with the skills needed to secure stable employment. Additionally, Hopelink offers scholarships and educational resources to help individuals further their education and improve their career prospects.
Hopelink understands that financial stability is crucial for individuals and families to thrive. To this end, the organization offers financial literacy classes, budgeting assistance and access to financial resources. By equipping individuals with the knowledge and tools to manage their finances effectively, Hopelink empowers them to achieve long-term financial stability and independence.
Hopelink of Southern Nevada is a beacon of hope for individuals and families facing adversity in the Las Vegas area. Findlay Automotive is proud to be associated with an organization that is doing so much good in our community, Giles said.
To learn volunteer or donate visit link2hope.org.
Findlay Automotive Group began with one location more than 60 years ago. The group now includes 35 dealerships in Nevada, Arizona, Utah, Idaho, and Washington. Learn more at FindlayAuto.com.