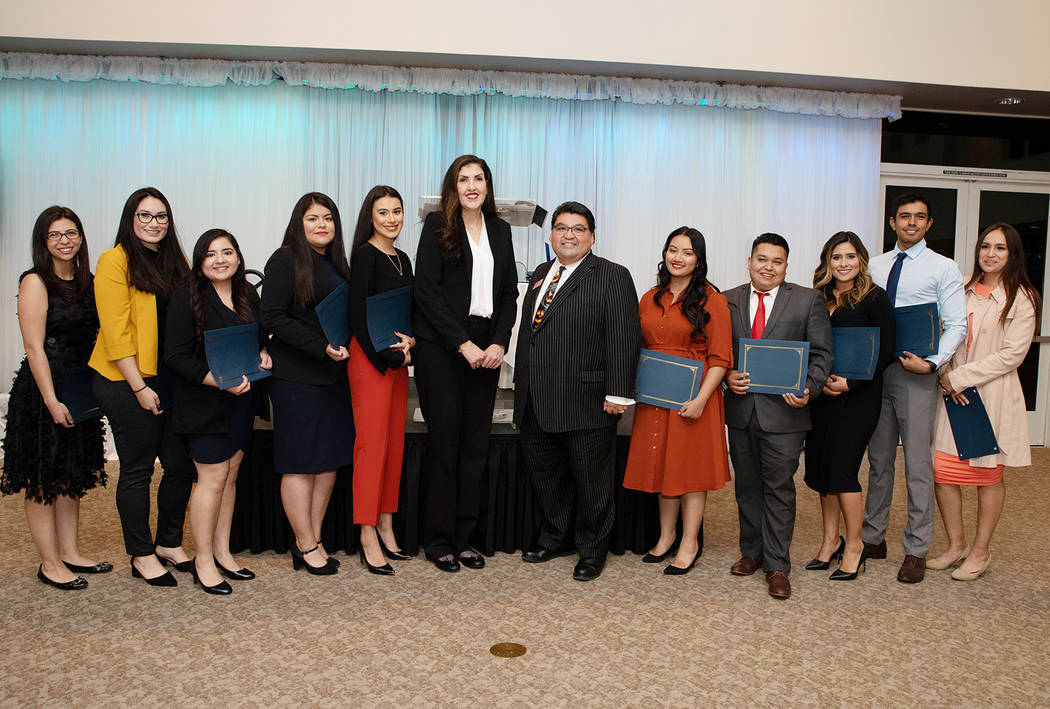 The Las Vegas Latino Bar Association (LBA) honored a man who has made a significant contribution to the Hispanic legal community as well as a group of young Latinos they expect will make a difference in the field one day.
At its inaugural Inspira Awards Celebration on Oct. 30, the LBA awarded 17 ¡Andale! Scholarships to students hoping to go to law school, in the amount of $1,839 each. The scholarship covers the cost of a Kaplan in-person Law School Admission Test (LSAT) preparation course and LSAT-related fees.
"The prep courses and exam can be expensive, and some people may not be able to make that investment," LBA President Marisa Rodriguez said. "I know this may be the difference between someone going or not going to law school. Taking a prep course will help them get a better LSAT score, and a higher LSAT score increases the chances of being admitted to law school. A higher LSAT score could also lead to academic scholarships. We're giving them $1,839, but they may end up with more of their law school paid for because of it."
Scholarship recipients recognized were: Mario Jael Aguayo Oropeza, Areli Alarcon, Julio Ray Cisneros, Gabrielle Corona, Gabriela Dorado Martinez, Valeria Cecilia Gamez, Monserrath Hernandez, Natale Elizabeth Muro, Vincent Nava, Magaly Ereida Quezada, Mauro Quiroga Claros, America Reyes Marcos, Leslie Yukye Reyes, Julian Alfredo Sarabia, Kathia Linette Sotelo Calderon, Selena Torres and Rodrigo Vazquez.
The students were chosen from a field of nearly 30 applicants after the LBA reached out to universities and community colleges in Nevada and the Hispanic National Bar Association promoted it. Although she wasn't part of the selection process, Rodriguez said she read the applications, and the recipients are all people who have what it takes to get into law school, thrive while they are there and after they graduate, and use their law degree for good in their communities.
"The entire board, we are Hispanic, and many are first-generation attorneys, if not first-generation college students," she said. "It was difficult for us to find our way to law school and become attorneys. We made it through, but it wasn't easy because many of us didn't have anyone within our circle or our family who could guide us. We feel it is our duty, now that we have defined our path, to help others who are in situations like us. … I'm passionate about education because, like Marty Castro said, 'When you give someone an education, it changes them irreversibly; it transforms their life, and it changes their community forever.'"
The money for the scholarships was raised through the LBA's first-ever ¡Andale! 5K — A Race to Equalize Law School Admissions in September. Through local business sponsorships and registration fees for 359 runners, the LBA raised over $40,000, four times the board's goal.
And the inspiration for the scholarships came from the LBA's first Inspira Award recipient, Frank Durand, associate dean of student affairs at the UNLV William S. Boyd School of Law. He told the LBA board that if they wanted to make a difference in future law students' lives, the board should help them prepare for the LSAT, which is a requirement for law school. Since it can be a good indicator of how well students will do in law school, the LSAT score gets a lot of focus during application reviews.
That's just one of many ways Durand has contributed to the Hispanic legal community, which is what the board was looking for in the first recipient of the Inspira Award ("inspira" means "inspires" in Spanish). Rodriguez said Durand has been with UNLV's law school since Day 1, and just about every student who has attended has walked into his office.
"Hundreds of attorneys all over the valley are grateful to him," she said. "The dean's work has been multiplied because he has helped so many law students who are now practicing in various areas of law. We knew he was a great person to recognize, but once we started talking to people about him, we found that everyone feels the same way about him. Law school is hard, but he has always been there to help law students handle whatever they are facing to make it through law school."
The scholarships, Inspira Award and ¡Andale! 5K will continue in the years to come because, according to the LBA, "it's important to recognize those allies who have helped promote the same goals and interests as our organization."
The purpose of the LBA is to serve the public interest by cultivating the science of jurisprudence, promoting reform in the law, facilitating the administration of justice, advancing the standing of Latinos in the legal profession, preserving the high standards of professionalism among Latino attorneys and cooperating with other professional and community organizations in furthering the aforementioned purposes.
For more information, visit www.lvlba.com or email lv.latinobarassociation@gmail.com.