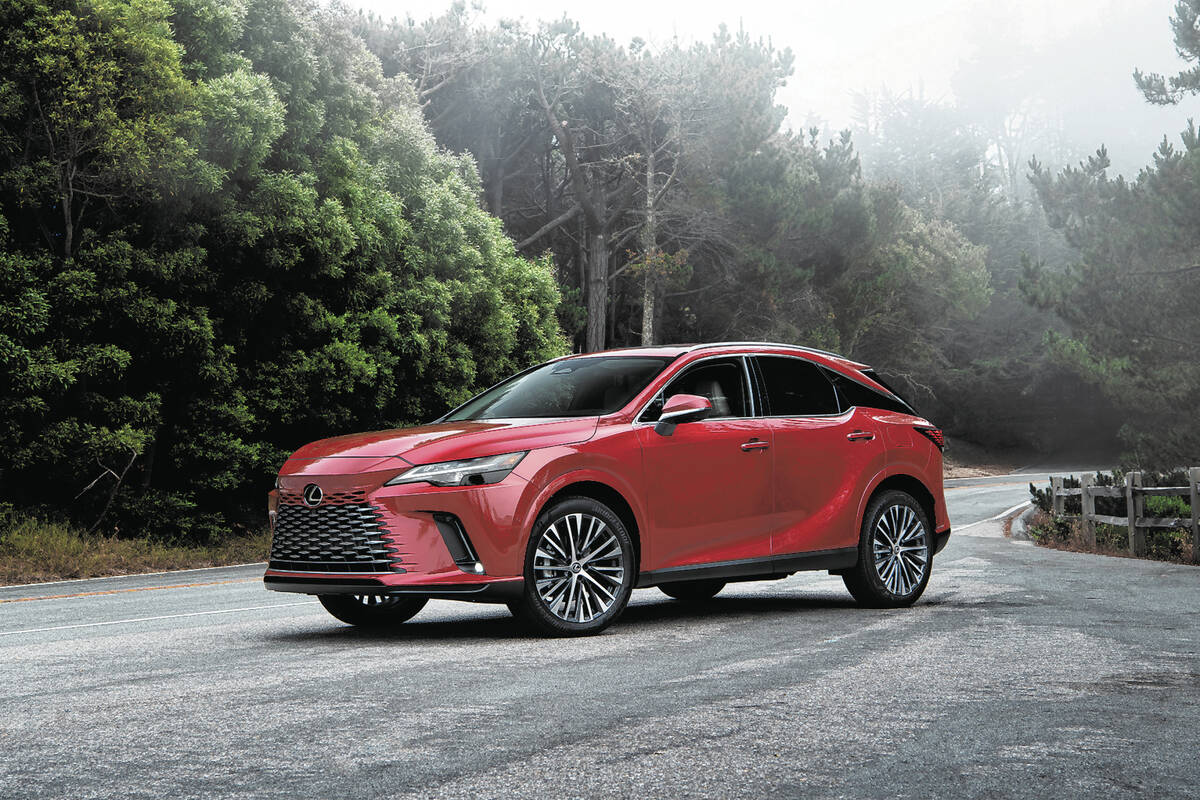 For this vehicle and others, visit Findlay Automotive Group's expansive inventory here.
The redesigned, fifth-generation RX 350 comes with some interesting updates and additions, including a hybrid option.
The remake was much anticipated. After all, it has been seven years since the last full-scale redesign of the premium crossover, which is the top seller in the Lexus family plus leader of the midsize luxury-crossover class.
So, what's new for 2023? From its new platform and beak-like nose to its fully digital dashboard and infotainment setup, the RX 350 is brimming with new. In fact, Lexus says it is 95 percent new.
But it remains a rather unexciting drive (try the brand's RX 500h F-Sport for that). The RX350 is more about comfort, luxurious details, quality, reliability and subtle but sure-footed performance. There are a couple of eyebrow raisers.
The new hybrid RX 350h promises to be a popular choice as it shrinks the carbon footprint by adding an extra 10 mpg over the gas-engine RX. (P.S.: It's also more affordable).
For those keeping score, the 350h replaces last year's 450h, which became the 450h+ and now is a plug-in hybrid.
The most obvious change on the RX this year is its longer, bulbous nose. The hood plunges over like an eagle's beak to meet the spindle grille. Especially noticeable on a profile, it's one of those design elements some will love, others not so much, but it does improve visibility from within.
The RX is slightly wider, lower and has a wheelbase 2 inches longer — yet the third row is gone, possibly reserved for the larger TX crossover down the road. Narrow headlights and full-width rear light bar complete a modern look, along with the so-called "floating roof" design.
Of the RX family, the 350h is the efficient and practical child. Power emanates from a nonturbo 2.5-liter inline four, rather than the V-6 from last year (no V-6 with any RX models), and it's assisted by dual electric motors — one up front and one in the rear. It's all connected to a smooth, quiet CVT (continuously variable transmission) that doesn't whine like many of them.
Total output is 246 horsepower and 233 pound-feet of torque. Be patient on your way to 60 mph because it takes 7.6 seconds — with your foot on the floor. Those numbers are comparable to the gas-engine RX 350, but it's less peppy than the 450h it replaced.
The all-wheel-drive 350h rewards light-footed drivers with fuel economy figures in the mid-30s: 37 city, 34 highway, 36 combined. Fuel stops are less frequent with 600 miles of range.
While it may not be particularly quick, the hybrid never feels underpowered. It gets up to speed satisfactorily around town and up the on-ramps. Steering is nicely weighted, brakes are firm and linear, and it stays well composed on corners.
Most important for Lexus enthusiasts, it is a smooth, comfortable and quiet ride, with much credit going to the new and lighter GAK global platform. Dips and bumps are absorbed nicely and an optional air suspension system gives it an even more refined ride. Wind and road noise are negligible.
The 300h offers five drive modes — Normal, Eco, Sport, EV and Custom — but Lexus did away with the rotary dial on the console and buried the modes on a touch screen menu. Not cool while driving.
Getting inside the RX cabin is different with electric door latches: Reach behind the door handle and pull the switch with your fingers. To exit the vehicle, grab the door handle, press a pad with your thumb and push out. Not sure what the point of all this was; perhaps it's a bit easier. It does have a safe-exit feature, preventing the door from opening if a vehicle is approaching.
The cabin is more opulent, spacious and built with quality materials, save for the faux wood-grain accents. Panels have a neat and clean fit, in typical Lexus fashion, and door panels are trimmed in suede.
Front seats are heated, ventilated and trimmed in semi-anilene leather with a softer, more natural feel. Front seats have 10-way power adjustment but, sorry, no massage functions. Roomy rear seats also have power adjustments and can tilt back slightly.
The digital dashboard is a giant leap forward from last year. Lexus canned the infotainment system's old and cumbersome touchpad controller in favor of a bright and responsive 14-inch touch screen. It's angled more toward the driver and easier to reach. The 300h has a hybrid-specific instrument cluster, too.
The info system includes navigation and a superb 1,800-watt Mark Levinson audio system that sends tunes across 21 speakers. A convenient knob controls audio volume, and another manages temp controls so no need to dive into the touchscreen for those.
Cargo space is nearly twice that of the previous generation, yet shy of some three-row rivals when the last row is folded. Behind the 60/40 split-folding rear seats is 29.6 cubic feet of space and 46 cubes with all rear seats folded. Power lift gate is standard.
Safety gets a huge boost, too, with the Lexus Safety System-Plus 3.0, featuring enhanced adaptive cruise control with automatic emergency braking and speed reduction on curves. A forward-collision system adds intersection-turn assistance and improved pedestrian detection with brake intervention. Optional traffic-jam assist handles acceleration, braking and even virtual hands-free driving.
The RX 350h adds practicality to a new look, more refined cabin and tech. Since RX buyers tend to be a loyal lot, these upgrades likely will hit the sweet spot for them.