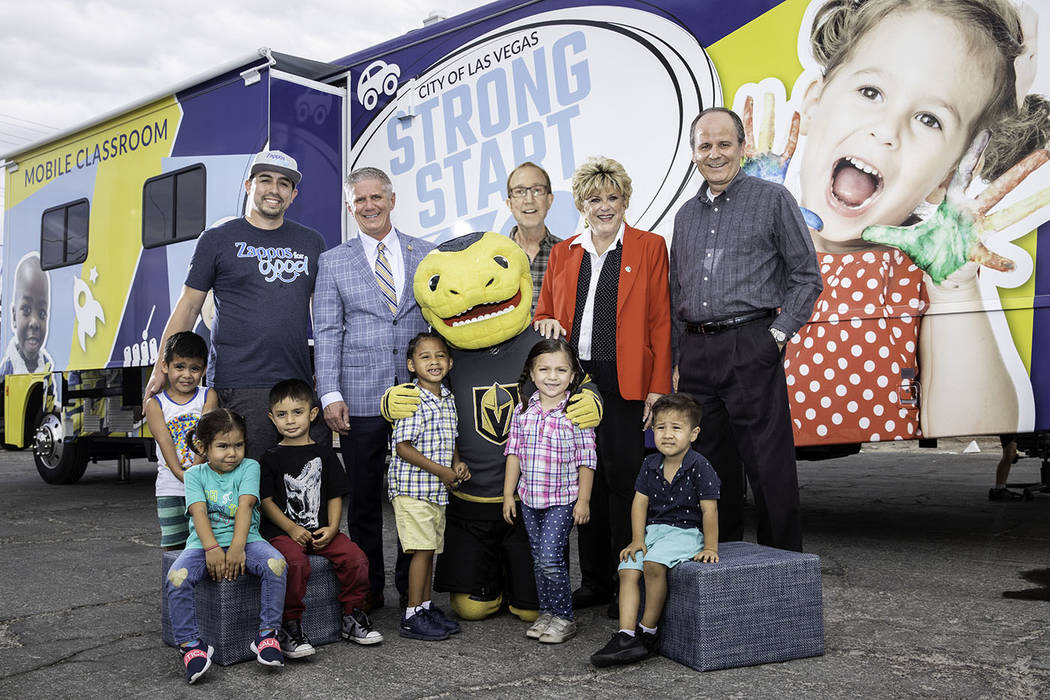 The Mayor's Fund for Las Vegas LIFE, a public-private partnership that provides corporate and individual donors with an avenue to support key initiatives that enhance the quality of life for the most vulnerable residents within the city of Las Vegas, announces it has received four donations totaling $150,000 to help underwrite a Strong Start GO! Mobile Pre-K that takes early learning into city neighborhoods with the greatest need, helping to prepare young learners for school.
City National Bank and Terry Helms and the Helms Helps Foundation each donated $50,000, while $25,000 donations were made by the Vegas Golden Knights Foundation and Zappos for Good. Together, these donations will help underwrite the city's second mobile learning center. One bus is already in operation and serving neighborhoods near the Doolittle Community Center on W. Lake Mead Boulevard and near Boys Town on Mohave Road.
The city's Strong Start GO! Mobile Pre-K is designed for children ages 3 to 5. The program provides children and families with an enriched, high-quality, pre kindergarten program of excellence that includes supervised fun and learning in a safe environment. The goal is to promote developmental growth and ensure children are ready to learn when they enter kindergarten. Daily and weekly scheduled activities help children advance skills in literacy, mathematics, social and emotional development, physical fitness and science.
"The generosity and commitment to community betterment of this exemplary group of donors is both impressive and remarkable," said Mayor Carolyn G. Goodman, city of Las Vegas. "Thanks to City National Bank, Terry Helms and the Helms Helps Foundation, the Vegas Golden Knights Foundation and Zappos for Good, we will be able to more quickly secure a second mobile pre-K classroom, a proven program that we know is effective in preparing our children for school. The ability to take a mobile learning center directly into the neighborhoods that need it most is a real difference-maker."
The Mayor's Fund for Las Vegas LIFE, established in 2018, targets specific community needs in the areas of livability (affordable housing, homelessness, access to arts and culture and recreation); innovation (solutions to social, technological and environmental issues with special focus on increasing access to the Internet for all residents); future (youth employment, workforce readiness and training); and education (programs for learners at all levels with special focus on early childhood education through the city's Strong Start Academies including Strong Start GO).
The Mayor's Fund for Las Vegas LIFE was established in 2018 as a vehicle for corporate and philanthropic partners to support innovative programs that improve quality of life for all Las Vegas residents with a special focus on vulnerable populations. The Fund creates opportunities for public-private partnerships as well as donations of cash, time and in-kind goods and services. Guided by a diverse group of community leaders who serve as members of the Fund's Advisory Committee, The Fund targets specific community needs with a goal of making Las Vegas a national leader in four areas: livability, innovation, future and education. The Nevada Community Foundation, a public charity under Section 501 (c)(3) of the Internal Revenue Code, serves as the Mayor's Fund fiscal agent, receiving all private donations. Donations to the Nevada Community Foundation for the Mayor's Fund are tax-deductible to the extent allowed by law. For more information, visit MayorsFundLV.org.