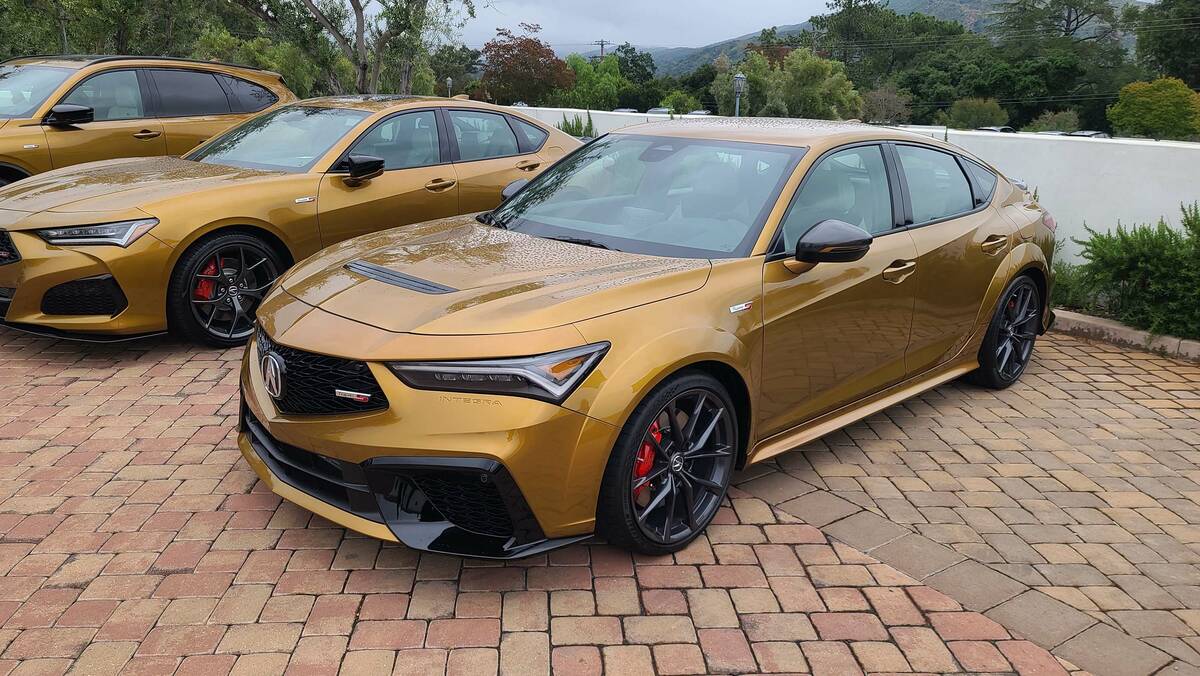 For this vehicle and others, visit Findlay Automotive Group's expansive inventory here.
The 2024 Acura Integra Type S is two driven wheels shy of perfect.
Acura's hatchback icon is back after 22 years in the wilderness and it's a delicious addition to my favorite menu: compact hot hatches. With sports car handling, hatchback utility, all-season usability and a price tag under $55K, premium hatches like the Type S and VW Golf R flirt with nirvana. Save for its stubborn lack of all-wheel drive, the Integra Type S is as good as it gets.
Building on Acura's successful, entry-level Integra — which returned as the segment's runaway bestseller last year — Type S is a steroid-fed lab monster like Honda's Civic Type R icon. The made-in-Marysville Integra immediately separates itself from the conservatively styled Honda with a wardrobe that would make a Rottweiler whimper.
Type S looks like an Acura and Dodge Charger Widebody had a love child (with the Acura NSX and Chevy Corvette as godparents). This Integra is S-pecial. Measuring 3.5 inches wider across the front track than the standard Integra, Type S grows big blistered fenders to hold 10.5-inch-wide rubber at all four corners. Indeed, all sheet metal fore of the A-pillar has been remade, including functional hood scoop and wider grille to feed the 320-horse turbocharged beast within.
Massive, NSX-like corner brake ducts cool the 13.8-inch Brembo brakes needed to bring Type S back to earth after flying low across twisted country roads. The drama continues out back under massive glutes, where three, center-mounted tailpipes (the 'Vette Z06 has four) exhale with a snap, crackle 'n' pop.
Come upon one of these Tasmanian devils in the wild and you'll recognize it (especially if dressed in exclusive Tiger Eye Pearl). But you won't see it for long.
Luffing through the twisties of California State Route 150 west of Malibu, I saw a sport bike fill my mirrors looking for a fight. Packing its 310-pound feet of torque lower in the torque band than Type R, my S was able to hold off the bike's inherent advantage in acceleration through a fast downhill stretch as I rowed the sensational short-throw manual box.
Then we hit a series of S-turns. Goodbye.
Stiff as an ironing board through heaving turns in Sport Plus mode, the Acura disappeared from the two-wheeler, its sophisticated, dual-strut front suspension rotating the front-wheel driver without a hint of understeer.
But to achieve perfection, Type S should have added all-wheel drive to the two-wheel-drive Civic formula. Not for grip (Lord knows the Type S has gobs of it), but for customers paying the $7,000 premium for an all-season Acura.
AWD is an Acura lineup signature, from the TLX sedan to the RDX SUV to the NSX supercar. Elsewhere along CA-150, I encountered a flat-black NSX Type S — menacing and well-driven. We danced through the twisties, the nimble 3,280-pound sedan shadowing the 3,898-pound supercar's every move (that is, until the NSX applied its 600 horses down a straightaway).
Honda's front suspension engineering is dazzling for motorheads like me who take the Civic Type R and Type S to the track. But by Acura's own admission, Type S's target audience is not the track rats who covet the Civic model. Which is why the Type S doesn't feature a big wing out back or the $1,780 option of track-focused Michelin Cup 2 tires like Type R.
Acura says Integra is the "Ultimate Street Performer" aimed at an older, saner demographic. Its $50,000 competitive set is made up of all-wheel drivers: Audi S3, BMW M235i XDrive, Mercedes CLA AMG 35 and the slightly more affordable $46K VW Golf R.
Sure, AWD would add weight to the 3,850-pound Integra — but at 3,415 pounds, Golf R is hardly Porky Pig. Integra may lose those AWD customers, but the lines to buy this multitalented athlete will still stretch out the door.
While Golf R comes up shy of perfection due to its tight rear legroom, Integra shines with 2.5 more inches and nearly 5 cubic feet more cargo space. Those best-in-class numbers make Civic — um, Integra — No. 1 in utility.
The Type S cabin is a barely disguised Civic, but the 11th-gen Honda is borderline premium to begin with, sporting wireless Apple CarPlay/Android Auto, honeycomb dash and digital gauges. Then Acura slathers on the icing: Head-up display, premium ELS Studio audio, adaptive cruise control, blind-spot assist and auto-high beams are all standard. My leather-wrapped tester's seats were dipped in red with matching dash trim.
The seats not only held me in place at play — they were so comfortable I could have driven cross country to Detroit. Contrast that with the BMW M2 sport seats I recently tested that had my back screaming in agony after an afternoon's drive.
At the Integra's core is its silver shift knob — operating the best gearbox this side of a Porsche 911.
Cruising along a crowded, stop-and-go California urban stretch in Comfort mode, I activated adaptive cruise to keep a distance from the vehicles in front of me — the system only cutting off below 25 mph when the engine bogged.
As traffic thinned on rural roads, Type S begged to be manhandled in Sport Plus mode, and the manual's short throws never failed me. Never delivering a box of neutrals. Never accidentally finding 4th instead of 2nd.
The predictable box mirrors the brand's reputation for reliability — a key attribute in any premium vehicle that begs to be pushed. Just as Porsches are the go-to track supercar because they can hammer apexes all day long without flinching, so too does Honda-Acura quality give you confidence to take the 7,200-rpm, 2.0-liter engine to the limit. Expect to leave the Acura service center with receipts for hundreds of dollars — not thousands.