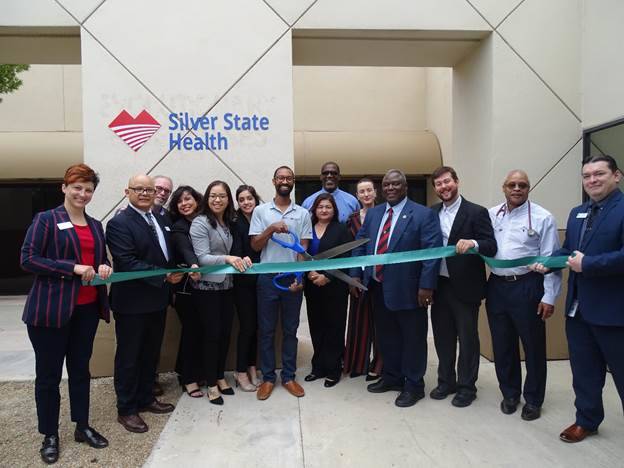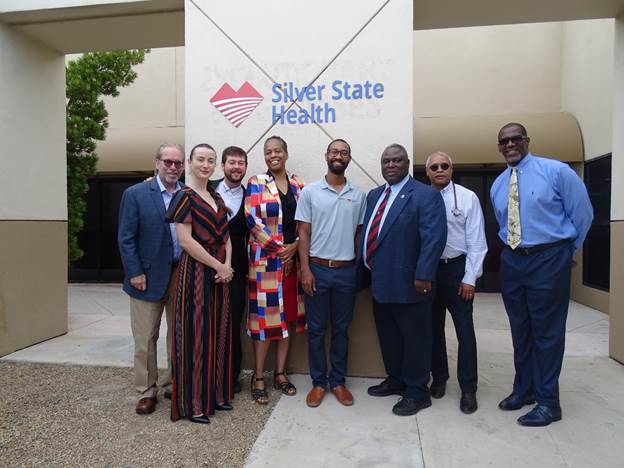 Late last month, Silver State Health expanded its mental health and primary care services with the opening of its second location. It celebrated with an official grand opening event and ribbon-cutting ceremony in partnership with the Latin Chamber of Commerce. The nonprofit community health center acquired Bilingual Behavioral Services in an effort to merge their missions and provide quality behavioral and primary care resources for vulnerable Las Vegas populations.
Representatives from the offices of Gov. Steve Sisolak, Congresswoman Dina Titus, U.S. Sen. Jacky Rosen and the Latin Chamber of Commerce were in attendance and presented Silver State Health's CEO and Executive Director Ryan Linden with proclamations to commemorate the event and acknowledge Silver State Health's efforts to improve the health care landscape in the city.
"It's really our vision for our clinics to become the leading integrated primary care and behavioral health practices here in the city and to really drive a holistic care model for all patients in the community," Linden said. "It is Silver State Health's wish to provide high-quality health care to all peoples of Las Vegas, regardless of their ability to pay, what language they speak or where they come from. They have a destination with us here at Silver State Health where they will be treated as family with compassionate care."
Now, with more than 20 health care practitioners in various specialties, including pediatric therapists, social workers and primary care physicians, Silver State Health continues its mission to treat patients of all ages, ethnicities and socioeconomic statuses to ensure no Nevadan is left behind when it comes to mental and physical health. Silver State Health, a Federally Qualified Health Center (FQHC), aims to remove barriers preventing patients from receiving quality medical care from translation to transportation services and offers sliding fee scales in a culturally inclusive environment to ensure accessibility for all.
Healthy NV Project was on-site offering no-cost genetic testing in an effort to promote preventative care and educate guests on the accessible resources available to them to improve population health in Nevada.
Silver State Health's community outreach vehicle in the form of a newly branded trolley made its debut where guests could tour the interior while participating in the Healthy NV Project.
Silver State Health is open Monday through Friday from 8 a.m. to 5 p.m. For more information, visit the website at silverstatehealth.org; call 702-471-0420 or email at contactus@silverstatehealth.org.
Silver State Health is a nonprofit community center and Federally Qualified Health Center (FQHC), now with two locations in Las Vegas, offering comprehensive behavioral and primary care services for vulnerable populations in Las Vegas. In an effort to remove barriers preventing populations from receiving quality medical care, Silver State Health offers social services such as housing, transportation, food assistance, in addition to providing medical and mental health services in a culturally inclusive environment. Silver State Health's team of medical provides offers care for acute and chronic diseases including lab work, cancer screenings, men and women's health and pediatric care. Behavioral services include treatment of depression and anxiety, substance abuse and other disabling conditions.