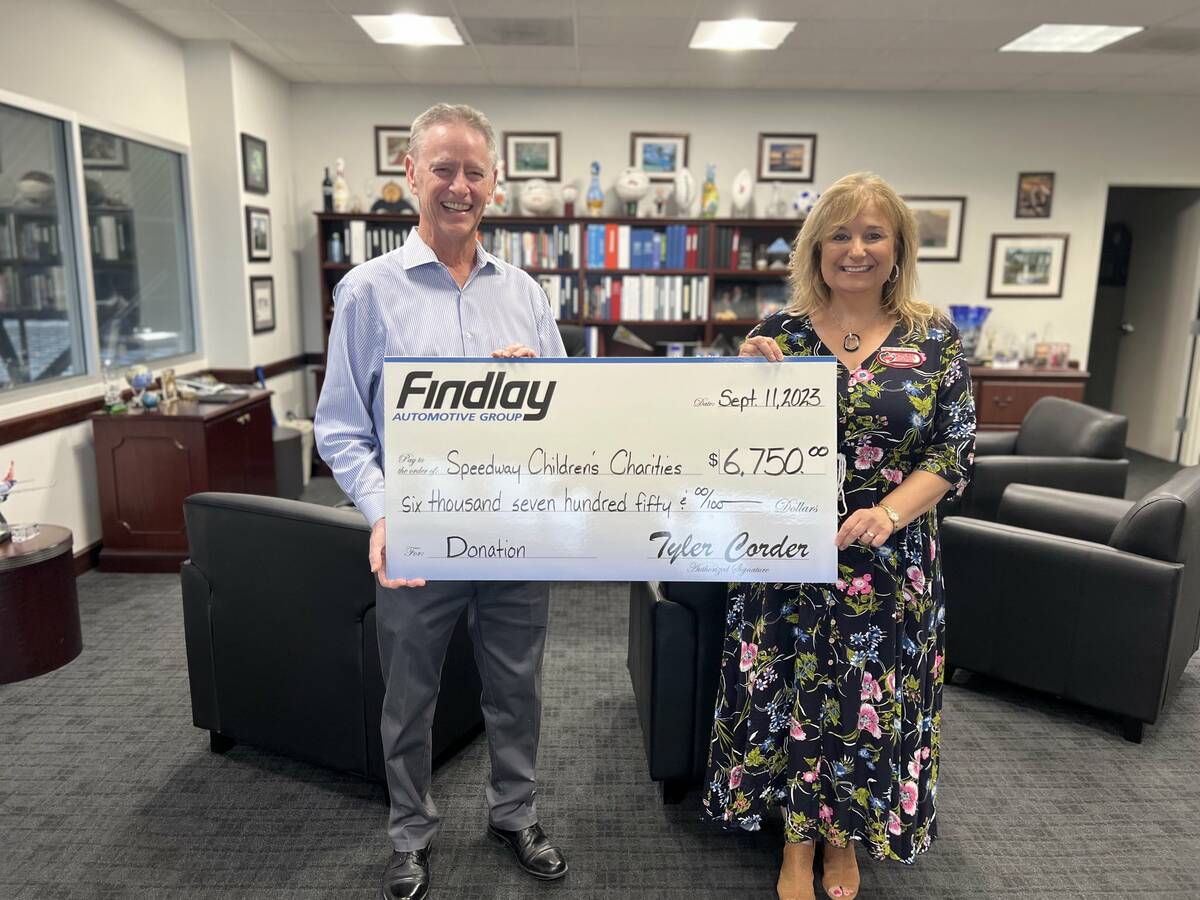 For this vehicle and others, visit Findlay Automotive Group's expansive inventory here.
It's loud, it's fast, it's the Las Vegas Motor Speedway where NASCAR drivers race when they come to town. There is also a quieter, softer side to the Motor Speedway. It's the philanthropic arm of the organization — Speedway Children's Charities (SCC). As the name implies funds raised by SCC go specifically to support charities that help children in need. In 2022 SCC's Las Vegas Chapter distributed more than $500,000 to local child-related organizations. Since it's inception in 1982 Speedway Children's Charities has distributed more than $65 million to organizations that serve children across the country.
Findlay Automotive Group donated $6,750 to Speedway Children's Charities last month. When asked why they decided to donate to SCC's Las Vegas Chapter, Findlay Automoitive's Chief Financial Officer Tyler Corder said, "Findlay Auto is happy to support Speedway Children's Charities and help them fulfill their mission of providing direct support for children's charities in Southern Nevada. We like the fact that they do the research to find deserving charities and, ultimately, get the money to the organizations that can do the most good in the community."
Paulette Anderson the executive director said, "SCC relies on community leaders like Findlay Automotive to raise money to assist us in supporting children and families who need shelter, food, clothing, medical and dental care as well as other critical needs. Findlay's donation also will support homeless youth, children in foster care and victims of sex trafficking."
Anderson explained that the funds SCC raised last year were distributed to 63 local children's charities. Lest anyone doubt it, thereare many people in Las Vegas volunteering and trying to help local kids.
In addition to receiving donations from corporate sponsors, SCC hosts a number of fun events throughout the year, which raise funds for local children's charities. Coming up on Oct. 12 at the SouthPoint there will be a Celebrity Blackjack Tournament. You'll be able to play against some of your favorite NASCAR drivers including Kevin Harvick, Rusty Wallace and Rick Allen.
Then, on Nov. 12 is the annual PJ 5K Run & 1-Mile Walk. At this time the Motor Speedway will be looking a lot like Christmas with decorations all set up for the Glittering Lights. In case your unfamiliar the Glittering Lights is an impressive display of Christmas lights and decorations that cars loaded with families drive through during the holiday season. This has to be one of the more interesting running paths in the world. All proceeds from these events will be shared with local children's charities to help the most vulnerable among us.
Speedway Children's Charities Las Vegas chapter is devoted to helping local kids. That's why Findlay Automotive is proud to support them. Learn more about these events and how to get involved at speedwaycharities.org/lasvegas.
Findlay Automotive began with one location in Las Vegas in 1961. The group now includes 35 dealerships in Nevada, Arizona, Utah, Idaho and Washington. Learn more at FindlayAuto.com.