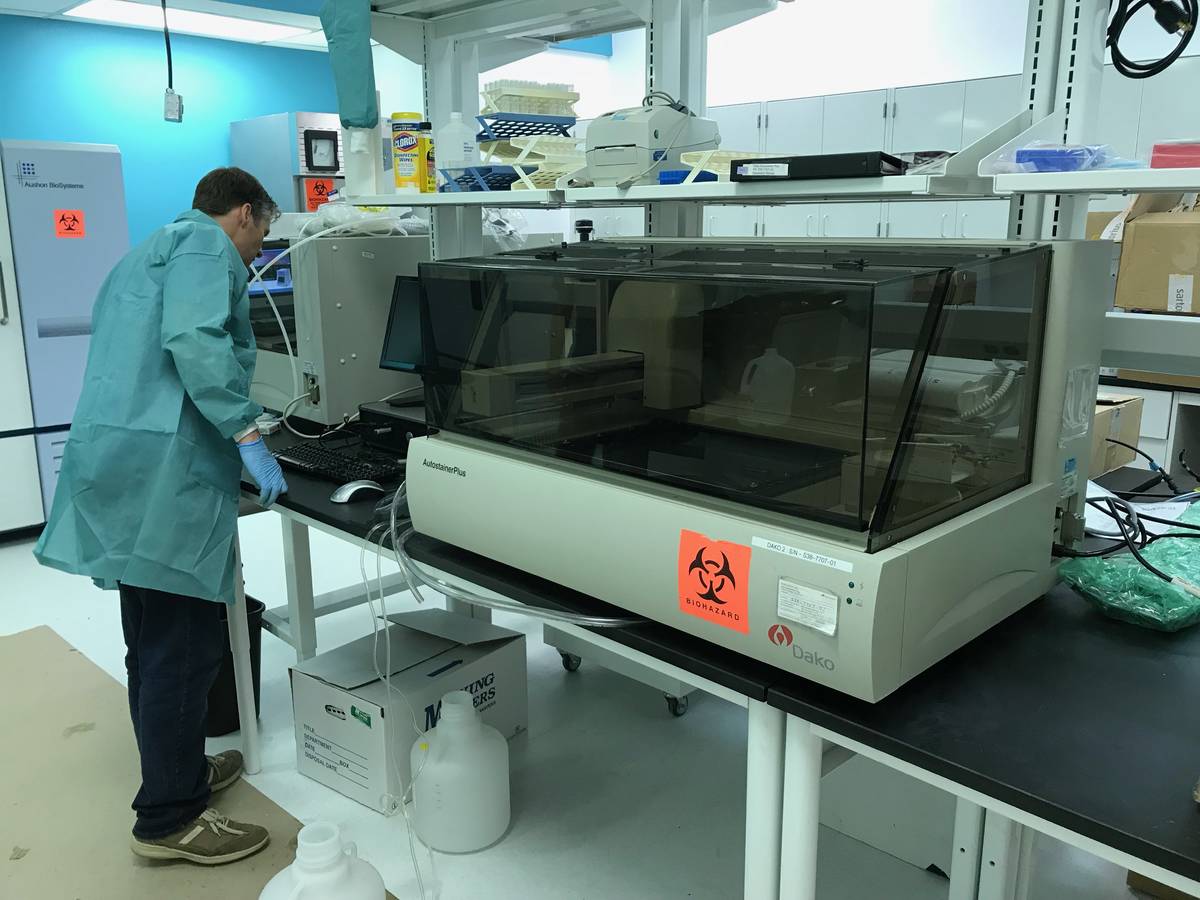 In 2018, Las Vegas locals John Brugmann and Dr. Raj Shrotriya just knew something was special.
Shrotriya, a decorated pharmaceutical industry mainstay, including 18 years at Bristol-Myers Squibb Co. as executive director, flagged Theralink Technologies as a possible investment opportunity for Brugmann, a 30-year UBS veteran and his neighbor at Anthem Country Club.
Beyond the medical jargon and technicalities, the pitch was relatively simple at its outset: Theralink Technologies would one day revolutionize the cancer space through its testing and ultimately save lives.
Theralink's test centralizes on this: It measures the direct activation state for dozens of drug targets all at once, equipping oncologists with key information about a patient's specific tumor and possible treatment paths.
Brugmann, an early principal, was named to its board of directors and hasn't looked back since. Today, he serves as a key consultant for the company that includes president, CEO and director Mick Ruxin, M.D. and chief financial officer Tom Chilcott, as well as a number of Southern Nevada investors.
Now, three years later, Theralink has enjoyed a number of recent successes, spanning a new headquarters and a Clinical Laboratory Improvement Amendments (CLIA) certified lab in Golden, Colorado, the strengthening of its experienced leadership team and the establishment of key partnerships including agreements with 10 biopharmaceutical companies. Amid a COVID-19 pandemic that has slowed business for so many, Theralink is finding ways to persevere and move forward.
In January, the company announced the commencement of the testing of its first patients in the world, with the help of Dr. Matthew Schwartz at Comprehensive Cancer Centers of Nevada. And, in February, Rutgers Cancer Institute of New Jersey and the Center for Applied Proteomics and Molecular Medicine at George Mason University named Theralink as its commercial provider of its patented Reverse Phase Protein Array, if the study they will be working on is successful. Additionally, the collaboration received the U.S. Army's prestigious Breast Cancer Research Program Breakthrough Award.
So, what does this all mean? A new way for measuring HER2+ breast cancer based on the tumor's activation state is on the horizon. This may equate to a change in the standard of care for all women newly diagnosed with HER2+ breast cancer, equaling upward of 70,000 patients, annually.
While breast cancer is the immediate focus, Theralink isn't stopping there. Soon, the assay may be utilized for gynecological, lung, prostate, pancreatic, liver and potentially other cancers as well.
Beyond the business aspects of Theralink's success, there is no denying its human impact and potential. Renewed hope for so many patients is emerging and, in the realm of testing, Theralink is at the forefront.
For more information on Theralink Technologies or to learn more about prospective investment opportunities, visit www.theralink.com or call 888-585-4923.