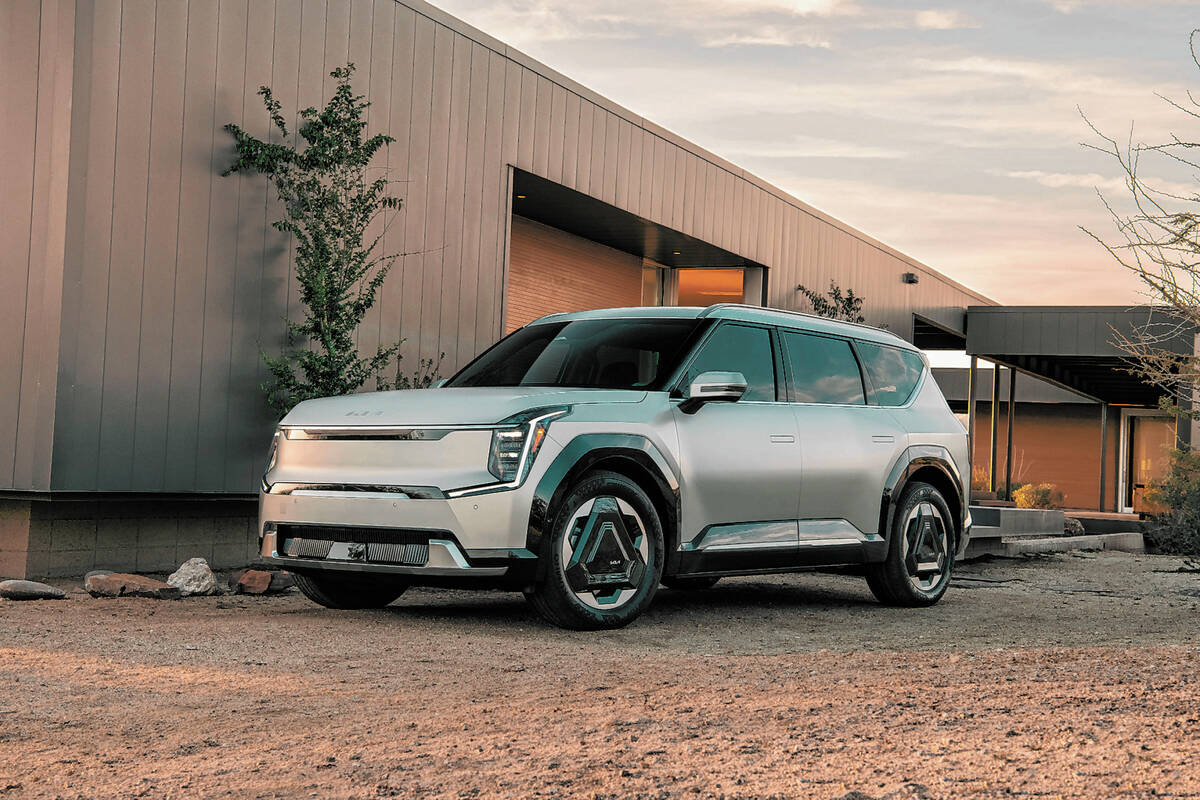 For this vehicle and others, visit Findlay Automotive Group's expansive inventory here.
The word luxury is overused.
If your apartment building has a doorman, a sizable pool and secluded cabanas, as well as a grocery store, a florist, a beauty salon, a restaurant and bar, a pharmacy and a dry cleaner all located in the lobby, you're living in luxury. If your building has little more than a gym, you're living in an ad copywriter's "luxury."
Carmakers, too, call their vehicles luxury or premium even when they're not, adding a premium nameplate or a little faux carbon fiber trim to preserve the illusion. But Kia doesn't play this game, even when it delivers vehicles that offer a genuine premium or even luxurious driving experience. A case in point is the three-row 2024 Kia EV9, the brand's first global fully electric SUV.
About the same size as the Kia Telluride, but sporting a wheelbase that's almost 8 inches longer, the crisply drawn EV9's linear silhouette, low beltline, 21-inch wheels and modern LED lighting lend the car a contemporary feel. Walk around the back, and you'll find a shape and window design that recalls the iconic Kia Soul.
Pop open the door and you'll find seating for six or seven, and it might strike you as more spacious than allegedly premium sport utility vehicles. And, let's face it, space is luxurious. If it weren't, we'd all be driving Kia Souls.
But more than that, the cabin's persona is somewhat softer than the exterior, with firm yet comfortable seating that's heated and cooled in the first two rows, with front seat occupants also getting massaging thrones. The interior is lined with sustainable materials that boast unique textures that lend the space a postmodern premium.
It's augmented by two 12.3-inch screens separated by a 5-inch screen. The 12.3-inch screen in front of the driver displays the instrument cluster, while the other houses the infotainment system. The 5-inch screen houses some, but not all, of the climate control functions. The rest are activated using conventional switch gear.
There's a lot of thoughtful design in the EV9, such as the second-row seat that swivels 180 degrees to face rearward. Or the bi-level center console that extends from the front to the second row and contains a sliding storage space for second-row passengers. In the front seat, the center console is minimized to provide a space for a handbag or manbag.
And there's lots of space for cargo, 20.9 cubic feet of it, and as much as 81.9 cubic feet with the rear rows stowed.
Initially, the 2024 Kia EV9 will come as a single 160-kW electric motor and rear-wheel drive that provides 215 horsepower and 258 pound-feet of torque, along with a standard or long-range battery, as well as a dual-motor model with all-wheel drive and 379 horsepower and 516 pound-feet of torque.
Its performance is significantly stronger, with a zero-60-mph time of five seconds, far better than the rear-wheel-drive model's 8.2- to 9.4-second time. Towing is rated at 5,000 pounds with all-wheel drive, 2,000 pounds with rear-wheel drive.
Kia didn't provide range estimates, which have yet to be issued by the EPA. But the automaker did say that the EV9 comes with a standard 800-volt electrical architecture that enables a 10 percent to 80 percent charge in less than 25 minutes, with a maximum DC charging speed of 230 kW. An 11-kW onboard charger is provided for Level 2 charging.
Standard advanced driver assistance systems include blind-spot collision, avoidance assist, lane-keeping assist, intelligent speed limit assist, navigation-based smart cruise control, rear cross-traffic collision avoidance and parking collision avoidance assist. EV9's Highway Driving Pilot provides Level 3 autonomous driving, but it's not enabled, as it isn't legal in the United States.
The Hyundai Motor Group's E-GMP platform, which also supports the Kia EV6, Hyundai Ioniq 5, Hyundai Ioniq 6 and Genesis GV60, is used for the 2024 Kia EV9, and boasts 7.8 inches of ground clearance. It provides a solid foundation for the EV9, one that provides a twist-free foundation and helps deliver some of the hallmarks of luxury vehicles.
If you've never driven an EV, keep in mind full power is instantly available from the moment you tap the throttle. It's like a light switch that you turn on. It's not like a conventional internal combustion engine, which you have to work to achieve given speed, not unlike a dimmer light switch.
But the EV9 doesn't have the extreme thrust that some EVs possess. Instead, power delivery is a bit more linear and refined, not unlike that of a Rolls-Royce. It's an easy car to drive smoothly, with little body roll in corners and a ride that ably soaks up broken tarmac. It's beautifully balanced, providing an experience not unlike that of a fine luxury car. But it's a Kia, and that makes it one remarkable ride.
Kia has yet to release final specifications or, for that matter, its price. But if it can keep this family bus' price point reasonable, it could prove to be a great value. That's especially true given its driving demeanor and spacious accommodations, delivered without haughtiness or pretense.
While it would sound like marketing hype to call it luxurious, in reality that's exactly what it is. Unlike most apartments.