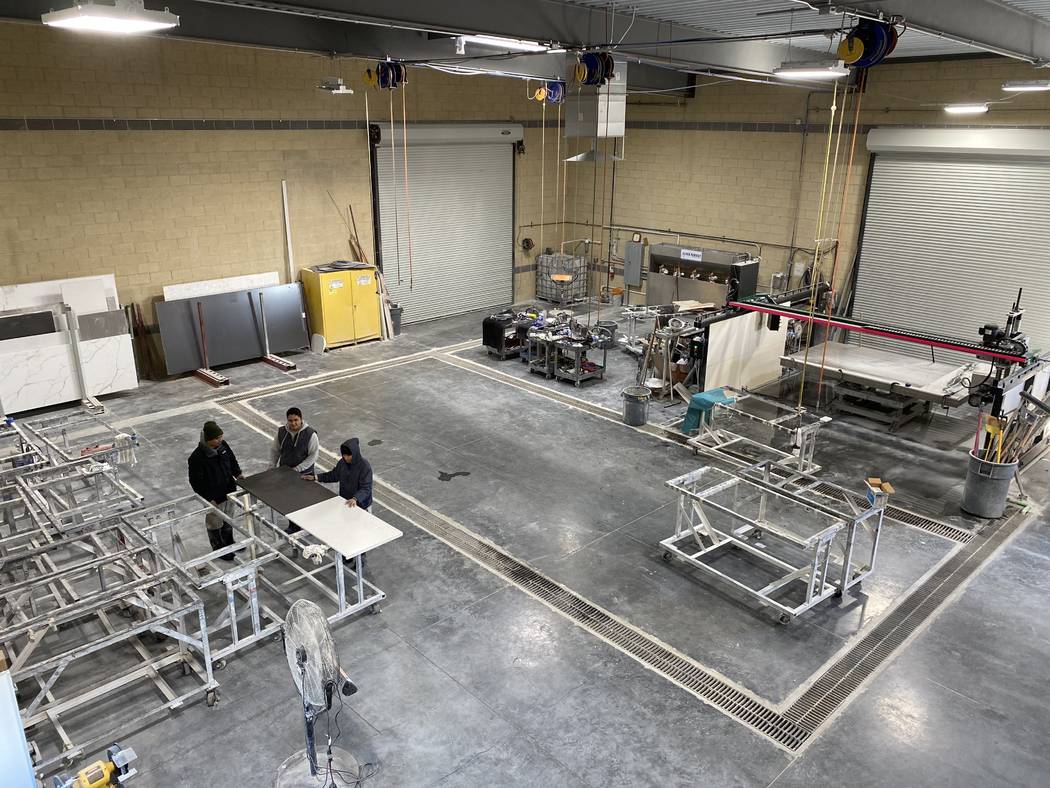 After answering to five different building owners and enduring regular rent increases, Judy Beckowitz, president and owner of American Countertops & Floors, decided the timing was right to invest in herself and her growing company. With the help of an SBA 504 real estate loan from TMC Financing, she was able to purchase a 5,557-square-foot office and warehouse in North Las Vegas.
"We leased our previous location for 16 years," said Beckowitz, who founded her company, a leading countertop fabricator and flooring contractor, in 2008. "After multiple rent increases, I decided to buy my own building. I started to look for new property, but the inventory was low. I ended up getting a great referral for TMC Financing, who made the process to obtain the new building so easy."
The U.S. Small Business Administration 504 loan program allows small-business owners to finance commercial real estate and other fixed assets with long-term, below-market, fixed interest rates.
"One of the contingencies the seller had was a 45-day close," she said. "At the time, I went to my bank and they told me that wouldn't work. However, with TMC Financing, preliminary approval didn't take long at all, and we met the 45-day close."
American Countertops & Floors Inc. fabricates and installs granite and natural stone countertops and a variety of different floor coverings such as carpet, luxury vinyl plank, VCT, laminate wood products as well as porcelain, ceramic and stone tile.
A peek inside the new space reveals tradesman working diligently on all types of natural stone slabs such as granite, marble, travertine, onyx and limestone. Additionally, you'll find quartz slab for kitchen countertops, bath vanities, showers and outside barbecue areas.
While the company does residential and commercial work, Beckowitz said general contractors appreciate its one-stop-shop service.
"We have experience doing multiple scopes of work, and general contractors like that because they don't have to seek out various subcontractors," said Beckowitz, whose company is licensed in Nevada and California to perform flooring, marble and tile work.
With expertise in multifamily units and high-end custom homes, American Countertops & Floors Inc., is also called upon frequently for its diversified talents in remodeling and luxury finishing.
"Many cabinet companies enlist our help to do the fabrication of their countertops so general contractors don't have to contract with us and a separate cabinet company," she added.
According to Chris Hunter, senior vice president of business development at TMC Financing in Southern Nevada, when small businesses put their money to work for them and invest in themselves it benefits them in the long run.
"Commercial real estate is growing at rate of approximately 2 percent to 4 percent every year, and when small businesses expand, it's an indicator of a healthy market," Hunter said. "For American Countertops & Floors, the SBA 504 loan process was seamless. Their occupancy costs will be steady each month, and they don't have to worry about a rent increase."
"Having to put only 10 percent down on the building was cost-effective for us," Beckowitz said. "The building is something our company can grow in, and it's a showcase for us. It's definitely worth the money. I already have equity in it."
American Countertops & Floors is at 4635 Industry Center Drive in North Las Vegas. For more information, visit americancountertopsandfloors.com.
The U.S. Small Business Administration 504 loan program allows small-business owners to finance commercial real estate and other fixed assets with long-term, below-market, fixed interest rates. SBA 504 loans can be used to finance the total project cost, which can include the purchase price, construction/renovations, equipment, soft costs and closing costs. A typical 504 loan project requires a down payment of only 10 percent of the project from the borrower, with the remaining amount split between a first mortgage provided by a commercial lender and a second mortgage provided by a certified development company. By enabling owners to keep their capital working to grow the business and create jobs, the 504 program provides long-term stability to both businesses and communities.
Founded in 1981, TMC Financing is the nation's No. 1 provider of SBA 504 commercial real estate financing for fiscal year 2019. The company has secured financing for projects worth more than $12 billion across California and Nevada. More than 5,000 businesses have benefited from this financing, resulting in the creation of an estimated 60,000 jobs. For more information on SBA 504 loans and the local businesses they support, visit tmcfinancing.com.