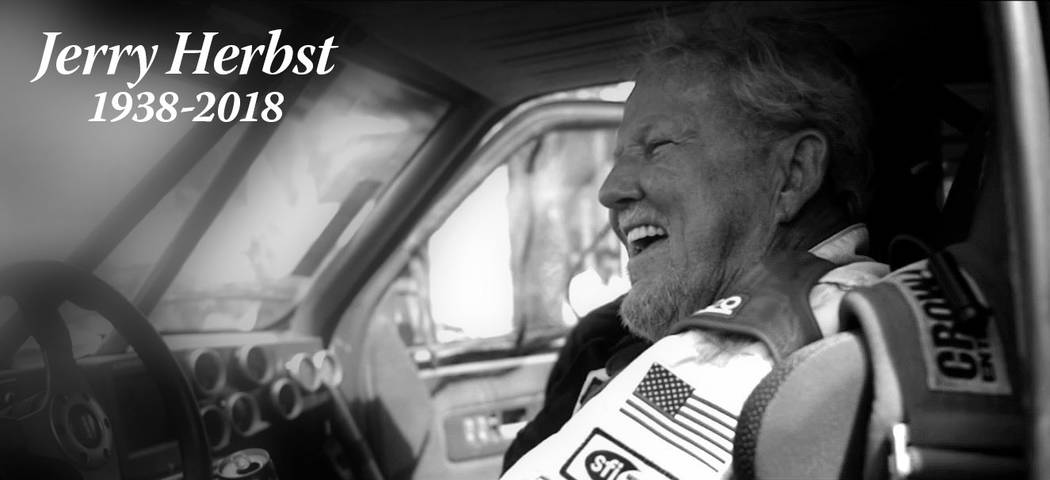 Jerry Edward Herbst was born on Jan. 8, 1938, in Chicago, Illinois, and died at his home Nov. 27 at the age of 80.
He founded the locally owned and operated chain, Terrible Herbst Inc., in 1959.
His father, Edward Herbst, started Martin Oil in Chicago in 1938, and the Terrible name was given to him when he moved the company out West.
Jerry Herbst created the Terrible's brand that today consists of more than 160 convenience stores, car washes and lube locations throughout Southern Nevada. This summer, the company opened Terrible's Road House, a 50,000-square-foot convenience store and the world's largest Chevron with 96 pumps that now stands as a capstone to his remarkable career. In total, Terrible Herbst provides employment to more than 2,300 individuals throughout its numerous organizations.
Jerry Herbst loved all forms of racing and was an inductee into the Off-Road Motorsports Hall of Fame and the Southern Nevada Sports Hall of Fame, as well as pioneering the sport, and creating Herbst Motorsports. Terrible Herbst's famous gas-slinging caricature logo is a beloved representation of his nickname: "The Best Bad Guy of the West."
He was the youngest child and only son of Lorraine and Edward Herbst. He graduated from Black Foxe Military Academy in 1954 and enrolled at the University of Southern California where he graduated with a Bachelor of Science in business in 1959. At USC he was a member of the Phi Kappa Psi Fraternity.
On Dec. 26, 1959, he married Maryanna Anderson. They raised three sons, Ed, Tim and Troy.
In 1959, after graduating from USC, Herbst moved to Las Vegas, which had a population of 45,000, to help is father run Terrible Herbst Oil Co. Upon taking over the business, he turned Terrible's, with its famous logo of a "terrible" cowboy wearing a handlebar mustache and black hat, into a Las Vegas icon. He was also a long-time Nevada gaming licensee.
He served on the board of Sierra Pacific Power, now part of NV Energy, the UNLV Foundation Board of Trustees and was a member of the Southern California's Associate Circle since 1978. His unfailing support has helped fund merit-based student scholarships, prestigious faculty awards and academic programs throughout USC. He was also a part of the Tuna Club of Avalon and a founder of the Las Vegas Country Club.
Jerry Herbst is preceded in death by his father, Edward; his mother, Lorraine; and sister, Dolly. He is survived by his wife, Maryanna, his three sons, Ed Herbst, Tim and (Lisa) Herbst, Troy and (Laura) Herbst, his eight grandchildren, Shelby, Hollen, Riley, Thor, EJ, Pierce, Tatianna, Sophia and his niece and nephew, (Corky) and Toni Elliott and David and (Debbie) Martin.
A funeral service was held Dec. 4 at the Christ Church Episcopal on 2000 S. Maryland Parkway at noon for friends and family members.
The Herbst family will hold public memorial service for all employees, business partners and extended friends to celebrate his life Dec. 6 from noon to 6 p.m. at the Terrible Herbst Employment Center on 3670 W. Dewey Drive.
In lieu of flowers, donations may be sent to the HELP of Southern Nevada.