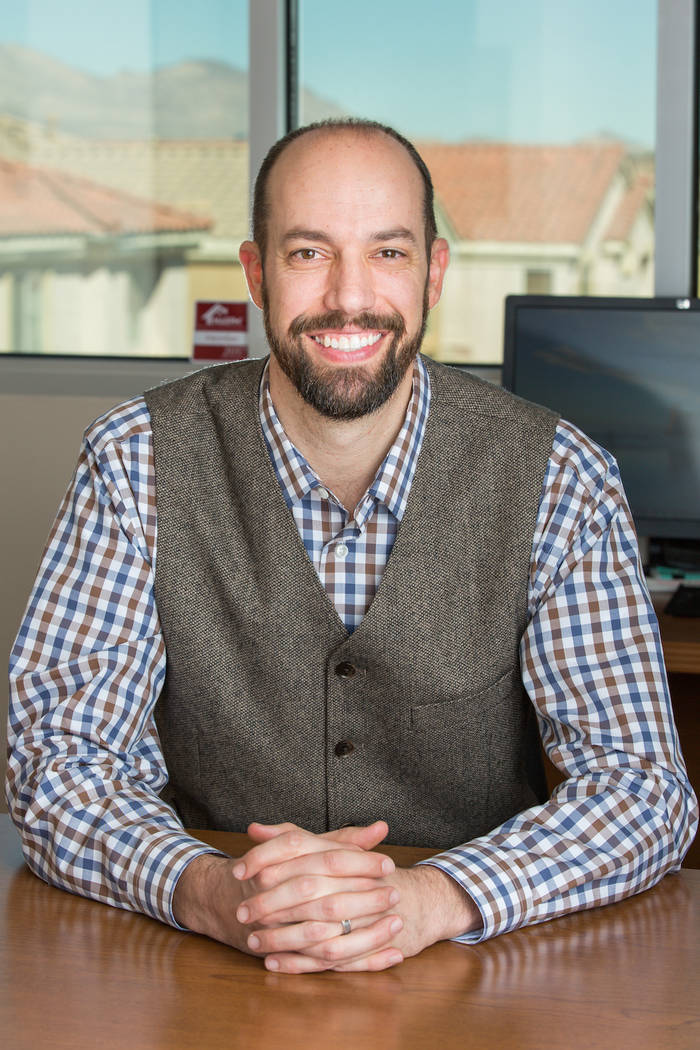 Matthew Kammeyer, CCIM, is the broker and owner of Five Star Real Estate & Property Management. Kammeyer jokes that because he started in commercial real estate and worked his way into residential, he did things backwards. As a graduate of UNLV and as a CCIM designee, he worked as a real estate developer and property manager for Millennium Properties & Development. After spending a few years with two of the top property management firms in Las Vegas, Kammeyer opened his own company, Five Star. He is married and has two children. The Las Vegas native is also a UNLV student mentor and supports organizations, such as Candlelighters Childhood Cancer Foundation, Doral Academy and Next Door Solutions to Domestic Violence.
Q: What got you started in the business?
A: I actually was an accounting major at UNLV until Debra March, who was at that time the executive director of the Lied Institute for Real Estate Studies. She opened my eyes to opportunities in the real estate community. Shortly after switching to a real estate major, I landed a mentorship and later a full-time position with Millennium Properties and Development. A few years into commercial development and property management, the economy crashed. It was a tough pill to swallow going from working on $100 million in projects to a dead stop. I saw hard times coming for many people but I also saw an opportunity to help. I assumed many people would need to short sell their properties or need a property manager until their property values came back, so they could later sell. I jumped in with both feet. Short sales were not my favorite so I spent more time zeroing in on property management, which I now love.
Q: What spurred your company's growth?
A: Building trust and delivering on promises. When you deliver on what the client expects, it makes it much easier for them to refer you and give you great reviews. Another factor in our company's growth is education. Reading, continued learning and staying on top of market trends help the team provide sound advice. We actually read books as a group. The leader can't be the only one involved in all of this; it is a team effort. Provide great information; and do what you promise you will; then people will trust you. People who trust your company will refer you to everyone they know.
Q: What changes have you seen in the industry?
A: Technology, legislation and outsourcing. Of course, technology is growing better daily. Most companies can be run virtually and paperless. The expansion of technology has made the world flat. Companies in countries around the world are competing for dollars with local companies. Also, the most recent state legislation did make a notable change to leases in an attempt to curb squatter issues. Now, either a lease must be signed by a licensed property manager or, if the lease is not signed by a licensed property manager, it must be notarized and also have specific verbiage in specific font. The thought is that Las Vegas Metropolitan Police Department will have an easier time determining if a lease is forged or not and be able to take action right on the spot when persons are accused of squatting and produce a fake lease.
Q: What is your outlook on the real estate market in Las Vegas?
A: I am quite optimistic about Las Vegas for the next couple of years. We have so many great projects moving forward that job growth will continue and ancillary jobs will be created. We also are experiencing low inventory levels, both in properties for sale and for lease. It's a good time to be a property owner. I believe many buyers expect interest rates to rise, so many people are locking in rates now.
Q: What is next?
A: Personally. I have a 20-year plan, so my goal is to continue to build our team and client base in a sustainable manner. Also, we are looking to acquire other property management companies. There are many great property managers out there who are afraid to sell or turn over their business to just a mediocre company. There are others who fell into property management and just don't want to do it anymore. We have lined up financing and systems to be able to merge or purchase those firms when they are ready to move on.