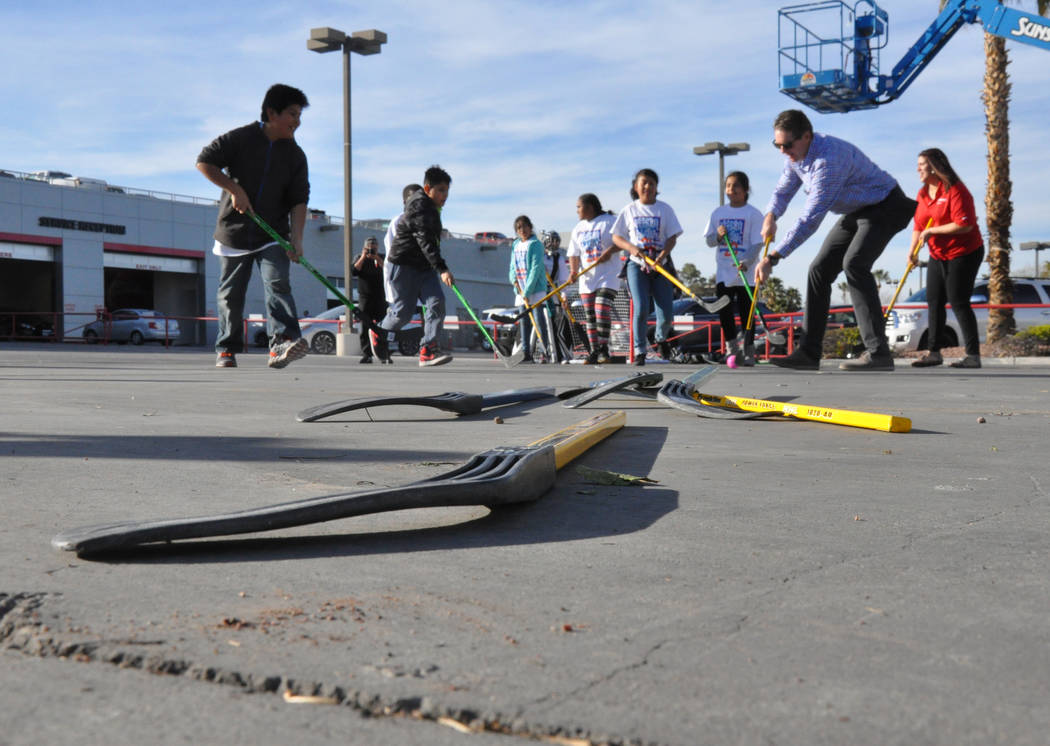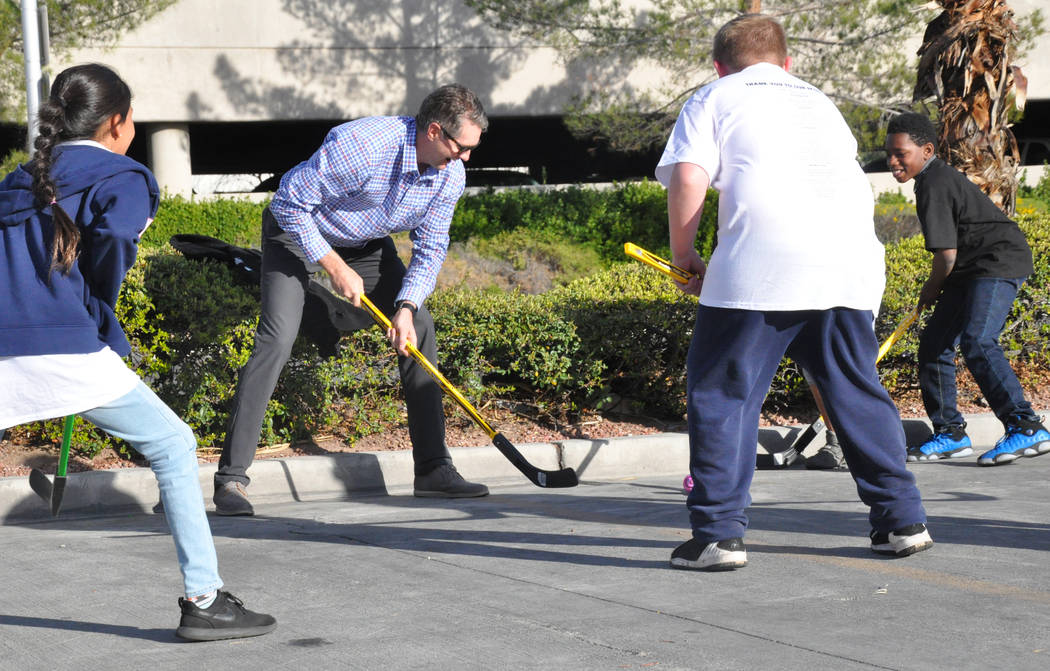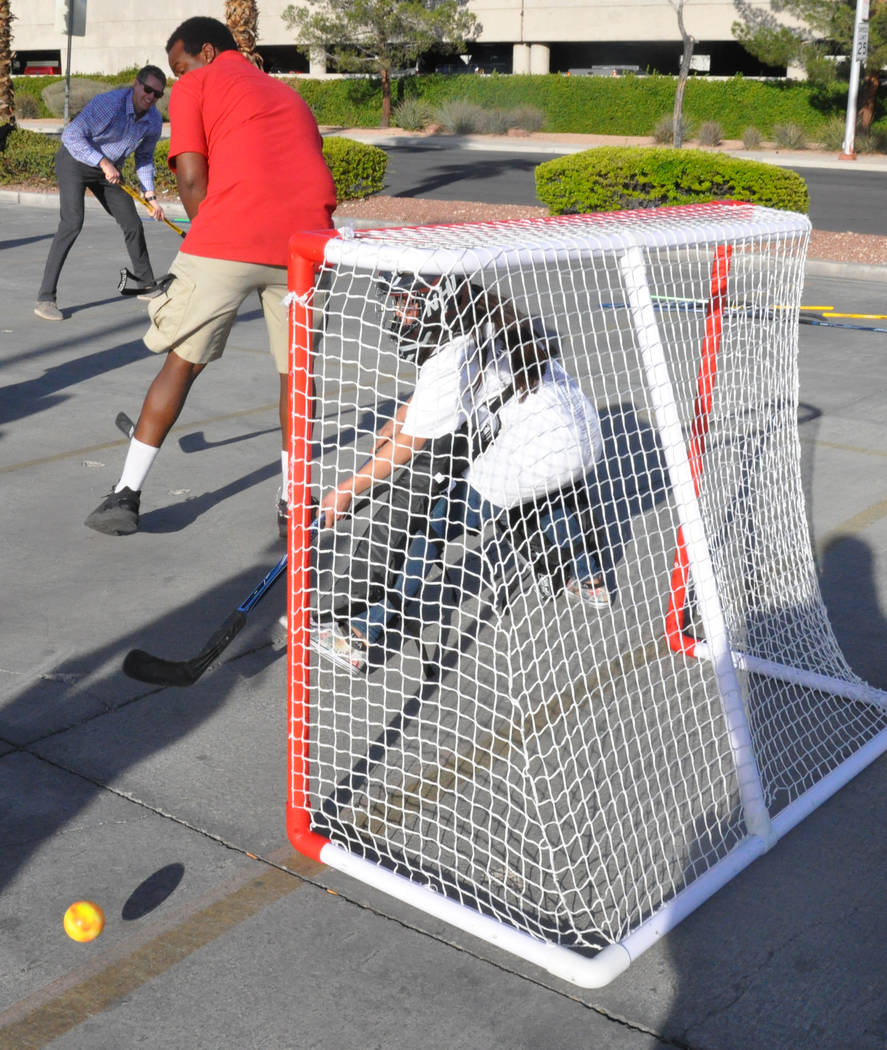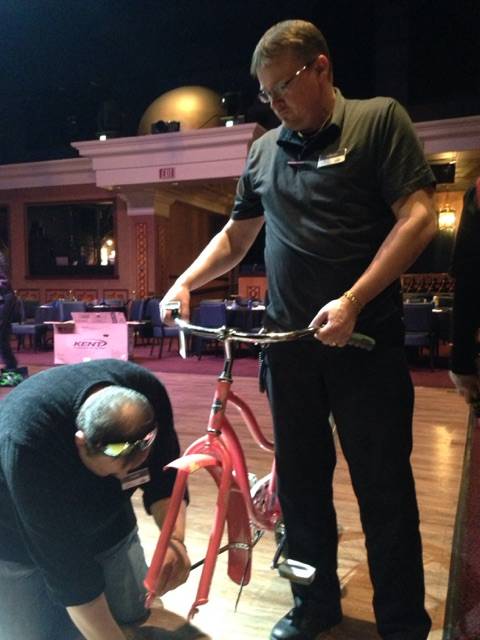 Hockey sticks clatter on the asphalt as a dozen schoolchildren converge on a tall man who deftly pulls the 'puck' – a yellow and orange ball – away from defenders with a skill developed from 18 years in the National Hockey League. The man, former National Hockey League center Murray Craven, passes the puck to a teammate, and the crowd moves abruptly as a single mass toward its new target.
"I am out of practice a little bit, I must admit," Craven said. "I need to get back on the street and play." He accumulated 266 goals and 759 points in an NHL career that began in 1982 with the Detroit Red Wings. Today, he is a senior vice president of the Vegas Golden Knights, who – with partner Toyota – presented the March 7 hockey clinic for Clark County School District students from the nonprofit organization After-School All-Stars.
The hockey franchise is among the local businesses finding creative ways to combine community engagement with efforts to benefit their own organizations.
Growing the game
Golden Knights President Kerry Bubolz said he believes community outreach initiatives – especially those focusing on children – are critical to building a foundation of support and enthusiasm for the sport and the team.
"Nevada, unfortunately, is one of those states that has the fewest number of kids that are actually registered playing this great game of hockey," he said. "They start to learn a little bit about the game itself, and you start building it from there."
"Nevada does not have a large hockey footprint, but getting sticks into kids' hands at a young age, 5 to 12, it's going to be critical to grow the game," said Nehme E. Abouzeid, Golden Knights senior vice president and chief marketing officer. "And growing the game is going to be essential to creating these lifelong fans."
Abouzeid said the organization plans to utilize the team's practice facility — currently under construction in Summerlin — to create an academy-style structure focusing on young players.
"We are going to have two sheets of ice, and that facility will only be used by our team for two hours a day, so really it is a community ice center. We are going to be developing grassroots programs so that kids will have an introduction to ice hockey and can graduate to the higher levels."
'The danger time'
After-School All-Stars was founded by Arnold Schwarzenegger in 1992 on the platform of athletics, fitness and healthy lifestyles. The organization partners with 15 CCSD schools to provide comprehensive after-school programming to more than 6,000 students.
"It is a two-hour program — the first hour is academics and the second hour is enrichment, which encompasses sports, music, dance, art and all of the other extracurricular activities for our students," explained Jodi Manzella, executive director of the organization's Las Vegas branch.
"Sometimes in the after-school hours — we refer to it as the 'danger time' between when school is out and when a parent or guardian is home — we are providing our programs directly to the school they go to during the day. They do not have to travel anywhere and are safe. They work with adults in CCSD, and (the program) provides them enrichment to the programming that they are getting during the regular school day. It is vitally important to the students.
"From USA hockey through the National Hockey League, and even partnerships like what we are doing today with Toyota, we are working to help make the game more accessible and even more affordable. From things like ice time to equipment, to learn-to-skate programs and all of that, we are going to find ways to make it more available to more people."
Bubolz said that while hockey can be an expensive sport, creating the fundamental experience of playing the game isn't necessarily costly. "You do not need to spend a lot of money to have kids out in the parking lot having a great time playing street hockey," he said. "That is what we did today. They had a great time. There are a lot of smiles."
Building bikes and teams
Station Casinos is also engaging in programs that benefit local children and its own workforce. The Summerlin-based gaming company has maintained its 16-year partnership with the school district, providing financial and volunteer support through a program called Smart Start.
"We really wanted to impact change at the elementary school level with those kids that face the most challenges in their personal life," explained Station Casinos spokeswoman Lori Nelson.
"One of our general managers wanted to challenge his group of supervisors to have to work together in a collaborative way and build something without having much instruction."
The challenge was for 30 managers, divided into teams, to assemble eight children's bicycles from parts in a box without the benefit of an instruction sheet. The project took place March 2 at Sunset Station's Club Madrid.
"It breaks down barriers because at the end of the day you just have to build a bike using teamwork and collaboration," Nelson said. "So there's a lot of stress that moves to enjoyment to laugh to how to really focus on teamwork."
The employees were not told what was to happen with the bicycles until after the assignment was completed, and eight students from Howard E. Hollingsworth Elementary School in downtown Las Vegas were escorted into the room.
'Christmas all over again'
"The children were elated," Nelson said. "First, they were told that they get excused from their classrooms. And they were bussed over to Sunset Station and given no information other than 'the team at Sunset Station has something special they want to give you.'
"And so when the kids came into the room, the general manager let them know that they were hand-picked because their teachers think they are working really hard, and they are really proud of them. And we at Sunset Station want to see you continue to work hard, and here is a token of our appreciation.
"It was just pure joy when the kids honed in on the bikes and saw what they were being gifted. It was Christmas all over again. The outcome is incredible because it does not benefit the casino company. It benefits the warming up of everyone's hearts. Because the managers who participate in our Smart Start programs have now been emotionally touched by the kids we try to help throughout the year."
Station Casinos partners with 10 schools — each property adopted one — that educate some of the most under-resourced children within CCSD.
"These schools are in the highest-need neighborhoods, 90 percent of the children are in free- or reduced-lunch programs," Nelson said. "These are very transient populations where kids might live in temporary housing. There are poverty issues, and often there could be drug or alcohol abuse in the family. For many of the children, school is a gift providing structure, the best meal of the day and a good education. It is the one constant in these kids' lives."
Back at Toyota AutoNation, a goalie made three successive close-range saves, then kicked out a leg pad to definitively repel the orange ball away from her goal crease.
"I think we've got a natural over here," shouts an adult volunteer.
"Did I save it?" she asked excitedly, craning her head to locate the ball in the forest of legs and sticks. A wide smile remained fixed on Craven's face as he observed the young player's enthusiasm.
"This game has given me so much in my life," he said. "If you can give back in any way, shape or form — whether it is introducing someone to pick up a hockey stick, or to play hockey with them and hopefully introduce them to becoming either a player or a fan of the game, it is very rewarding. I love doing that."